printer friendly version
Step-down controller for GaN FETs
25 October 2023
Power Electronics / Power Management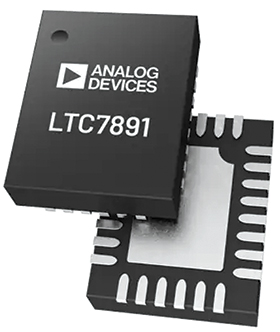 The LTC7890 is a high performance, dual step-down, DC/DC switching regulator controller that drives all N-channel synchronous gallium nitride (GaN) field effect transistor (FET) power stages from input voltages up to 100 V. The LTC7890 solves many of the challenges traditionally faced when using GaN FETs. It simplifies the application design, while requiring no protection diodes and no other additional external components compared to a silicon metal-oxide semiconductor field effect transistor (MOSFET) solution.
The internal smart bootstrap switches prevent overcharging of the BOOSTx pin to the SWx pin high-side driver supplies during dead times, protecting the gate of the top GaN FET. The LTC7890 internally optimises the gate driver timing on both switching edges to achieve smart, near zero dead times, significantly improving efficiency and allowing for high-frequency operation, even at high input voltages. Alternatively, the user can adjust the dead times with external resistors for margin or to tailor the application.
The gate drive voltage of the LTC7890 can be precisely adjusted from 4 to 5,5 V to optimise performance and to allow the use of different GaN FETs or even logic level MOSFETs.
Typical applications for the LTC7890 include industrial power systems, military avionics, medical systems and telecommunication power systems.
Credit(s)
Further reading:
Converter for industrial control applications
Vepac Electronics Power Electronics / Power Management
MORNSUN has launched a 500 W wide-input DC/DC converter series to meet the increasing demand for high-power supply in industrial control applications.
Read more...
---
Power modules enable 15% weight reduction in race cars
Future Electronics Power Electronics / Power Management
Chosen for their small and lightweight characteristics, the Vicor modules efficiently step down the high-voltage accumulator's power from 400 – 600 V to 27 – 38 V.
Read more...
---
Wireless MCU with 15 years of battery life
Altron Arrow DSP, Micros & Memory
ST has integrated an industry-unique ultra-low-power radio which the MCU can power-down to save energy while listening continuously for a wake-up signal.
Read more...
---
High-precision coreless current sensor
RS South Africa Power Electronics / Power Management
The Infineon XENSIV TLE4971 is a new automotive-qualified pre-programmed 120 A sensor without the saturation or hysteresis effects.
Read more...
---
High bandwidth current-sense amplifier
Altron Arrow DSP, Micros & Memory
The AD8410A from Analog Devices is a high voltage, high-bandwidth current-sense amplifier which features an initial gain of 20 V/V.
Read more...
---
Insights into design challenges for vehicle electrification
Power Electronics / Power Management
Mouser Electronics has launched a new eBook in collaboration with NXP Semiconductors, which pushes boundaries in the automotive, industrial and IoT, mobile, and communication infrastructure markets.
Read more...
---
Power charger reference design
Power Electronics / Power Management
Infineon has released a reference design for an 84 W AC-DC battery charger, with a 110/230 V AC rated input and constant current output of up to 4 A.
Read more...
---
Microcontroller with Bluetooth LE 5.3
Altron Arrow News
The STM32WBA 32-bit Wireless series from STMicroelectronics brings designers the performance, efficiency, and security required for Bluetooth Low Energy 5.3-enabled applications. The STM32WBA offers essential 
...
Read more...
---
Comprehensive AI computing solution
Altron Arrow News
Powered by the NVIDIA Jetson AGX Orin, the BOXER-8640AI fanless Box PC from AAEON Technology brings AI capabilities to the edge. The NVIDIA Jetson AGX Orin's Ampere architecture boasts 1792 CUDA and 56 
...
Read more...
---
Isolated solid state relay
Altron Arrow Passive Components
The ISO808, ISO808-1 (PowerSO-36) and ISO808Q, ISO808Q-1 (TFQFPN32) are galvanic isolated eight-channel drivers featuring a low supply current.
Read more...
---