printer friendly version
FPGAs speed up intelligent edge designs
25 October 2023 Editor's Choice DSP, Micros & Memory
Designing systems for the intelligent edge has never been more difficult. Market windows are shrinking, the costs and risks of new designs are rising, thermal constraints and reliability are twin priorities and the need for cradle-to-grave security continues to grow. Satisfying these simultaneous demands requires immediate knowledge of special technology and vertical-market expertise.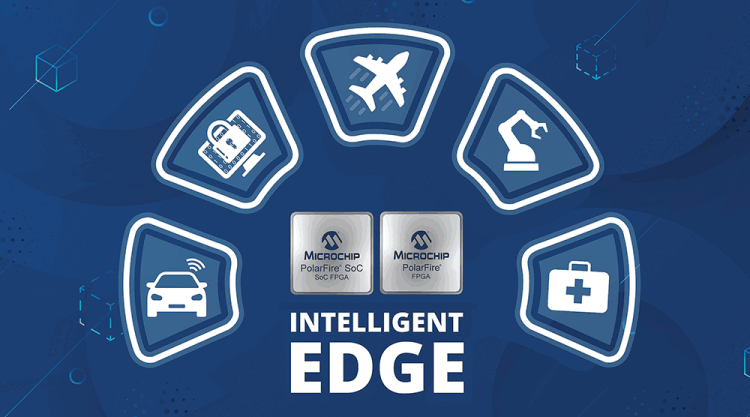 But designers can hit the ground running. Microchip Technology has added nine new technology- and application-specific solution stacks to its growing collection of mid-range FPGA and SoC support. The stacks span the industrial edge, smart embedded vision and edge communications.
"We're making it much easier to create industry-leading industrial and communications designs," said Shakeel Peera, vice president of strategy for Microchip's FPGA business unit. "And our intelligent edge focus is getting significant traction with leading system designers because they get the full benefit of PolarFire FPGA's unequalled power efficiency, security and reliability."
"Size, weight and power are extremely important considerations in designing a thermal imaging system," said Federic Aubrun, CCO of Xenics, a pioneer in infrared imaging, with best-in-class products for short-, mid- and long-wave IR imagers, cores and cameras. "Microchip SmartFusion and PolarFire FPGAs provide the best balance between small form factor, power efficiency and processing resources within an extremely low power budget in our current and next-generation products."
Unlike alternatives that offer baseline support for overly broad application categories, PolarFire FPGA intelligent edge solution stacks are highly tailored to specific technologies and vertical-market requirements and include detailed intellectual property (IP), reference designs, development kits with sample designs, application notes, demo guides and more.
Microchip's PolarFire family offers twice the power efficiency of FPGAs in its category, with the highest reliability and military-grade security. These FPGAs are the first RISC-V SoC FPGAs shipping in production volumes. PolarFire SoC devices create new configurable processing capabilities, and they are playing an integral role as computer workloads move to the power-sensitive intelligent edge.
Credit(s)
Further reading:
Power efficient mid-range FPGA
ASIC Design Services News
The new imperatives of the intelligent edge – power efficiency, security and reliability – are forcing system architects and design engineers to find new solutions. For the growing number of system designers 
...
Read more...
---
Products of the year 2023
Editor's Choice News
A summary of products and technologies from 2023 that are currently shaping the electronic engineering industry.
Read more...
---
Isolation transformers for high-speed SPE applications
ASIC Design Services Interconnection
Utilising the UWBX patent pending technology, HALO has been able to achieve the high-speed performance needed to meet insertion loss and return loss required for a fully-compliant 2.5GBASE-T1 Ethernet port over single-pair copper cables.
Read more...
---
The dream of Edge AI
Altron Arrow Editor's Choice AI & ML
AI technology carries a great promise – the idea that machines can make decisions based on the world around them, processing information like a human might. But the promise of AI is currently only being fulfilled by big machines.
Read more...
---
Save space and improve efficiency with a 4-switch buck-boost controller
Altron Arrow Editor's Choice Telecoms, Datacoms, Wireless, IoT
A new generation of 4-switch buck-boost controllers enables power system design with very high efficiency and high power density by using inductor DC resistance (DCR) current-sensing techniques.
Read more...
---
MPLAB PICkit 5
ASIC Design Services DSP, Micros & Memory
Microchip Technology's MPLAB PICkit 5 in-circuit debugger/programmer enables quick prototyping and portable, production-ready programming for all Microchip components, including PIC, dsPIC, AVR, and SAM devices.
Read more...
---
Matter 1.2 adds new capabilities
NuVision Electronics Editor's Choice Telecoms, Datacoms, Wireless, IoT
This update introduces new device types and expands the reach of Matter into new markets, while also bringing other improvements that enhance interoperability and user experience.
Read more...
---
Personality Profile: Paul Eveleigh
Hiconnex Editor's Choice
With a strong and experienced team behind him, he can put into practice what he has learned during his career and ultimately grow the company towards its strategic objectives.
Read more...
---
Raspberry Pi 5 announced
RS Components SA Editor's Choice DSP, Micros & Memory
The R-Pi 5 comes with new features and is over twice as fast as its predecessor, the R-Pi 4, thanks to an upgrade to the main processor.
Read more...
---
Dead-reckoning GNSS module
Altron Arrow Editor's Choice Telecoms, Datacoms, Wireless, IoT
STMicroelectronics' Teseo-VIC3D module is an easy-to-use dead-reckoning global navigation satellite system (GNSS) standalone module, embedding TeseoIII single-die standalone positioning receiver IC.
Read more...
---