printer friendly version
Heatsink extrusions for LED lighting
1 May 2013
Circuit & System Protection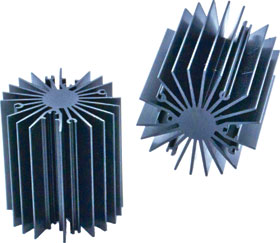 Ohmite Manufacturing is supplying Wakefield Solutions' 19000 series radial-fin heatsink extrusions for LED light engines.
Developed in conjunction with an engineering team from a leading LED manufacturer, the 19000 series is designed to help LED engineers meet both space constraints and operating parameters. With a low-cost, lightweight aluminium profile, it offers high thermal performance that makes matching the right heatsink to the right LED a much less time-consuming process.
In addition to being black anodised for maximum thermal performance, the heatsinks are also constructed with a radial-fin geom-etry that has been optimised for natural convection. This design is well suited for many types of LED lighting fixtures.

Though 19000 series heatsinks are most commonly used in both recessed and externally mounted downlighting applications, they are equipped with extrusion profiles that suit a variety of LED configurations. Mounting features are in fact incorporated as part of the extrusion, so that the heatsink can be easily mounted with standard hardware.
Each extrusion profile has screw bosses located precisely to enable easy LED substrate attachment, and provisions for slip-nut attachment make it easy to assemble the heatsinks into diverse lighting fixtures.

Wakefield offers five different models of the 19000 series, each designed for a different maximum power rating and expected temperature rise above ambient temperature. Options range from a maximum 14,7°C rise for a 4,5 Watt power rating to a maximum 29,2°C rise for a 42,8 Watt power rating. All models do not exceed a maximum LED substrate temperature of 75°C, and are available in multiple sizes, weights and thermal resistances.
Heatsink lengths range from 50,8 to 190,5 mm, with diameters of 32 to 115 mm, while their weights range from 92 grams to 1199 grams. Available power ratings include 42,8; 26,3; 9; 4,5 and 24 Watts, with corresponding thermal resistances of 0,68; 1,15; 2,38; 3,27 and 1,15 C/W.
For more information visit www.ohmite.com
Further reading:
Port protection IC for MCUs tailored to USB-C dual-role power
Future Electronics Circuit & System Protection
The STMicroelectronics TCPP03-M20 USB Type-C port protection IC is tailored for Dual-Role Power (DRP) applications, simplifying the design of products that can act as a power source for connected devices 
...
Read more...
---
Clearing the Static: ESD training and compliance in the workplace
Actum Group Circuit & System Protection
ESD (electrostatic discharge) can change the electrical characteristics of a semiconductor device by degrading or destroying it entirely. ESD can potentially damage electronic systems, causing equipment 
...
Read more...
---
Lightning current protection for four-conductor systems
Phoenix Contact Circuit & System Protection
The Termitrab complete product family from Phoenix Contact provides narrow surge protective devices for measurement and control technology. With immediate effect, the TTC-6P-4… protective devices for 
...
Read more...
---
Clearing the Static: ESD cleaning
Actum Group Circuit & System Protection
To avoid ESD damage to electronic assemblies or components, they must be manufactured, handled, packaged and stored in an ESD protected environment.       It is essential that these ESD protected workplace 
...
Read more...
---
20 mm higher pin heatsink provides 20% better performance
Sivan Electronic Supplies Circuit & System Protection
With an overall height of 65 mm, the new PO 98-98-65-AL pin heatsink from Alutronic exceeds the established maximum standard height of 45 mm. In the case of the PO 98-98-65-AL, the additional 20 mm improves 
...
Read more...
---
High-current feedthrough filters
Conical Technologies Circuit & System Protection
HPR Series feedthrough filters from NexTek are designed and built to provide rugged EMI filtering for high-current lines, no matter the application details or environmental requirements. These feedthrough 
...
Read more...
---
Compact X2 capacitors for noise suppression
Electrocomp Circuit & System Protection
A new series of very compact EPCOS X2 capacitors for noise suppression, rated for 275 V a.c. and covering a capacitance range from 33 nF to 1 µF, has been released by TDK. Depending on the capacitance 
...
Read more...
---
Thermoelectric coolers for optoelectronic systems
TRX Electronics Circuit & System Protection
Featuring next-generation thermoelectric materials, the OptoTEC OTX/HTX Series of thermoelectric coolers from Laird Thermal Systems offers a 10% boost in cooling capacity, greater temperature differential 
...
Read more...
---
Common-mode filters for mobile devices
Electrocomp Circuit & System Protection
TDK has developed the TCM0403M Series of miniaturised thin-film common-mode filters for mobile devices. The 0403 case size (0,457 x 0,3 x 0,23 mm) is 58% smaller and 56% lighter than previous products. 
...
Read more...
---
Fast-acting chip fuse for automotive applications
Altron Arrow Circuit & System Protection
Vishay introduced a new, very fast-acting thin film chip fuse. For automotive applications, the Vishay Beyschlag MFU 0603 AT is AEC-Q200 qualified and features current ratings from 0,5 A to 5,0 A.  
...
Read more...
---