printer friendly version
DC blocking capacitors
1 May 2013
Passive Components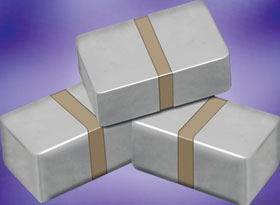 AVX has unveiled a new ultra-broadband capacitor series designed to address DC blocking from 16 kHz to 40 GHz.
The GX03 series exhibits very low insertion loss, excellent return loss and X7R characteristics. Ideal applications include semiconductor data communications, receiver optical subassemblies, transimpedance amplifiers and test equipment.
Rated at 50 V d.c. from -55°C to +125°C, the capacitors feature a 0603 case size, are completely orientation insensitive, and utilise AVX's patented, precision thin-film termination process to minimise board space requirements. Available with Ni-Sn and Ni-Au terminations, they are compatible with a wide range of attachment processes, including wire bonding for Ni-Au terminated components.
Further reading:
Common-mode choke for 35 A commercial applications
Altron Arrow Passive Components
Vishay has introduced a new IHCM common-mode choke for high-current commercial applications up to 35 A. Available with a low-profile SMT construction, the IHCM-2321AA-10 is more robust than bulky toroid-based 
...
Read more...
---
High-voltage semiconductor-based capacitors
RFiber Solutions Passive Components
MACOM Technology Solutions' KV CAPS are high density, high working voltage silicon capacitors which employ a novel topology that essentially folds the parallel plates of the capacitors into three-dimensional 
...
Read more...
---
Very compact X2 capacitors
Electrocomp Passive Components
A recent introduction by TDK is a new series of very compact EPCOS X2 capacitors for noise suppression. They are rated for
275 V a.c.
and cover a capacitance spectrum from
33 nF to 1 µF.
Depending on 
...
Read more...
---
Soft ferrite cores serving many applications
Sivan Electronic Supplies Passive Components
Ferrites are polycrystalline oxides manufactured by ceramic technology and belong to a class of materials that exhibit the technically useful property of ferromagnetism. In a ferromagnetic material, magnetism 
...
Read more...
---
Extensive Murata offering from Mouser
TRX Electronics Passive Components Power Electronics / Power Management
Now with over 19 000 Murata parts in stock, Mouser offers an ever-broadening selection of the manufacturer's newest solutions, including products from Murata Electronics, Murata Power Solutions and Murata 
...
Read more...
---
High-voltage chip divider in moulded package
Avnet Abacus Passive Components
Vishay has introduced the industry's first high-voltage chip divider to be offered in a ribbed, moulded package with compliant surface-mount leads. Designed to reduce component counts and improve TC tracking 
...
Read more...
---
High-voltage resistors can replace standard resistor chains
Altron Arrow Passive Components
A new series of AEC-Q200 qualified thick-film chip resistors, with operating voltages up to 3 kV and in the 2010 and 2512 case sizes, has been introduced by Vishay. With their high operating voltages, 
...
Read more...
---
Automotive quartz crystals and inductors
TRX Electronics Passive Components
Abracon automotive inductors and quartz crystals are AEC-Q200 qualified and available in a variety of package sizes, with wide-ranging operating temperatures from -55°C to +155°C. Designed for high-reliability 
...
Read more...
---
Shielded power inductors
Electrocomp Passive Components
Bourns' new Model SRP6530A shielded power inductor series is designed to meet the high current density and high temperature requirements of a variety of applications. These AEC-Q200 compliant inductors 
...
Read more...
---
Broadband SMT conical inductors
RF Design Passive Components
Coilcraft's BCR Series comprises conical inductors available in nine inductance values ranging from 0,22 to 8,0 µH. They are designed specifically for broadband and high-frequency applications across 
...
Read more...
---