printer friendly version
Low-cost 16-bit MCUs
1 May 2013
DSP, Micros & Memory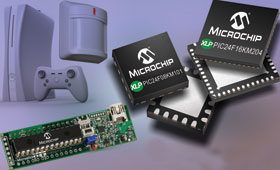 Microchip announced a new addition to its 16-bit PIC microcontroller (MCU) portfolio with the low-cost PIC24F KM family. This family offers up to 16 KB Flash, 2 KB RAM and 512 B EEPROM, and is the first to feature the new multiple- and single-output capture compare PWM modules (MCCP and SCCP) peripherals, which include integrated timers and advanced PWM control to enable motor control, power supply and lighting applications. This is also the first PIC24 family to offer a configurable logic cell (CLC) for increased on-chip interconnection of peripherals. The KM family includes support for both 3 V and 5 V applications, and is supplied in a variety of package types and sizes.
Credit(s)
Further reading:
AI-powered computer for autonomous machines
Altron Arrow Computer/Embedded Technology
Nvidia recently premiered Jetson AGX Orin, the world's smallest, most powerful and energy-efficient AI supercomputer for robotics, autonomous machines, medical devices and other forms of embedded computing 
...
Read more...
---
Step-down converter with nano quiescent current
Altron Arrow Power Electronics / Power Management
The ST1PS03 is a nano-quiescent miniaturised synchronous step-down converter which is able to provide up to 400 mA output current with an input voltage ranging from 1,8 V to 5,5 V. This STMicroelectronics 
...
Read more...
---
LED driver expansion board for STM32 Nucleo
Altron Arrow Opto-Electronics
STMicroelectronics' X-NUCLEO-LED12A1 LED driver expansion board for STM32 Nucleo features four LED1202 devices that can drive up to 48 LEDs. The LED1202 is a 12-channel, low quiescent current LED driver 
...
Read more...
---
Fujitsu FRAM and ReRAM now available from Mouser
TRX Electronics DSP, Micros & Memory
Fujitsu Semiconductor Memory Solution's ferroelectric random access memory (FRAM) and large-density resistive random access memory (ReRAM) products are now being distributed by Mouser Electronics. Fujitsu 
...
Read more...
---
Improving power supply regulation accuracy with resistor divider tool
Altron Arrow Power Electronics / Power Management
Analog Devices' LTpowerCAD resistor divider toolbox can use component tolerances and estimate corresponding errors in output voltage, letting designers decide what tolerance is allowable for their application.
Read more...
---
Functional safety packages for Microchip MCUs and DSCs
EBV Electrolink DSP, Micros & Memory
Safety is a primary concern in automotive applications to ensure reliable operation and end users' wellbeing. Microchip Technology is offering newly certified functional safety packages to enable engineers 
...
Read more...
---
MCU with enhanced security and innovative sensing features
EBV Electrolink DSP, Micros & Memory
Enabled with Bluetooth Low Energy wireless connectivity, onsemi's new low-power RSL15 microcontroller (MCU) addresses the growing demand of connected industrial applications for security without sacrificing 
...
Read more...
---
USB Type-C protocol decoder
Altron Arrow Power Electronics / Power Management
The AP43771V from Diodes Incorporated is a USB Type-C Power Delivery (PD) 3.0 PPS decoder dedicated to power source applications with legacy capabilities. It is compliant with USB Type-C specification 
...
Read more...
---
Discovery kit for IoT nodes using STM32U5 MCU
Altron Arrow DSP, Micros & Memory
The B-U585I-IOT02A Discovery kit provides a complete demonstration and development platform for STMicroelectronics' STM32U585AI microcontroller, featuring an Arm Cortex-M33 core with Arm TrustZone and 
...
Read more...
---
Signal chain implementation for condition monitoring systems
Altron Arrow Editor's Choice Analogue, Mixed Signal, LSI
Like all system designs, there are many choices to be made when it comes to designing a condition monitoring system, each of which comes with various trade-offs and can drastically alter the DAQ signal chain design.
Read more...
---