The Balver Zinn Group débuted a new solder paste and wire at productronica in November.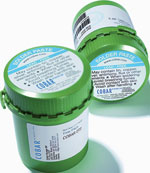 OT2 solder paste.
OT2 is Cobar's latest halide- and halogen-free solder paste technology whose optimised rosin-based chemistry offers enhanced printing and wetting properties in lead-free as well as tin-lead chemistries. Because of the uniform paste flux technology for both, it is easy to switch between the two chemistries.
The solder paste is designed to achieve printing speeds up to 250 mm/s for the most demanding throughputs. The combination of solvents and activators used in this paste returns a large process window for the reflow process. High yields can be achieved with fast conveyor speeds and short cycle times.
Balver Zinn's BRILLIANT B2012 is a halide-free, rosin-based solder wire designed for manual and robotic soldering. It is odourless and shows excellent soldering and wetting performance. The no-clean solder wire was developed for lead-free rework and touch-up, and is available in the alloys SN100C, (SAC305 on request) and tin-lead with a standard flux content of 2,2%.
Balver Zinn wires are available in diameters from 0,3 to 3,5 mm; SN100C B2012 wire is also available in 0,15 mm and 0,2 mm diameters.