Steadily increasing requirements regarding lead times and variability demand ever more versatile, highly flexible SMT production solutions. Essemtec, the Swiss manufacturer of SMT equipment, has developed a multifunctional SMT centre that was recognised with an award for its ability to successfully achieve changeover without downtime, component management, and the integration of jet printing of solder paste or glue.

Paraquda multifunctional SMT centre.
New jobs can be quickly programmed into the Paraquda completely offline by using CAD data without interrupting production. Directly integrated component libraries reduce the programming effort. This combination, together with appropriate planning tools, allows the simulation and planning of individual products to daily or weekly planning. Thanks to this software, the customer can respond flexibly to unforeseen production lots and, using a preliminary simulation, delays can be detected and optimally cushioned and minimised.
A large number of feeder slots (240) on the machine, as well as the use of intelligent feeder systems, ensures a preliminary barcode guided setup while the machine is running. Components that have already been set up are considered and the ideal feeder positions can be pre-simulated, ensuring optimal throughput.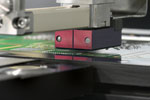 SC-PJ-PV solder paste jet valve.
Over and above an online connection to the component storage system Cubus, the additionally available inventory management eMIS/eStorage allows the management of real-time inventory data as well as a direct data exchange with all modern ERP and MES systems. The current, effectively available inventory is taken into account while production planning and simulation. Production lots can be secured beforehand and machine downtime due to missing components can be prevented in advance.
Continuous quality assurance is provided via optical monitoring and an electrical measurement system for components during the assembly process. This works hand in hand with the intelligent feeder systems to ensure flawless processing and avoid time-consuming and costly rework. The integrated jet printer (which is also available separately) supports most type 4, 5, 6 or 7 pastes.
Essemtec has strenghtened its presence in South Africa through the appointment of local distributor Test & Rework Solutions, which has assumed responsibility for sales, service and support. Test & Rework Solutions has a presence in Randburg and Cape Town and boasts highly experienced staff with comprehensive knowledge and experience, in addition to an efficient service and support network.
For more information contact Test & Rework Solutions, +27 (0)11 704 6677, info@testandrework.co.za, www.testandrework.co.za