printer friendly version
Demo boards for detector applications
8 April 2015
Design Automation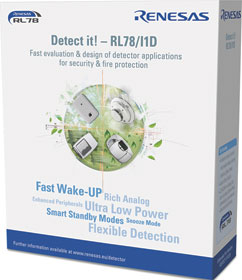 The 'Detect it!' solution kit from Renesas Electronics is designed for detector applications and provides ready-to-use demonstrators for the most typical detectors used in security and fire protection systems. It comprises four hardware boards, a motion detector demonstrator, a smoke detector demonstrator, a carbon monoxide demonstrator and a glass-break detector demonstrator.
The kit provides a complete solution platform for Renesas' new RL78/I1D microcontroller group. These devices offer a comprehensive set of analog features, as well as four operational amplifiers, two comparators and 17 input channels for the 12-bit ADC converter, in a small 48-pin package.
The RL78/I1D has smart peripherals that are able to work without CPU intervention and offer a significant power saving in low-power modes. The smart peripherals can transfer data, compare data, perform addition and subtraction, and link one peripheral's operation to another peripheral.
Power consumption has been reduced compared to previous generations, achieving 124 μA @1 MHz in operation. Fast wake-up time reduces power consumption even more and enables the device to react faster; this is especially beneficial for communication protocols.
Each of the boards provides a solution for the associated detectors. The smoke detector senses smoky environments by the scattering of the infrared signal in a smoke chamber. Motion is detected using passive infrared (PIR) technology. The glass-break detector analyses sounds and can differentiate window-break sounds from the surrounding environment. The carbon monoxide detector uses a chemical sensor to measure the concentration of the gas in the surrounding air and generates an alert if the levels are dangerously high.
The documentation provided within the kit guides the user and explains each board's behaviour in detail. Users simply choose the board and insert a battery (included in the kit), follow the quickstart guide and can get a detector working in less than one minute, according to Renesas. The kit provides a good starting point to the developer as it includes the source code of the demonstration sample programs, the environment development installer of IAR Embedded Workbench, the Gerber files and the schematics, and a comprehensive user manual.
For more information contact Marinus Rudman, Hi-Q Electronics, +27 (0)21 595 1307, [email protected], www.hi-q.co.za
Credit(s)
Further reading:
Find tools and help more easily on Mouser's website
Design Automation
The Services and Tools page and Help Centre give customers the ability to view and track orders, request technical support and data sheets, and place orders.
Read more...
---
Upgraded AI/ML SDK for PolarFire FPGAs
Altron Arrow Design Automation
Network sizes have been reduced by 50% by optimising containers for weights and the built-in bit accuracy simulator's speed has been tripled.
Read more...
---
Mouser's resource pages make it easier to find what you need
TRX Electronics Design Automation
Mouser Electronics offers a wealth of customer-focused online tools to simplify and optimise the selection and purchasing process. Helping customers to easily browse, select and purchase products, the 
...
Read more...
---
Software development kit for motor control
Altron Arrow Design Automation
STMicroelectronics' STM32 microcontrollers offer the performance of industry-standard Arm Cortex-M cores running either vector control or field-oriented control (FOC) modes, which are widely used in high-performance 
...
Read more...
---
Newest version of PCB design software released
Dizzy Enterprises Design Automation
Proteus version 8.14 has been released. This latest version of the PCB design and circuit simulation software adds dedicated support for test points, improvements to differential pair routing, resin-filled 
...
Read more...
---
Proteus 8.6 released, now simulates turtles
Dizzy Enterprises Design Automation
Version 8.6 of the Proteus simulation and PCB design software adds new features such as STM32F103xx microcontroller simulation and serpentine track-length matching, but without doubt the most novel new 
...
Read more...
---
Online simulator speeds thyristor, AC switch selection
Design Automation
To quickly find the thyristor or AC switch that best fits their design, engineers can use STMicroelectronics' AC Switch Simulator online tool by simply entering the main I/O and gate parameters.    To 
...
Read more...
---
Multi-band front-end module for LTE-M, NB-IoT
Hi-Q Electronics Telecoms, Datacoms, Wireless, IoT
Skyworks recently introduced the SKY68031-11, a miniature, multi-band RF front-end (RFFE) module for licenced low-power wide-area network applications making use of LTE-M or NB-IoT connectivity. These 
...
Read more...
---
Renesas ships billionth RX MCU
Hi-Q Electronics DSP, Micros & Memory
To date, Renesas Electronics has delivered more than one billion microcontrollers (MCUs) from the RX family of 32-bit MCUs, which incorporate the company's proprietary RX CPU core. Since its launch in 
...
Read more...
---
32-bit MCUs integrate peripheral functions in tiny package
Hi-Q Electronics DSP, Micros & Memory
Renesas Electronics recently added a new product group to its 32-bit RA family of microcontrollers (MCUs). The RA2E2 group, based on the latest Arm Cortex-M23 core, offers a combination of extremely low 
...
Read more...
---