printer friendly version
Battery charger controller
14 October 2015
Power Electronics / Power Management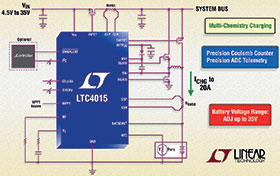 Linear Technology's LTC4015 is a highly integrated, high-voltage, multi-chemistry synchronous step-down battery charger controller with onboard telemetry functions. It efficiently transfers power from a variety of input sources, such as wall adaptors and solar panels, to a Li-Ion/polymer, LiFePO4 or lead-acid battery stack and system load up to 35 V.
The device provides advanced system monitoring and management functionality, including battery coulomb counting and health monitoring. While a host microcontroller is required to access its most advanced features, the use of an I²C port is optional. The main charging features of the product can be adjusted using pin-strap configurations and programming resistors.
The LTC4015 offers precision ±5% charge current regulation up to 20 A, ±0,5% charge voltage regulation and operation over a 4,5 V to 35 V input voltage range. Applications include portable medical instruments, military equipment, battery backup applications, industrial handhelds, industrial lighting, ruggedised notebooks/tablet computers, and remote powered communication and telemetry systems.
An accurate 14-bit analog-to-digital converter (ADC) is integrated, as well as a high-precision coulomb counter. The ADC continuously monitors numerous system parameters, including input voltage, input current, battery voltage and battery current, and reports battery temperature and battery series resistance (BSR) on command. By monitoring these parameters, the chip can report on the state of health of the battery, as well as its state of charge. All system parameters can be monitored via a 2-wire I²C interface, while programmable and maskable alerts ensure that only the information of interest causes an interrupt.
The LTC4015's onboard charging profiles are optimised for each of a variety of battery chemistries including Li-Ion/polymer, LiFePO4 and lead-acid. Configuration pins allow the user to select between several predefined charge algorithms for each battery chemistry, as well as several algorithms whose parameters can be adjusted via I²C. Both charge voltage and charge current can be automatically adjusted based on battery temperature to comply with JEITA guidelines, or custom settings.
The device is housed in a 5 x 7 mm QFN package with an exposed metal pad for thermal performance. E- and I-grade devices are guaranteed for operation from -40°C to 125°C.
For more information contact Conrad Coetzee, Arrow Altech Distribution, +27 (0)11 923 9600, [email protected], www.arrow.altech.co.za
Credit(s)
Further reading:
650 W fast recovery diodes
RS Components (SA) Power Electronics / Power Management
Rohm has released its 4th-generation 650 V fast recovery diodes (FRDs), balancing forward voltage and reverse-recovery time for high-power industrial and consumer equipment including air conditioners and electric vehicle charging stations.
Read more...
---
TI releases top five power design tools
Altron Arrow Design Automation
Texas Instruments has released an online resource combining the top five power design tools available to aid in the next electronic project design.
Read more...
---
Wireless charging IC solution
TRX Electronics Power Electronics / Power Management
The WLC1115 transmitter controller IC is the first highly integrated product of the new WLC family of controllers from Infineon for applications in inductive wireless charging.
Read more...
---
Angle sensor for safety-critical applications
Altron Arrow Passive Components
TDK's TAS4240 TMR-based angle-sensor enables precise angle measurements in applications where high performance is needed and space is limited.
Read more...
---
Real-time monitoring of solar power stations
Otto Wireless Solutions Power Electronics / Power Management
WLink's 3G/4G routers remotely monitor and manage power stations in real-time and perform fault diagnosis, power prediction and a daily maintenance routine.
Read more...
---
1,5 A LDO linear regulator from TI
Altron Arrow Power Electronics / Power Management
The TPS7A74 from Texas Instruments is a 1,5 A low-dropout linear regulator with programmable soft-start for a wide variety of applications.
Read more...
---
eFuse with transient overcurrent blanking timer
RS Components (SA) Power Electronics / Power Management
The TPS25981xx family of eFuses from Texas Instruments is a robust defence against overloads, short circuits, voltage surges and excessive inrush current.
Read more...
---
New low-cost 60 W PSU
Vepac Electronics Power Electronics / Power Management
The new VCB60 series of 60 W PSUs from XP Power addresses the need for high-quality easy-to-use power solutions at attractive price points.
Read more...
---
Automotive motion sensor with embedded ML core
Altron Arrow DSP, Micros & Memory
The ASM330LHHX, a six-axis inertial module with embedded machine learning core and dual operating modes, ensures the lowest power consumption and in-sensor event detection.
Read more...
---
New series of high-power pure sine wave inverters
Current Automation Power Electronics / Power Management
The NTS/NTU-2200/3200 series pure sine wave inverters by Meanwell now have the ability to use lithium batteries as well as lead acid as the DC power source.
Read more...
---