The WXA 2010 hot-air set from Weller comes with a two-channel WXA 2 station providing a multilingual menu and touch screen interface, as well as a WXHAP 200 hot air pencil – a 200 W temperature controlled, ergonomically designed tool with a wide range of air nozzles.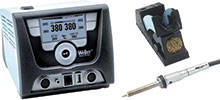 The multifunctional station supports a variety of tools, including hot air pencil, soldering irons, soldering baths and even fume extraction with direct WXA control. It is compatible with the WX range of tools covering the WXHAP200, WXMT, WXP 200, WXP 120, WXP 65, WXSB 200 and WXHP120.
The WXA 2010 comes with the WDH 30 safety rest and every piece of equipment meets all ESD requirements. It also has a thumb wheel to give infinite control over air delivery up to 20 l/min and a maximum external air pressure of 6 Bar. The multi-purpose USB port allows for quick and easy firmware updates, parameter setting and data logging with a PC or convenient Flash drive.