printer friendly version
ISP Flash configuration for ARM-based FPGAs
9 November 2016
Programmable Logic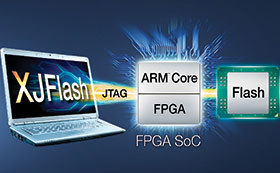 XJTAG has extended the capability of its high-speed in-system programming (ISP) technology, XJFlash. The solution effectively brings the benefits of XJFlash to memory devices connected to the processor subsystem of dual ARM-Cortex-A9 based FPGAs.
According to XJTAG, new and existing customers will experience programming times as much as 20 times faster than existing solutions when configuring memory attached to the processor subsystems of the industry's leading FPGA SoCs, such as Xilinx Zynq and Altera Cyclone V SoCs, which feature dual ARM Cortex-A9 processors.
The use of FPGAs with integrated processor subsystems is increasing. While these subsystems are fully integrated into the FPGA fabric, they feature their own dedicated, external non-volatile program memory, connected to the physical pins of the FPGA. Configuring these memories in both development and production environments is normally a slow and often complex process. With XJFlash these memories can now be configured simply and at high speed through the JTAG port of the FPGA, without the need for any additional PCB connections.
With this latest development, XJFlash is now able to access and configure memory devices connected to a wider range of FPGAs. Support for the ARM Cortex-A9 based SoCs extends to partial reconfiguration and optimised erase, delivering further productivity benefits. This enables memory devices to be partially erased and reconfigured without having to reprogram the entire device, and also minimises the erase time when regions of a device are already blank.
XJFlash forms part of XJTAG's portfolio of powerful JTAG tools. As well as needing no additional programming hardware, it claims faster configuration cycles than other programming technologies, for all types of non-volatile memory, including SPI, QSPI and parallel NOR Flash. XJFlash can be used wherever XJTAG can – as part of a standalone XJTAG test system , or fully integrated into third-party test executives (such as LabVIEW) in systems which also use other automated test equipment (ATE).
Existing licensees will automatically benefit from the expanded capabilities of XJFlash. New customers can contact XJTAG or one of its distribution partners for a demonstration. Initial support for FPGA/processor platforms includes Xilinx Zynq-7000 SoCs and Altera Cyclone V SoC devices.
Credit(s)
Further reading:
FPGAs for embedded vision and edge AI
25 November 2020, Future Electronics , Programmable Logic
Lattice Semiconductor announced the first FPGA developed on its new Lattice Nexus FPGA platform, the CrossLink-NX. This new FPGA provides the low power, small form factor, reliability, and performance 
...
Read more...
---
Smart manufacturing for electronics
29 July 2020, ASIC Design Services , Manufacturing / Production Technology, Hardware & Services
This article describes a product development strategy designed for manufacturers of electronics for consumer and industrial products, home appliances, manufacturing services, automotive and transportation, 
...
Read more...
---
FPGA development suite for Pentek recorders
30 June 2020, Rugged Interconnect Technologies , Programmable Logic
Pentek's ArchiTek FPGA Development Suite is a new product for adding custom IP to select Pentek Talon recording systems. ArchiTek is a comprehensive development environment that enables engineers to add 
...
Read more...
---
Dual military-grade transceiver
29 April 2020, ASIC Design Services , Telecoms, Datacoms, Wireless, IoT
Holt Integrated Circuits today announced the introduction of its HI-15850, the world's first 3,3 V MIL-STD-1553 dual transceiver with 1,8 V, 2,5 V and 3,3 V compatible digital I/O. This feature gives 
...
Read more...
---
Advanced electronics help explore the sun
25 March 2020, ASIC Design Services , Programmable Logic
3D Plus has developed, in collaboration with CEA (France), gamma ray detectors for STIX instrument on board the Solar Orbiter. The mission was launched on 10 February 2020 from Cape Canaveral in Florida 
...
Read more...
---
Mini PCIe reference design for MIL-STD-1553
25 March 2020, ASIC Design Services , Computer/Embedded Technology
Holt Integrated Circuits introduced a new dual-channel development kit and complete reference design based on the popular HI-2130LBx MIL-STD-1553 fully integrated terminals. The kit includes a full-size 
...
Read more...
---
Halo invests in high-speed data transformers
29 January 2020, ASIC Design Services , Passive Components
Halo Electronics, a leading supplier of Ethernet transformers, has invested in UWB X Limited, a UK based technology company focused on creating a new high-speed transformer technology. As part of Halo's 
...
Read more...
---
Early access programme for PolarFire FPGAs
29 January 2020, ASIC Design Services , Programmable Logic
The trend towards compute-intensive gateways and edge devices is driving the integration of traditional deterministic control applications with additional embedded processing capabilities needed for smart 
...
Read more...
---
PCB manufacturing analytics software
EMP 2020 Electronics Manufacturing & Production Handbook, ASIC Design Services , Manufacturing / Production Technology, Hardware & Services
Valor IoT Manufacturing Analytics is an enterprise big-data business intelligence analytics platform designed for capturing, storing and analysing large amounts of manufacturing data. The platform provides 
...
Read more...
---
Radiation-tolerant PolarFire FPGA
23 October 2019 , Programmable Logic
Developers of spacecraft electronics use radiation-tolerant (RT) field programmable gate arrays (FPGAs) to create on-board systems that meet the demanding performance needs of future space missions, survive 
...
Read more...
---