printer friendly version
Microsemi FPGAs support RISC-V IP core
9 November 2016 Programmable Logic
Microsemi has become the first field programmable gate array (FPGA) provider to offer a comprehensive software tool chain and intellectual property (IP) core for RISC-V designs. RISC-V is a new instruction set architecture (ISA) which is now a standard open architecture under the governance of the RISC-V Foundation.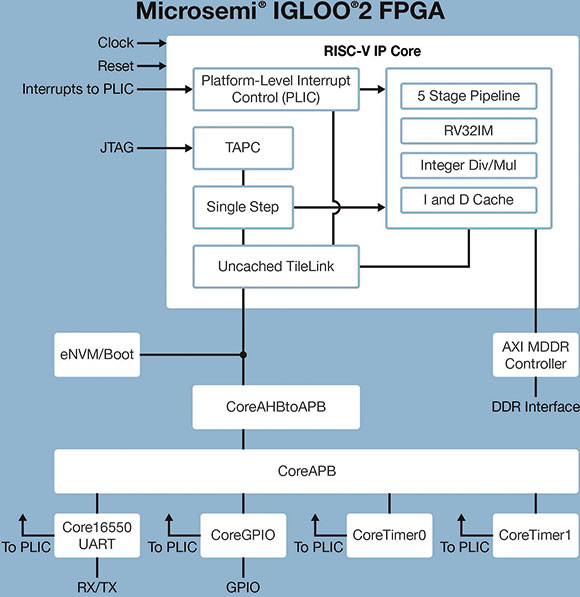 Microsemi's RV32IM RISC-V core is available for its IGLOO2 FPGAs, SmartFusion2 system-on-chip (SoC) FPGAs or RTG4 FPGAs, with an Eclipse-based SoftConsole integrated development environment (IDE) hosted on a Linux platform and the Libero SoC Design Suite providing full design support.
Developed in collaboration with SiFive, the RV32IM core enables customers to design with an open ISA, enabling complete portability and a more secure processor architecture governed by a permissive BSD licence. It is especially compelling for applications such as safety and security, as the register transfer level (RTL) source code is available for inspection. For example, customers can verify the security of the processor themselves, which is not possible with other processors, as they have closed architectures. In safety-critical applications, customers can run multiple RISC-V cores to ensure if one fails there is a redundant core to take over.
Credit(s)
Further reading:
FPGAs for embedded vision and edge AI
25 November 2020, Future Electronics , Programmable Logic
Lattice Semiconductor announced the first FPGA developed on its new Lattice Nexus FPGA platform, the CrossLink-NX. This new FPGA provides the low power, small form factor, reliability, and performance 
...
Read more...
---
Smart manufacturing for electronics
29 July 2020, ASIC Design Services , Manufacturing / Production Technology, Hardware & Services
This article describes a product development strategy designed for manufacturers of electronics for consumer and industrial products, home appliances, manufacturing services, automotive and transportation, 
...
Read more...
---
FPGA development suite for Pentek recorders
30 June 2020, Rugged Interconnect Technologies , Programmable Logic
Pentek's ArchiTek FPGA Development Suite is a new product for adding custom IP to select Pentek Talon recording systems. ArchiTek is a comprehensive development environment that enables engineers to add 
...
Read more...
---
Dual military-grade transceiver
29 April 2020, ASIC Design Services , Telecoms, Datacoms, Wireless, IoT
Holt Integrated Circuits today announced the introduction of its HI-15850, the world's first 3,3 V MIL-STD-1553 dual transceiver with 1,8 V, 2,5 V and 3,3 V compatible digital I/O. This feature gives 
...
Read more...
---
Advanced electronics help explore the sun
25 March 2020, ASIC Design Services , Programmable Logic
3D Plus has developed, in collaboration with CEA (France), gamma ray detectors for STIX instrument on board the Solar Orbiter. The mission was launched on 10 February 2020 from Cape Canaveral in Florida 
...
Read more...
---
Mini PCIe reference design for MIL-STD-1553
25 March 2020, ASIC Design Services , Computer/Embedded Technology
Holt Integrated Circuits introduced a new dual-channel development kit and complete reference design based on the popular HI-2130LBx MIL-STD-1553 fully integrated terminals. The kit includes a full-size 
...
Read more...
---
Halo invests in high-speed data transformers
29 January 2020, ASIC Design Services , Passive Components
Halo Electronics, a leading supplier of Ethernet transformers, has invested in UWB X Limited, a UK based technology company focused on creating a new high-speed transformer technology. As part of Halo's 
...
Read more...
---
Early access programme for PolarFire FPGAs
29 January 2020, ASIC Design Services , Programmable Logic
The trend towards compute-intensive gateways and edge devices is driving the integration of traditional deterministic control applications with additional embedded processing capabilities needed for smart 
...
Read more...
---
PCB manufacturing analytics software
EMP 2020 Electronics Manufacturing & Production Handbook, ASIC Design Services , Manufacturing / Production Technology, Hardware & Services
Valor IoT Manufacturing Analytics is an enterprise big-data business intelligence analytics platform designed for capturing, storing and analysing large amounts of manufacturing data. The platform provides 
...
Read more...
---
Radiation-tolerant PolarFire FPGA
23 October 2019 , Programmable Logic
Developers of spacecraft electronics use radiation-tolerant (RT) field programmable gate arrays (FPGAs) to create on-board systems that meet the demanding performance needs of future space missions, survive 
...
Read more...
---