printer friendly version
Proteus 8.6 released, now simulating turtles
22 March 2017
Design Automation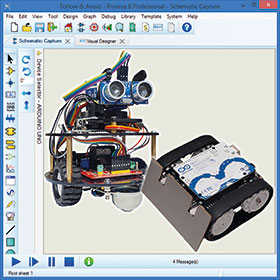 Version 8.6 of Proteus simulation and PCB design software adds new features such as STM32F103xx microcontroller simulation and serpentine track length matching, but perhaps one of the more novel new features is the 'Robotic Turtle Simulation'.
Targeted at education, simulation for two line-following and obstacle avoidance robots – the Funduino Turtle and Pololu Zumo – has been added to the latest release of the software. Users are able to draw any maze or obstacle course (obstacles in red and line-tracks in black) and then test their programming prowess by developing software to try and navigate the robotic vehicles safely through the course.
The robots feature sensors such as infrared reflectance optics, ultrasonic distance measurement and gyroscopic and compass orientation. The sensors are interfaced to an Arduino UNO, onto which firmware developed in any compiler (for example the native Arduino IDE) can be loaded for simulation.
Proteus Visual Designer, a drag-and-drop flowchart programming environment alternative which makes firmware development easy, also includes full support for the robots. High level functions such as turnEast() take all the complexity out of interfacing with the sensors and allow students to quickly start seeing results. As students progress, Visual Designer flowcharts can then be converted into full Arduino C/C++ sketches. As with all Proteus simulation, the ability to pause time and single-step through code provides powerful debugging insights. Once ready to try the firmware out in the real world, Visual Designer code can be downloaded to the real robots at the click of a button.
For more information contact Dizzy Enterprises, +27 (0)11 022 5323, dizzymail@netactive.co.za, www.dizzy.co.za
Credit(s)
Further reading:
3D simulation IDE boosts factory productivity
Omron Electronics Design Automation
Omron's updated Sysmac Studio 3D Simulation integrated development environment (IDE) integrates and verifies the movements of robots and peripheral devices. It can digitally reproduce an entire facility 
...
Read more...
---
Features added to DesignSpark PCB Pro
RS Components (SA) Design Automation
RS Components added new features to DesignSpark PCB Pro and introduced an RS stock number to make it easier to purchase. The free-of-charge version of DesignSpark PCB, part of the award-winning RS DesignSpark 
...
Read more...
---
Wi-Fi peripheral development board
Dizzy Enterprises Telecoms, Datacoms, Wireless, IoT
MikroElektronika has launched WiFi 8 Click, a compact add-on peripheral board that features Microchip's ATWINC3400-MR210CA Wi-Fi and Bluetooth 5.0-certified module that is optimised for low-power and 
...
Read more...
---
Evaluation kit for formaldehyde sensor
Electrocomp Design Automation
The SEK-SFA30 evaluation kit has been designed for easy evaluation of Sensirion's SFA30 formaldehyde sensor. The SFA30 is designed for easy integration into air purifiers, demand-controlled ventilation 
...
Read more...
---
mikroSDK adds support for Kinetis MCUs
Dizzy Enterprises Design Automation
MikroElektronika's multi-architectural software development kit, mikroSDK 2.0, now supports 147 microcontrollers (MCUs) from NXP Semiconductors. mikroSDK is a collection of open-source software libraries 
...
Read more...
---
Altium Designer component creation webinar
Design Automation
Component creation is a necessary evil when it comes to design and it's something we all need to do. But instead of spending hours creating your components and having them turn into a complete roadblock, 
...
Read more...
---
Deep learning APIs for Espressif SoCs
iCorp Technologies Design Automation
ESP-DL, recently introduced by Espressif Systems, provides APIs for neural network (NN) inference, image processing, maths operations and deep learning (DL) models. With ESP-DL, developers can use Espressif's 
...
Read more...
---
TI software tool for power stage design
Design Automation
The Power Stage Designer software tool from Texas Instruments (TI) helps you accelerate your power supply designs by calculating voltages and currents of 20 topologies according to your own inputs. All 
...
Read more...
---
EMI power choke impedance finder
Design Automation
Coilcraft's EMI Power Choke Impedance Finder is a powerful search and analysis tool for finding the optimal off-the-shelf inductors/chokes for different types of EMI filters (e.g. LC low-pass filters, 
...
Read more...
---
Browser-based design viewer for Altium 365
EDA Technologies Design Automation
Complementing its professional-level Altium 365 cloud platform, Altium offers a simple and convenient way to view and share electronic designs through your browser. Schematics, PCB layout and 3D visualisation 
...
Read more...
---