printer friendly version
Microsemi unveils PolarFire FPGA
22 March 2017
Programmable Logic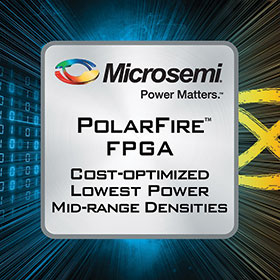 Microsemi unveiled the new cost-optimised PolarFire field programmable gate array (FPGA) product family, delivering what the firm claims is the industry's lowest power at mid-range densities with 12,7 Gbps serialiser/deserialiser (SerDes) transceivers as well as best-in-class security and reliability. The FPGA product family is ideal for a wide range of applications within wireline access networks and cellular infrastructure, defence and commercial aviation markets, as well as Industry 4.0 which includes the industrial automation and Internet of Things (IoT) markets.
Today's cellular infrastructure and wireline access networks are facing a rapid transformation, having to deliver terabytes of high-value content to consumers while reducing operational and capital expenditure, as well as reducing their thermal and carbon footprints. PolarFire FPGAs provide cost-effective bandwidth processing capabilities for the increasing number of converged 10 Gpbs ports with a low power footprint. They also address the market's growing concerns over tangible cyber security threats as well as reliability concerns that face deep submicron SRAM-based FPGAs as they relate to single event upsets (SEUs) in their configuration memory.
In collaboration with Silicon Creations, Microsemi has developed a 12,7 Gbps transceiver that consumes less than 90 mW at 10 Gbps. The devices boast low device static power of 34 mW at 100K logic elements (LEs), zero inrush current and unique Flash*Freeze mode for standby power of 15 mW at 25°C. Microsemi also provides customers with a power estimator to analyse power consumption of their designs. After implementation, the SmartPower Analyser can be used to access full design power.
PolarFire also provides inherent immunity to configuration SEUs. Additional features to aid with reliability include built-in single error correction and double error detection (SECDED) as well as memory interleaving on large static random access memory (LSRAMs), and system controller suspend mode for safety-critical designs.
Leveraging Microsemi's expertise in security, the new FPGAs offer Cryptography Research Incorporated (CRI) patented differential power analysis (DPA) bitstream protection, integrated physically unclonable function (PUF), 56 KB of secure embedded non-volatile memory (eNVM), built-in tamper detectors and countermeasures, true random number generators, integrated Athena TeraFire EXP5200B Crypto Co-processors (Suite B capable) and a CRI DPA counter-measures pass-through licence.
The Libero SoC Design Suite offers comprehensive, easy to learn, easy to adopt development tools for designing with PolarFire FPGAs. The suite includes a complete design flow with Synopsys Synplify Pro synthesis and Mentor Graphics ModelSim Pro mixed-language simulation with advanced constraints management, and Microsemi's differentiated FPGA debugging suite, SmartDebug. Popular IP solutions for 1G Ethernet, 10G Ethernet, JESD204B, DDR memory interfaces, AXI4 interconnect IPs and others are available for use with PolarFire devices.
Credit(s)
Further reading:
FPGAs for embedded vision and edge AI
25 November 2020, Future Electronics , Programmable Logic
Lattice Semiconductor announced the first FPGA developed on its new Lattice Nexus FPGA platform, the CrossLink-NX. This new FPGA provides the low power, small form factor, reliability, and performance 
...
Read more...
---
Smart manufacturing for electronics
29 July 2020, ASIC Design Services , Manufacturing / Production Technology, Hardware & Services
This article describes a product development strategy designed for manufacturers of electronics for consumer and industrial products, home appliances, manufacturing services, automotive and transportation, 
...
Read more...
---
FPGA development suite for Pentek recorders
30 June 2020, Rugged Interconnect Technologies , Programmable Logic
Pentek's ArchiTek FPGA Development Suite is a new product for adding custom IP to select Pentek Talon recording systems. ArchiTek is a comprehensive development environment that enables engineers to add 
...
Read more...
---
Dual military-grade transceiver
29 April 2020, ASIC Design Services , Telecoms, Datacoms, Wireless, IoT
Holt Integrated Circuits today announced the introduction of its HI-15850, the world's first 3,3 V MIL-STD-1553 dual transceiver with 1,8 V, 2,5 V and 3,3 V compatible digital I/O. This feature gives 
...
Read more...
---
Advanced electronics help explore the sun
25 March 2020, ASIC Design Services , Programmable Logic
3D Plus has developed, in collaboration with CEA (France), gamma ray detectors for STIX instrument on board the Solar Orbiter. The mission was launched on 10 February 2020 from Cape Canaveral in Florida 
...
Read more...
---
Mini PCIe reference design for MIL-STD-1553
25 March 2020, ASIC Design Services , Computer/Embedded Technology
Holt Integrated Circuits introduced a new dual-channel development kit and complete reference design based on the popular HI-2130LBx MIL-STD-1553 fully integrated terminals. The kit includes a full-size 
...
Read more...
---
Halo invests in high-speed data transformers
29 January 2020, ASIC Design Services , Passive Components
Halo Electronics, a leading supplier of Ethernet transformers, has invested in UWB X Limited, a UK based technology company focused on creating a new high-speed transformer technology. As part of Halo's 
...
Read more...
---
Early access programme for PolarFire FPGAs
29 January 2020, ASIC Design Services , Programmable Logic
The trend towards compute-intensive gateways and edge devices is driving the integration of traditional deterministic control applications with additional embedded processing capabilities needed for smart 
...
Read more...
---
PCB manufacturing analytics software
EMP 2020 Electronics Manufacturing & Production Handbook, ASIC Design Services , Manufacturing / Production Technology, Hardware & Services
Valor IoT Manufacturing Analytics is an enterprise big-data business intelligence analytics platform designed for capturing, storing and analysing large amounts of manufacturing data. The platform provides 
...
Read more...
---
Radiation-tolerant PolarFire FPGA
23 October 2019 , Programmable Logic
Developers of spacecraft electronics use radiation-tolerant (RT) field programmable gate arrays (FPGAs) to create on-board systems that meet the demanding performance needs of future space missions, survive 
...
Read more...
---