printer friendly version
Microsemi unveils PolarFire FPGA
22 March 2017
Programmable Logic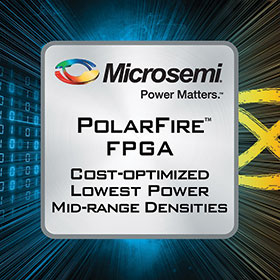 Microsemi unveiled the new cost-optimised PolarFire field programmable gate array (FPGA) product family, delivering what the firm claims is the industry's lowest power at mid-range densities with 12,7 Gbps serialiser/deserialiser (SerDes) transceivers as well as best-in-class security and reliability. The FPGA product family is ideal for a wide range of applications within wireline access networks and cellular infrastructure, defence and commercial aviation markets, as well as Industry 4.0 which includes the industrial automation and Internet of Things (IoT) markets.
Today's cellular infrastructure and wireline access networks are facing a rapid transformation, having to deliver terabytes of high-value content to consumers while reducing operational and capital expenditure, as well as reducing their thermal and carbon footprints. PolarFire FPGAs provide cost-effective bandwidth processing capabilities for the increasing number of converged 10 Gpbs ports with a low power footprint. They also address the market's growing concerns over tangible cyber security threats as well as reliability concerns that face deep submicron SRAM-based FPGAs as they relate to single event upsets (SEUs) in their configuration memory.
In collaboration with Silicon Creations, Microsemi has developed a 12,7 Gbps transceiver that consumes less than 90 mW at 10 Gbps. The devices boast low device static power of 34 mW at 100K logic elements (LEs), zero inrush current and unique Flash*Freeze mode for standby power of 15 mW at 25°C. Microsemi also provides customers with a power estimator to analyse power consumption of their designs. After implementation, the SmartPower Analyser can be used to access full design power.
PolarFire also provides inherent immunity to configuration SEUs. Additional features to aid with reliability include built-in single error correction and double error detection (SECDED) as well as memory interleaving on large static random access memory (LSRAMs), and system controller suspend mode for safety-critical designs.
Leveraging Microsemi's expertise in security, the new FPGAs offer Cryptography Research Incorporated (CRI) patented differential power analysis (DPA) bitstream protection, integrated physically unclonable function (PUF), 56 KB of secure embedded non-volatile memory (eNVM), built-in tamper detectors and countermeasures, true random number generators, integrated Athena TeraFire EXP5200B Crypto Co-processors (Suite B capable) and a CRI DPA counter-measures pass-through licence.
The Libero SoC Design Suite offers comprehensive, easy to learn, easy to adopt development tools for designing with PolarFire FPGAs. The suite includes a complete design flow with Synopsys Synplify Pro synthesis and Mentor Graphics ModelSim Pro mixed-language simulation with advanced constraints management, and Microsemi's differentiated FPGA debugging suite, SmartDebug. Popular IP solutions for 1G Ethernet, 10G Ethernet, JESD204B, DDR memory interfaces, AXI4 interconnect IPs and others are available for use with PolarFire devices.
Credit(s)
Further reading:
Embedded vision development tool for RISC-V FPGA
EBV Electrolink Programmable Logic
Microchip Technology announced the second development tool offering in its Smart Embedded Vision initiative for designers using its PolarFire RISC-V system-on-chip (SoC) FPGA. The industry's lowest-power 
...
Read more...
---
Latest updates to Libero SoC v2021.3 Design Suite
Altron Arrow Programmable Logic
Microchip Technology recently introduced new MPFS025T/095T/160T/250T PolarFire SoC devices with Tgrade2 operating conditions in standard and -1 speed grades and MPFS095TS/250TS/460TS devices with MIL 
...
Read more...
---
HLS tool suite for PolarFire FPGAs
EBV Electrolink Programmable Logic
The need to combine performance with low power consumption in edge compute applications has driven demand for field programmable gate arrays (FPGAs) to be used as power-efficient accelerators while also 
...
Read more...
---
Mid-range FPGAs for edge compute systems
Avnet Silica Programmable Logic
Edge compute systems need compact programmable devices with low power consumption and a small enough thermal footprint to eliminate fans and other heat mitigation while providing robust compute horsepower. 
...
Read more...
---
Microchip achieves JEDEC qualification for rad-tolerant FPGA
Future Electronics Programmable Logic
Developers of small-satellite constellations and other systems used in 'New Space' missions must deliver both high reliability and radiation protection while meeting stringent cost and scheduling requirements. 
...
Read more...
---
Intel Agilex FPGAs deliver flexibility and agility for the data-centric world
Altron Arrow Editor's Choice Programmable Logic
The Agilex FPGA fabric and innovative chiplet architecture delivers an extensible FPGA platform that scales across a wide range of device densities and brings key features and benefits to the table.
Read more...
---
Security tool for mission-critical FPGAs
Future Electronics Programmable Logic
Mission-critical and other high-assurance systems deployed worldwide are under rapidly evolving threats from cybercriminals who attempt to extract Critical Program Information (CPI) via the FPGAs that 
...
Read more...
---
Lattice releases new version of sensAI
Future Electronics Programmable Logic Design Automation
New enhancements have been made to Lattice Semiconductor's award-winning sensAI solution stack for accelerating AI/ML (artificial intelligence/machine learning) application development on low-power Lattice 
...
Read more...
---
FPGAs for embedded vision and edge AI
Future Electronics Programmable Logic
Lattice Semiconductor announced the first FPGA developed on its new Lattice Nexus FPGA platform, the CrossLink-NX. This new FPGA provides the low power, small form factor, reliability, and performance 
...
Read more...
---
Smart manufacturing for electronics
ASIC Design Services Manufacturing / Production Technology, Hardware & Services
This article describes a product development strategy designed for manufacturers of electronics for consumer and industrial products, home appliances, manufacturing services, automotive and transportation, 
...
Read more...
---