printer friendly version
DFT tool for Mentor Graphics PADS
19 April 2017
Design Automation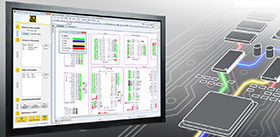 Developed by XJTAG, the free DFT Assistant software for Mentor Graphics' PADS platform increases the design for test (DFT) and debug capabilities of the schematic capture and PCB design environment.
Printed circuit boards (PCBs) are increasingly densely populated and access to pins under many packages, such as ball grid arrays (BGA), is virtually impossible. JTAG was designed to solve the problem of access and so it is now vitally important to get the JTAG chain right at the design stage. Failure to identify and fix design errors at an early stage can result in a board re-spin and a costly delay to a project. XJTAG DFT Assistant helps validate correct JTAG chain connectivity, through full integration with the PADS schematic capture environment.
"PADS products now include the XJTAG DFT Assistant that provides engineers with a free, easy-to-use interface to check if JTAG chains are correctly connected and terminated at the schematic capture stage, long before the PCB is produced," said Jim Martens, product marketing manager, PADS Solutions Group. "By detecting and correcting these faults earlier, companies do save both time and money. This software is free for PADS users of VX.2.1 or higher and can be downloaded from www.xjtag.com/pads."
The XJTAG DFT Assistant comprises of two key elements: the XJTAG Chain Checker, and the XJTAG Access Viewer.
XJTAG Chain Checker identifies common errors in a JTAG scan chain, such as incorrectly connected test access ports (TAPs). A single connection error would inhibit an entire scan chain from working. The checker identifies connection errors and reports them to the developer during the design process. Incorrectly terminated TAPs are also identified.
XJTAG Access Viewer overlays the extent of boundary scan access onto the schematic diagram, allowing users to instantly see which components are accessible using boundary scan, and where test coverage could be further extended. Engineers can highlight the nets individually to show read, write, power/ground and the nets that don't have any JTAG access on the schematic.
While the first prototype is being manufactured, XJTAG DFT Assistant allows engineers to export a preliminary XJTAG project from the PADS schematic capture environment to the XJTAG development software, where additional tests can be developed. These can then be used to test real hardware, as soon as it's available.
For more information contact ASIC Design Services, +27 (0)11 315 8316, info@asic.co.za, www.asic.co.za
Credit(s)
Further reading:
HMI for IoT development kit
29 July 2020, RS Components (SA) , Design Automation
Optimised for HMI development in the IoT (Internet of Things), Renesas Electronics' RX72N Envision Kit offers a highly sophisticated and integrated platform for developing applications that require a 
...
Read more...
---
Smart manufacturing for electronics
29 July 2020, ASIC Design Services , Manufacturing / Production Technology, Hardware & Services
This article describes a product development strategy designed for manufacturers of electronics for consumer and industrial products, home appliances, manufacturing services, automotive and transportation, 
...
Read more...
---
Online Tibbo BASIC code generator
29 May 2020, RF Design , Design Automation
Cody is a template project generator that produces working Tibbo BASIC code from the information provided via a few simple-to-understand configuration screens. This web-based app allows you to quickly 
...
Read more...
---
Bourns launches new mobile app
25 March 2020, Electrocomp , Design Automation
The new Bourns app is now available free to download for iOS and Android at the Apple App Store and at the Google Play Store. Mobile apps are very popular marketing tools these days with over 50 million 
...
Read more...
---
Guide for designing GUIs, for novices to experts
29 April 2020, Avnet Silica , Design Automation
The TouchGFX team at STMicroelectronics recently published TouchGFX Documentation, a website that targets developers working on their first embedded graphical user interface (GUI) as well as those with 
...
Read more...
---
Free PADS software for students and instructors
29 April 2020 , Design Automation
As part of its ongoing investment in higher education, Mentor, a Siemens business, announced that students and instructors can download a free student edition of its premium PADS Professional Design Suite 
...
Read more...
---
Embedding a 3D STEP model in a footprint
29 April 2020, EDA Technologies , Design Automation
Integrating mechanical design workflows into electrical design tools has become a necessary component of today's successful PCB design processes. But transferring inaccurate design data back and forth 
...
Read more...
---
Dual military-grade transceiver
29 April 2020, ASIC Design Services , Telecoms, Datacoms, Wireless, IoT
Holt Integrated Circuits today announced the introduction of its HI-15850, the world's first 3,3 V MIL-STD-1553 dual transceiver with 1,8 V, 2,5 V and 3,3 V compatible digital I/O. This feature gives 
...
Read more...
---
Advanced electronics help explore the sun
25 March 2020, ASIC Design Services , Programmable Logic
3D Plus has developed, in collaboration with CEA (France), gamma ray detectors for STIX instrument on board the Solar Orbiter. The mission was launched on 10 February 2020 from Cape Canaveral in Florida 
...
Read more...
---
STM32CubeMonitor for runtime variable monitoring
25 March 2020, Altron Arrow , Design Automation
The STM32CubeMonitor family of tools helps to fine-tune and diagnose STM32 applications at runtime by reading and visualising their variables in real time. In addition to specialised versions (power, 
...
Read more...
---