printer friendly version
Millimetre-wave signal analyser
15 November 2017 Electronics Technology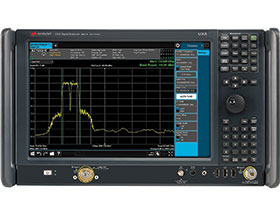 The N9041B UXA X-Series signal analyser from Keysight Technologies provides frequency coverage to 110 GHz with a maximum analysis bandwidth of up to 5 GHz. Utilising advanced front-end circuitry that achieves low loss and efficient mixing, the instrument boasts a displayed average noise level (DANL) as low as –150 dBm/Hz when characterising wideband modulated signals in the millimetre-wave band.
The challenges of designing systems at these frequencies are significant, and this increases the need for integrated tools in design, simulation, measurement and analysis. Keysight software solutions for design and simulation provide an efficient workflow that accelerates development of next-generation devices and systems. These tools were used in the development of the N9041B UXA and enabled first-time-correct designs of its millimetre-wave circuits.
Keysight engineers also used the company's advanced millimetre-wave measurement tools, including network analysers, oscilloscopes, spectrum analysers, signal generators and associated application software, to fully characterise their devices.
Current applications of these tools include development of 5G wireless communications, millimetre-wave backhaul, satellite communications, automotive radar, military radar and electronic warfare systems. Emerging applications encompass development of devices and systems capable of performing high-resolution materials measurements for manufacturing, pharmaceutical and medical.
Credit(s)
Further reading:
Analog Devices leverages Microsoft's 3D ToF tech
25 November 2020 , Electronics Technology
Analog Devices is working with Microsoft to leverage Microsoft's 3D time-of-flight (ToF) sensor technology, allowing customers to easily create high-performance 3D applications that bring higher degrees 
...
Read more...
---
IoT communication without batteries
28 October 2020 , Electronics Technology
When we talk about IoT, we often gloss over the fact that all these interconnected things need batteries and electronics to carry out the job of collecting and processing data while they're communicating 
...
Read more...
---
How 5G will influence autonomous driving systems
30 September 2020, Concilium Technologies , Editor's Choice, Telecoms, Datacoms, Wireless, IoT
Wireless communication technologies like 5G offer three major benefits: safer roads, more efficient traffic routing and more in-vehicle convenience.
Read more...
---
Make your factories smarter by harnessing Industry 4.0
29 July 2020, Concilium Technologies , Manufacturing / Production Technology, Hardware & Services
The Internet of Things (IoT) is changing the way industries handle procurement, processing, distribution of materials, and their final products. The introduction of intelligent sensors, mission-critical 
...
Read more...
---
Uncover EMI issues early with simple pre-compliance tests
30 June 2020, Concilium Technologies , Test & Measurement
An effective pre-compliance testing methodology will reduce test cycle times, which ultimately impacts a company's bottom line.
Read more...
---
Principles and testing of 5G over-the-air performance
29 May 2020, Concilium Technologies , Telecoms, Datacoms, Wireless, IoT
Deploying 5G on mmWave presents many challenges to RF engineers. It is essential to have a robust channel model for 5G mmWave frequencies.
Read more...
---
Stable perovskite LEDs one step closer
25 March 2020 , Electronics Technology
Researchers at Sweden's Linköping University, working with colleagues in Great Britain, China and the Czech Republic, have developed a perovskite light-emitting diode (LED) with both high efficiency and 
...
Read more...
---
Infineon works with Qualcomm for 3D authentication
25 March 2020 , Electronics Technology
Infineon Technologies has collaborated with Qualcomm Technologies to develop a reference design for 3D authentication based on the Qualcomm Snapdragon 865 mobile platform. Infineon is thus extending its 
...
Read more...
---
Better phase noise measurement for Infiniium UXR scopes
26 February 2020, Concilium Technologies , Test & Measurement
Keysight Technologies and Silicon Labs announced a collaboration that streamlines the validation of timing solutions critical in the development of system-level designs for wireless communications, high-speed 
...
Read more...
---
Eliminate risk with proper calibration
26 February 2020, Concilium Technologies , Test & Measurement
Proper calibration lowers cost of test by reducing the number of incorrect decisions made, by improving instrument performance.
Read more...
---