printer friendly version
Non-isolated switching regulators
15 November 2017
Power Electronics / Power Management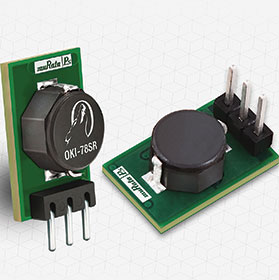 Murata has added a 12 V model to its OKI-78SR series of non-isolated switching regulator DC-DC power converters for embedded applications. The fixed single-output converter offers both tight regulation and high efficiency directly at the power usage site, and is a direct plug-in replacement for TO-220 package 78xx series linear regulators.
Rated at 12 V/ 1 A, when powered from a 24 V source, the OKI-78SR-12/1.0-W36-C converter's efficiency is a very high 95%, eliminating the need for a heatsink that adds cost and increases complexity in the design and manufacturing processes. Cleverly packaged in the form of a three-terminal 78xx linear regulator, the converter operates from a source voltage of 15 to 36 V and is available in both vertical and horizontal mounting options. The package size is just 10,4 x 7, 62 x 16,5 mm.
The OKI-78SR series is suitable in a wide range of applications, including computing, networking, telecommunications, industrial, aerospace and rail. It is ideal for any application where the ambient temperature ranges from -40°C to 85°C, which has a source/system voltage in the range of 15 to 36 V d.c., and where the output requirement is for 12 V at 1 A. Standard features include a factory-set Vout at 12 V d.c., short-circuit/over-current protection, UL/EJ/IEC 60950-1, second edition safety approvals and RoHS compliance.
For more information contact Jeva Narian, Arrow Altech Distribution, +27 (0)11 923 9600, jnarian@arrow.altech.co.za, www.arrow.altech.co.za
Credit(s)
Further reading:
Maintaining backup battery systems for maximum usage and reliability
30 September 2020, Comtest , Power Electronics / Power Management
Standby battery backup systems play a critical role in keeping essential operations functional in the event of a utility outage. Facilities like data centres, hospitals, airports, utilities, oil and gas 
...
Read more...
---
Double the power output from new Tadiran battery
30 September 2020, Altron Arrow , Power Electronics / Power Management
Tadiran has developed the latest in its PulsesPlus HLC battery range, doubling the power output of its previous offering. Recently the company launched the C-type HLC which represented a huge improvement 
...
Read more...
---
SABS addresses dangers of power adaptors to consumers
28 October 2020 , Power Electronics / Power Management
The increased use of devices and appliances has resulted in the increased use of adaptors as well as adaptors-on-adaptors in South Africa. This creates a risk of fires, short circuiting and damage or 
...
Read more...
---
Just Batteries develops Li-ion battery pack for drones
28 October 2020, Just Batteries , Power Electronics / Power Management
The commercial market for drones is ever growing, ranging from delivering your pizza or shoes to supplying medical equipment to rural and inaccessible areas. Just Batteries' design, development and 
...
Read more...
---
1200 V SiC MOSFETs
28 October 2020, RS Components (SA) , Power Electronics / Power Management
RS Components now stocks ON Semiconductor's latest 1200 V-rated MOSFETs. Based on silicon-carbide (SiC) technology, these power discretes are able to push the performance envelope. The new N-channel 
...
Read more...
---
LTO batteries in mining applications
28 October 2020 , Power Electronics / Power Management
The mining industry in Africa provides numerous jobs and essential raw materials for the Fourth Industrial Revolution, critical to rebuilding economies and industry after the Covid-19 epidemic. However, 
...
Read more...
---
MCUs with low-power animated display driver
28 October 2020, Altron Arrow , DSP, Micros & Memory
System developers of battery-powered and other power-conscious designs with and without LCD displays can now easily add an array of innovative features using a new line of PIC eXtreme Low Power (XLP) 
...
Read more...
---
Licence- and royalty-free ensemble graphics toolkit
28 October 2020, Altron Arrow , Design Automation
Graphical user interfaces (GUIs) and interactive touchscreen displays provide intuitive user experiences in applications from robotic and machine controls to medical user interfaces, automotive instrumentation 
...
Read more...
---
Bidirectional DC power supply for lab testing
30 September 2020, Conical Technologies , Power Electronics / Power Management
The new IT-M3400 bidirectional DC power supply from ITECH integrates the features of a bidirectional power supply and a regenerative load. It inherits the advantages of high power density and modular 
...
Read more...
---
Global analysis of the solid-state battery market
30 September 2020 , Power Electronics / Power Management
The rapid growth of the electric vehicle market has driven the development, manufacture and sales of batteries, especially lithium-ion batteries. In the meantime, market research firm IDTechEx has identified 
...
Read more...
---