In just five years, California-based XLR8 Services went from being an unknown contract manufacturing startup to winning the top customer awards for quality, responsiveness and technology at this year's IPC APEX Expo. So how has their kitting room evolved to support both high performance and exponentially rising product volumes?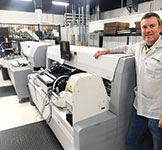 Jason Powell, president, owner and co-founder, XLR8 Services.
For president, owner and co-founder, Jason Powell, the market niche for a new type of contract manufacturing service was clear, especially in southern California, where new tech companies and innovative engineers were growing impatient for quick, high-quality results. Consumer products or defence manufacturers, one board or thousands – it didn't matter. Design cycles were shrinking fast. Testing never stopped. And everyone needed their boards in days, not weeks.
As an industry veteran with more than a decade's experience at two of the world's largest contract manufacturers, Powell foresaw a growing market need where others balked at the complexity. Together with an ex-colleague, he founded XLR8 Services with a determination to help customers turn ideas into designs, and designs into products, in record time.
Doing more with less space
Powell wasn't immediately interested in SMD towers during the company's early years. "With just one line and plenty of space, we felt we could manage using a lot of racks and boxes," he explains. But as customer relationships evolved, expanding from just a dozen units to as many as 10 000 units per month for some customers, space became a critical constraint. Eventually the company had a decision to make: would it find a new, more compact kitting and storage solution or be forced to take on additional floor space in order to expand?
In early 2017, XLR8 had decided to install its first SMD tower, mainly to save space but also to support an additional Mycronic pick-and-place line. By this time, the company had grown to more than 30 employees with more than 100 accounts across all major market segments. A second SMD tower, and then a third, were added in quick succession.
"I'll be the first to admit I was wrong to be sceptical in the beginning," continues Powell, describing how quickly he was convinced by his first SMD tower. "As we grew, my mindset evolved … today we have the same number of kitting staff, but revenue has more than doubled since the first tower was installed," he points out, explaining the efficiency of the new material handling system. "Now we're about to add our third SMT line and have four towers in total."
Cutting down on kitting time
In addition to being able to handle double the volume with the same number of kitting staff, the SMD tower setup has enabled XLR±8 to achieve significant time savings. "For us a typical kit size is 80–100 line items," says Powell. "Before the towers, it might have taken a person two or three minutes per line item to go and pull them from stock. With the towers it takes less than 15 seconds per item. A several-hour job becomes 20 minutes."
It's this level of efficiency that has changed the way Powell thinks about the value of his kitting and component storage. "For business owners, it's easier to quantify the items that make you money – like your pick-and-place machines. The mental step that's often ignored, but is equally important is: how do you save money, time, space and staff? It all affects the bottom line."
An unexpected surprise
Another surprise came when Powell began to welcome customers into his new kitting room. "Customers just love it when they come in," he says. "They see a very high-tech and secure material management system that accurately tracks their components in a controlled environment. I never expected it to be a sales tool, but every time I do a factory visit I make sure to show these machines. It's a huge selling point for us."
For a company like XLR8 – which averages four to six kits per day, regularly does same-day builds and ships nearly everything else within three days of receiving the order – the value of the SMD towers is clear. But what other types of manufacturers does Powell think should consider making the same investment? "Any place that's space constrained or spends a lot of time on setup," he responds. "But there's even more value in vertical integration. We could buy another brand, but when you have the pick-and-place equipment it's really a no-brainer. They just interface so efficiently."