According to experts, between 60 and 70% of all defects and failures during or after the soldering process are attributable to defects in the printing process (Figure 1). In general, these are faulty solder joints, which in turn have their causes in solder paste printing mistakes. Therefore, the stencils used in the assembly process must already be cleaned during the printing process – if not, soldering errors caused by luting and bridges are inevitable.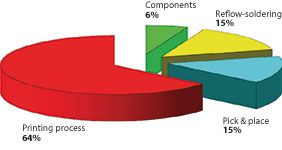 Figure 1. Approximately 64% of process-related failures are related to deficits in the entire printing process.
Especially in the fine and ultrafine pitch range, many details are no longer visible to the naked eye (a stencil designed for wafer production can easily have more than 300 000 apertures). Microscopic carry-overs cause a noticeable loss of quality or lead to later failures or rework, which can amount to about 25% of the manufacturing costs of an assembly.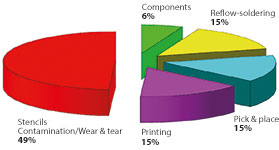 Figure 2. The stencil area alone is responsible for almost half of the total failures.
It is realistic to assume that the failure rate of 15% each during picking-and-placing and soldering would also be of a similar value for the machine printing performance, considering the use of always perfectly new and cleaned stencils. As a reverse conclusion, this means that almost 50% of process-related failures – besides wear and tear – are attributable to poor or inadequate cleaning of the relevant production tools like stencils and squeegees (Figure 2).
In order to ensure a qualified printing process in an SMD screen printer as long as possible before the stencil has to be externally machine cleaned, it is necessary to clean the underside of the stencil from flux residues already inside the screen printer.
In modern screen printers, this usually happens during the process through an automatic bottom cleaning unit, using cleaning fleeces and a suitable ready-to-use detergent. A suitable stencil cleaner for use in screen printers – such as kolb's WipeEx SA120, which has been specially developed for this purpose – offers qualified and efficient cleaning performance due to the following factors: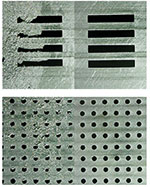 Figure 3. Stencil apertures before and after cleaning with Wipex SA 120.
• Optimal flow and wetting properties
• One-phase (aqueous, stable)
• Cleans SMD paste and SMD glue
• Cleans in contaminated state
• Fast, residue-free evaporation/ drying
• Does not change the viscosity of the adhesive
• Does not cause polymerisation (curing) of the adhesive
• No classification as a dangerous good
• Non-critical flash point (optimal >120°C)
• Biodegradable (92% after 28 days [OECD Test 301A])
• Low odour (with fresh scent)
In certain cases, manual (re)work on the stencils may be necessary; or, when it comes to cleaning squeegees by hand, to avoid carryover here too. For that kolb offers WetWipes, WipeEx' SA120 impregnated, ready-to-use cleaning wipes with a cleaning fleece especially for stencils with fine apertures, low to no particle delivery, even soaking, and high elasticity/tear strength with high absorption of the medium or paste mixture.