Yamaha's S10 and S20 i-Pulse 3D hybrid surface mounters, featuring enhanced support for MIDs (moulded interconnect devices), were developed under the concept of a single-unit manufacturing centre designed for surface mounting, dispensing and inspecting.
In addition to having fast product loading speed and high accuracy, as well as versatile mounting options from ultra-small chips to large components, these models are hybrids with their mounting heads and dispensing heads intermingled, allowing alternate dispensing and mounting.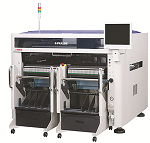 The machine's tilt mechanism and long stroke on the Z-axis make surface-mounting possible on concave, convex, sloped and curved surfaces. Head variation can also be set to a 6-axis 6-theta, or 12-axis 2-theta configuration. Stable dispensing and inspection is carried out thanks to the adoption of a colour fiducial mark recognition camera and advanced lighting units.
The S10 and S20 can handle boards up to 1240 x 510 mm in size (or optionally 1825 x 635 mm) and components ranging from 0201 (0,25 x 0,125 mm) chips up to 120 x 90 mm, with mounting heights up to 35 mm.
For more information contact Zetech, +27 11 609 1244, orliain@icon.co.za, www.zetech.co.za