printer friendly version
First ever all-digital radio transmitter invented
8 April 2015 Electronics Technology News Telecoms, Datacoms, Wireless, IoT Editor's Choice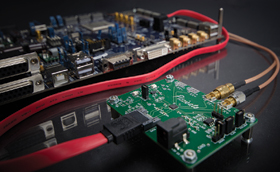 Technology innovation firm Cambridge Consultants of the UK has successfully completed initial trials of the world's first fully digital radio transmitter.
Unlike software-defined radio (SDR), it's not a mixture of analog and digital components, but rather a completely digital radio that can enable new ways of using spectrum intelligently.
According to the company, the latest breakthrough – codenamed Pizzicato – opens the door to a new dynamic way in which the predicted 100 billion IoT (Internet of Things) devices can operate together in a crowded radio spectrum, and will enable the creation of 5G systems with multiple radios and antennas.
The transmitter consists of an integrated circuit outputting a single stream of bits, and an antenna – with no conventional radio parts or digital-to-analog converter. Patented algorithms perform the necessary ultra-fast computations in real time, making it possible for standard digital technology to generate high-frequency radio signals directly.
According to Monty Barlow, director of wireless technology at Cambridge Consultants, the first trial of the technology has created 14 simultaneous cellular base station signals, but more exciting is the potential. "If we're going to get high-speed broadband to every mobile phone in the world, we'll need lots of tiny, high-performance radios in those phones," he points out. "The radios will be squashed together in a way that analog just doesn't tolerate, whereas a Pizzicato-like digital radio can follow Moore's Law to smaller size and lower power consumption.
"It could also be programmed to generate almost any combination of signals at any carrier frequencies, nimbly adapting its behaviour in a way that is impossible in conventional radios. It is early days for this technology but we believe radio design has reached a turning point."
Good radio spectrum is a scarce resource; only low frequencies (1 GHz or lower) propagate well over distance or through walls, so they are in great demand. Greater efficiency requires the use of dynamic or 'cognitive wireless' techniques to sense the radio environment and switch parameters on the fly. This could give access to more of the estimated 90% of the allocated spectrum which is not in use at any one time.
Making use of the higher carrier frequencies of 10 GHz and beyond, however, will require techniques such as meshing and beamforming to circumvent the inherently poor range, and the analog parts of radios are becoming an increasing bottleneck.
"Crowding 50 analog radios together on one chip, switching their operational parameters every few microseconds and expecting them to work at 60 GHz is an analog designer's nightmare," said Barlow. "With Pizzicato, we have created a glimpse of future disruptive technology – a radio built purely from computing power."
Further reading:
Top five MPU suppliers strengthen market dominance
Editor's Choice News
The new ranking shows that long-time leader in microprocessor units, Intel, has moved downwards closer to half the total worldwide sales in microprocessors.
Read more...
---
Panasonic releases its updated touch-sensitive knob
Altron Arrow Electronics Technology
Panasonic, in conjunction with Microchip, has launched an update to its existing Magic Knob, a capacitive knob ready for standard touch sensors for use in controlling automotive information displays.
Read more...
---
Electronics news digest
Technews Publishing Electronic News Digest News
The Semiconductor Industry Association (SIA) has announced global semiconductor industry sales were $51,8 billion in the month of May 2022, an increase of 18,0% over the May 2021 total of $43,9 billion 
...
Read more...
---
EVENTS
Events News
IFA Berlin
2-6 September Berlin, Germany This event aims to present the latest products and innovations in the commercial electronics industry. It will offer a comprehensive overview of the international 
...
Read more...
---
Going beyond with HONOR
MyKay Tronics Editor's Choice News
The tempo of business in China is lightning fast. But if you are responsive and go a step beyond, the rewards can be great. In just 15 days, Mycronic delivered 30 dispensing systems to HONOR.
Read more...
---
Vicor releases technology predictions for 2022
Editor's Choice News
Predictions for 2022 in automotive, hyperscale computing and aerospace and defence will see innovation adapt to support electrification and drive growth.
Read more...
---
Helium mining – Popular hype or real business opportunity? – Part 2
Otto Wireless Solutions Editor's Choice Telecoms, Datacoms, Wireless, IoT
"I would say it is really easy to get into, but you need to be aware of the exchange rates and you need to have a solid and stable Internet network."
Read more...
---
Microchip's new IC to replace Hall effect position sensors
Altron Arrow Electronics Technology
The LX34070 IC from Microchip is set to help accelerate the global move away from expensive and less accurate magnet-based solutions for safety-critical EV motor position monitoring.
Read more...
---
ExecuGroup launches ExecuWeb, sponsors engineering talent
ExecuKit Editor's Choice News
Not content just to roll out a new platform for sourcing redundant and obsolete components, the company is also providing financial aid to an NWU student.
Read more...
---
Should you buy a software-defined radio or build your own?
RFiber Solutions Editor's Choice Telecoms, Datacoms, Wireless, IoT
As the market for software-defined radios grows, many engineering organisations are wrestling with the age-old question: build or buy?
Read more...
---