printer friendly version
Constructing a new wireless networking standard for building automation
8 April 2015 Telecoms, Datacoms, Wireless, IoT News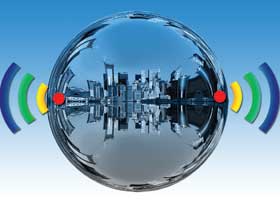 Although automation systems for commercial buildings and domestic dwellings are nothing new, proprietary systems have predominated (with exceptions like Instabus, Konnex and KNX) and they have been exclusively used within their application niches. Now the phenomenon that has come to be known as the Internet of Things (IoT) has added a new dimension to building and domestic automation to give networking a major boost.
As far back as 2006, leading manufacturers, users and operators launched the international IP500 Alliance initiative (www.ip500.org) with the goal "to define, develop and provide a secure and vendor-neutral wireless communication platform for smart buildings."
Membership of the alliance has swelled since its inception, and currently includes the likes of Bosch Safety Systems, Dorma, Geze, Honeywell Esser, Siemens Building Technologies, Tyco, Wago and Orange. More than 30 of these members have been hard at work for the last two years, developing the new IP500 platform together with partners such as TÜV Rheinland, Varta Microbattery and EBV Elektronik.
The most critical requirement defined by the working group for this platform is that it should meet all the technical requirements for secure, interoperable and cross-disciplinary networking of smart devices for use in all areas of building automation.
It was essential for all parties that a common solution is achieved to ensure maximum interoperability based on existing standards and industry norms such as IEEE 802.15.4, IPv6, 6LowPAN, BACnet, AES128 or IPsec. Two particularly important aspects of IP500 are safety in the sense of functional safety, and security in the sense of data confidentiality, integrity and authenticity.
Safe and secure
In close partnership with VdS (Germany's leading fire protection and security testing institution), one of the most important aspects implemented by IP500 is that of redundancy for operational safety. Using AES-128 encryption with special authentication, the standard provides the necessary safety by transmitting each piece of data with a constantly changing 8-bit key. Although this is only a section of the whole key, it does ensure a different key is transmitted each time.
It is also important to decide which form of safety/security is particularly relevant: safety in the sense of data loss, or security in the sense of data theft/corruption. With smoke detectors, for example, it is vital that data loss does not occur i.e. that a smoke detector always detects smoke. This requires a constant live signal indicating the smoke detector is active. Secondly it must be ensured that any generated signals are always reliably delivered.
One conceivable system hack would be simulation of a fire. Worse still would be the failure of a smoke detector to generate an alarm when there really is a fire. This last point must be guaranteed, while the first should be prevented – and this is the basic idea behind IP500.
Built for purpose
The IP500 Alliance originally concerned itself with wireless communication for safety-relevant applications in building management. Now it's also looking at the smart grid and building automation. Typical applications are fire and smoke detectors, the control of the routes to emergency exits, lighting of escape routes, alarm systems and intrusion detectors, light and air conditioning control, messaging and localisation, access control and security locks, as well as special protection in general – in other words, any safety-critical application.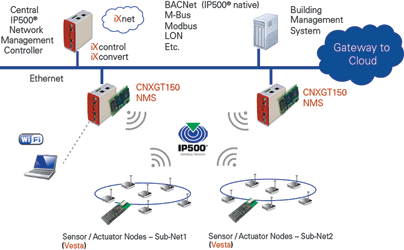 Conceptual diagram of an interoperable IP500 network.
In contrast to the usual (IEEE) standardisations, the end equipment manufacturers followed a top-down approach to define IP500. They considered the data throughput, safety levels and redundancy needed to fulfil requirements. IP500's range and energy consumption etc. are also important aspects which require a suitable compromise to be found. The structure of asynchronous mesh networks enables particularly low energy consumption, while the base operating frequency of 868 MHz allows for extended range and penetration in closed spaces.
An IP500 network contains different types of nodes. The so-called fully functional devices are permanently powered rather than battery operated, whereas reduced functional devices are battery operated and often remain in a deep sleep mode but wake up quickly to interrupts or other such events. The batteries in a reduced functional device must last up to ten years.
Devices such as smoke detectors also contain a particularly energy efficient real-time clock which runs in parallel and uses special interrupts to wake up the processor into different modes.
Seeking global recognition
The IP500 standard itself is still very much a central European standard and relatively unknown elsewhere, but alliance activities are currently being undertaken to increase international awareness of the standard. To this end, the alliance now has an official representative in Silicon Valley, who was a founder of and driving force behind the ZigBee standard. Official alliance representatives in Singapore and Japan are also working to increase brand awareness.
Alliance founder and chairman Helmut Adamski's marketing activities include speaking to companies like Google to investigate topics such as the possibility of connecting with KNX and whether IP500 can be used as an underlying protocol. EBV Elektronik is the official product partner of the IP500 Alliance, and because the company has the worldwide rights to use the standard, it is pushing for its globalisation.
Vesta: The world's first certified module

Vesta development board.
As part of its EBVchips programme, EBV is in the process of launching Vesta, the world's first VdS-certified IP500 module. Both the hardware and software stack were developed by a company called Corenetics, and FCC and CE certifications are pending.
Based on an Atmel chipset, the module is currently available in the 868 MHz range, with a dual-band version planned which will send data over an asynchronous mesh network with redundant routing (ZigBee uses a synchronous mesh network). The advantage of the IP500 module is that should one node fail, another can take over data transmission. A dual-band-module can also handle data traffic.
While a new protocol stack had to be developed to provide the necessary redundancy, the system uses existing PHYs – in this case one from Atmel – so that existing hardware can be used, which has a positive effect on costs. The next step after the dual-band module will be the development of what the alliance refers to as a 'single-chip' solution, but what will technically be a system-in-package.
The IP500 stack with its integrated API (application programming interface) is only available from EBV. AT commands are used to connect the stack with a UART interface, thus making the stack compliant with the BACnet standard frequently used in building automation. With its integrated IPv6 support, Vesta opens the way for intelligent web-based control and in terms of security and safety, it meets the requirements of EN, VdS and others.
Although the market for IP500 solutions is not particularly large at the moment, EBV Elektronik already provides its Vesta customers with design solutions. Besides the modules themselves, a complete development kit is also available which allows developers to create small networks with up to three different nodes.
The development kit is supplied as a complete package including four boards and four antennas, as well as batteries and a USB Flash drive with the complete hardware documentation. One of these four boards is already configured as an edge router for communication with the host computer via USB.
Developers can control the boards via a graphical user interface and bidirectional control is also possible. Using the wireless interface, the first field tests can be carried out to verify, for example, wireless range as well as a diversity of other features.
The kit includes a description of the board's interfaces (I2C, SPI and UART). This enables developers to test their sensors in practical situations at an early stage. EBV is inviting developers to borrow the board for four weeks as an alternative to purchasing the development kit for longer-term use.
The first customers are already working with this board. In fact, observant visitors to last year's electronica trade fair would have seen the first IP500 products on EBV's stand: a fire detector with an integrated IP500 module and a door lock with an IP500 connection.
For more information contact EBV Electrolink, +27 (0)21 402 1940, [email protected]
Credit(s)
Further reading:
Quectel 4G SMD antenna
iCorp Technologies Telecoms, Datacoms, Wireless, IoT
This wideband LTE/cellular/CDMA SMT antenna from Quectel, operating in the frequency range from 698 to 960 MHz and 1710 to 2690 MHz, delivers high efficiency in all bands when mounted to the device host PCB.
Read more...
---
SIMCom pioneers the LPWA segment with future-proof products
Otto Wireless Solutions Telecoms, Datacoms, Wireless, IoT
With the gradual withdrawal of 2G/3G networks from the market, LPWA has attracted extensive attention from many IoT manufacturers for its low power consumption, long standby time, and low cost.
Read more...
---
AMD Xilinx online training: Vivaldo ML tools
EBV Electrolink Computer/Embedded Technology
The webinar will explore the features of SystemVerilog that are useful for RTL synthesis using Vivado ML Tools and how the RTL SystemVerilog language constructs have been optimised for productivity and reliability.
Read more...
---
Flexible 4G/LTE PCB antenna
RF Design Telecoms, Datacoms, Wireless, IoT
The new 4G/LTE antenna from Taoglas is a flexible antenna operating over the frequency range from 698 MHz to 3 GHz, and which provides a peak gain of 5 dBi.
Read more...
---
Qorvo announces fully integrated UWB module
RF Design Telecoms, Datacoms, Wireless, IoT
Qorvo has announced the DWM3001C, a fully integrated ultra-wideband (UWB) module that enables robust UWB implementation in factory, warehouse, automation and safety systems.
Read more...
---
Earn helium when devices connect to your hotspot
Otto Wireless Solutions Telecoms, Datacoms, Wireless, IoT
Otto Wireless Solutions has announced the A150000 RAK Hotspot Helium Miner v2 which earns helium when devices connect as well as for validating wireless coverage delivered by peers on the network.
Read more...
---
Connectivity for the future with new SIMCom modules
Otto Wireless Solutions Telecoms, Datacoms, Wireless, IoT
With the global phasing out of 2G, SIMCom's new low-cost 4G modules are looking to future-proof your designs by replacing the older 2G modules.
Read more...
---
New high current through-hole inductors
EBV Electrolink Passive Components
Vishay has released a high current, through-hole inductor for use in high current and high temperature applications, DC/DC converters, high current differential chokes and inverters.
Read more...
---
Cellular module with embedded SIM
RF Design Telecoms, Datacoms, Wireless, IoT
The SARA-R500E LTE-M module from u-blox has an embedded SIM and offers product developers an integrated, robust, and secure solution to connect IoT applications to the cellular network.
Read more...
---
Samsung launches GDDR6 RAM module
EBV Electrolink Computer/Embedded Technology
The DRAM is capable of 24 Gbps processing speeds and will significantly advance the graphics performance of AI-based applications and high-performance computing.
Read more...
---