printer friendly version
Design-to-cost benefits from supply chain visibility
22 July 2015 Editor's Choice Design Automation
Electronic design teams face a daunting challenge in rapidly fluctuating global markets. Challenged with ever shorter time-to-market requirements, they need to understand and mitigate against supply chain risks during the design process.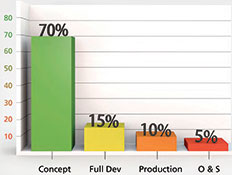 Figure 1. Leveraged effect of design phase on life cycle costs. Source: Military Electronics/Countermeasures, August 1990.
This is particularly crucial since choices made during the design phase impact 70% of the life cycle cost of a new product1, as summarised by Figure 1. Another source2 estimates this impact as being even higher, in the range of 70% to 80%. Yet another expert, Kenneth Crow, states that the cost structure in a company is locked in place because it is based on design decisions about the company's products3.
Product design teams often overlook supply chain risks. Even if they do focus on costs, someone on the team must typically enter data into an Excel spreadsheet for each component. This approach causes data entry errors which will inevitably occur. The spreadsheet may also not include lead times, volume pricing, volume capacity or logistics information.
To gain and maintain competitive advantage, the design team needs access to real-time supply chain data to assess design choices with cost objectives in mind. This well-developed process is called 'design-to-cost.'
Just what is design-to-cost (DTC)?
A. DTC is a management technique
B. DTC is part of the development and production process
C. DTC requires early establishment of realistic goals
D. DTC is a continuous process
E. All of the above
According to Bill Williamson in his insightful 1994 Design-to-Cost paper, and even more relevant today, 'All of the above,' is the correct answer. At the time Williamson presented this paper, design teams lacked real-time access to supply chain data. Costs were developed based on printed catalogues, vendor quotations or in-house spreadsheets. Today, procurement officers access the Internet daily to obtain real-time pricing, volume, availability and logistics information. Unfortunately, in many companies such supply chain data remains 'siloed' in business units other than engineering.
Design teams risk compromising their company's competitive position if they fail to design-to-cost. Even if a product is novel, competitors will inevitably arise. Furthermore, customers' financial requirements, such as return on investment (ROI) or other pricing parameters, may play a prominent role in their buying motivations.
As a management tool, DTC requires commitment to the process, which means that cost be addressed at all design reviews. When originally developed, organisations committed to DTC did not have access to real-time data on each of the components in a design. Today, with good collaboration between supply chain members, electronic design teams can have direct access to component costs and availability.
Designers must creatively explore cost-savings
As noted in the multiple-choice question above, DTC is part of the product development process, rather than a discrete step. A commitment to DTC by the design team focuses increased attention on costs early in the design process. This emphasis naturally drives down the overall product cost. In turn, this positively impacts the company's cost structure, competitive position and overall profitability.
Unfortunately, creeping elegance, if not contained, can result in costly wrong turns. As elegance creeps into the design, the engineer might unwittingly specify a challenging part, which might be difficult to source, have a high logistics cost, or may not be available in sufficient supply. Discovering these issues early in the design cycle will save considerable engineering time and cost on the project.
In turn, DTC empowers the design team to establish and execute against an accurate development timeline. With accurate and current cost information, the design team can initiate preventive action that avoids costly supply chain surprises downstream. They will also be able to quickly identify other potential supply chain issues involving availability or logistics in real time. In addition, DTC motivates and empowers designers to creatively explore cost-saving alternatives that still fulfil design requirements.
Life cycle costs
The following cost definitions lay the groundwork for defining life cycle costs:
Recurring production cost = production labour + direct materials + process costs + overhead + outside processing; bill of materials (BOM) cost is part of direct materials cost.
Non-recurring costs = development costs + tooling
Product costs = recurring production costs + tooling
Product price or acquisition costs = product costs + selling, general and administrative + warranty costs + profit
Life cycle costs = acquisition costs + other related capital costs + training costs + operating costs + disposal costs
Viewed from the standpoint of life cycle costs, each design decision impacts multiple areas at later stages of the product's life. For example, a particular component may require one or more of the following costs not mentioned previously: special processing, increased warranty costs, additional training and possibly others.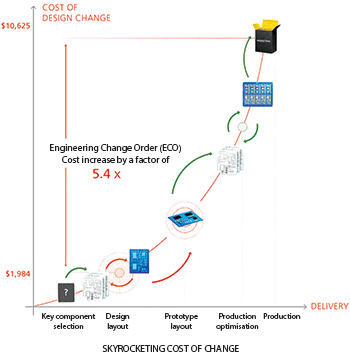 Figure 2. Skyrocketing cost of change.
In addition, design teams may well encounter impacts from global or local general economic conditions or industry trends. During the global economic recession in 2012, a number of component vendors disappeared from the landscape. Teams designing a later-generation release of a key product may thus find that the originally specified vendor has gone out of business. Further, as is typical in economic downturns, the number of suppliers in virtually every segment of industry tends to narrow, limiting sourcing options and possibly raising prices.
Delivering supply chain visibility
Recognising that customers needed to establish common ground between their design and supply chain teams to implement the DTC process, Altium Vault was developed to contain access to centralised real-time, ready-to-use, qualified electronic data for every component in the design. This includes all data needed to fabricate, load and assemble boards.
The live, real-time supply chain data is available in a single view. Called 'ActiveBOM,' the screen displays the components in the schematic of the design plus any other off-board components. Side-by-side fields compare actual BOM cost to target BOM cost before and ­during the design process, and also include other relevant supply chain information.
As cited previously, immediate knowledge of cost, availability and lead times at early stages of the design process profoundly impacts design decisions. In turn, those decisions at the BOM level impact the overall life cycle costs of any product. This dynamic database incorporates real-time data from component vendors, eliminating data transfers from other departments, duplicated effort and human error. The database provides design teams with a direct link to access ERP/MRP-based supply chain data.
ActiveBOM dynamically maintains and updates the supply chain data for each component in the vault library. This establishes the ongoing cost parameters for the design. In addition, designers are often tasked with 'BOM scrubbing,' a cost-focused redesign in the event that one or more design components are in short supply or about to become obsolete. With ActiveBOM, the team can revisit the supply chain data in the vault-based design. The database solution will immediately provide clear choices for suitable alternatives, eliminating much of the pain associated with sourcing replacement components.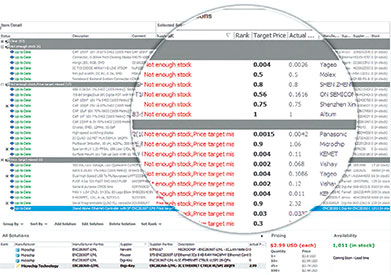 Figure 3. ActiveBOM with side-by-side fields to compare actual vs. target BOM costs.
Conclusion
Design decisions have a cumulative impact on the life cycle cost of a product, with choices made during this phase contributing as much as 70% to the overall cost. Employing a sound design-to-cost methodology, backed with a real-time and accurate view of cost implications, empowers design teams to make the best decisions upfront.
ActiveBOM makes design-to-cost a living process. By dramatically improving the cost visibility of the BOM, design team managers can immediately assess the cost of a design change. As a result, the dynamic supply chain database delivers fact-based management decision support, facilitating Go / No-Go decisions.
When the design engineering team implements ActiveBOM, it can also eliminate unexpected costs associated with seemingly simple revisions. As another exercise, the design team can quickly and safely launch a cost-driven evaluation to reduce the BOM cost to the benefit of product margins. In turn, improved margins drive increased corporate profits.
References
1. 'Design to Cost Lessons Learned,' by Bill Williamson; originally presented at the 1994 International Conference of the Society of American Value Engineers (SAVE). Available online at www.value-eng.org/pdf_docs/conference_proceedings/1994/9434.pdf
2. 'Nonstationary Root Causes of Cobb's Paradox,' by Lt. Col. Joseph W. Carl, USAF (Ret.) and Col. George Richard Freeman, USAFR (Ret.); published by The Defence Acquisition University, p. 347. Available online at www.dau.mil/pubscats/PubsCats/AR Journal/arj55/Carl_55.pdf
3. 'Achieving Target Cost / Design-to-Cost Objectives,' by Kenneth Crow. Available online at www.npd-solutions.com/dtc.html
Credit(s)
Further reading:
Embedding a 3D STEP model in a footprint
29 April 2020, EDA Technologies , Design Automation
Integrating mechanical design workflows into electrical design tools has become a necessary component of today's successful PCB design processes. But transferring inaccurate design data back and forth 
...
Read more...
---
What place is there for electronics in horticulture/agriculture?
29 April 2020, Technews Publishing, OSRAM Opto Semiconductor SA, Altron Arrow , Editor's Choice
Dataweek takes a look at what place there is for electronics in horticulture and agriculture, what roles they are serving and what their uptake is in the South African market.
Read more...
---
AREI's plans for 2020
29 January 2020 , Editor's Choice, News
Erich Nast, chairman of AREI, discusses what the association's plans are to tackle the challenges and opportunities that lie ahead.
Read more...
---
Check out Dataweek's new-look website
29 January 2020, Technews Publishing , Editor's Choice, News
Our technical design elves have been locked away in our basement for months, improving the visual design and functionality of the Dataweek website.
Read more...
---
V2X: The future of vehicle communications
29 January 2020, Avnet South Africa , Editor's Choice, Telecoms, Datacoms, Wireless, IoT
A recent report by Juniper Research forecasts that more than 62 million vehicles will be capable of vehicle-to-vehicle communication by 2023; up from just over 1,1 million in 2019.
Read more...
---
High-performance IoT SoCs with dual processors
29 January 2020, RF Design , Telecoms, Datacoms, Wireless, IoT, Editor's Choice
Nordic Semiconductor's new nRF5340 high-end multiprotocol system-on-chip (SoC) is the first member of its next generation of nRF5 Series SoCs. The nRF5340 builds on Nordic's proven and globally adopted 
...
Read more...
---
Low-noise electronic circuitry enables low-intensity light detection
29 January 2020, Vepac Electronics , Editor's Choice, Power Electronics / Power Management
When it comes to low-intensity light detection, performance requirements often lead to selecting devices with greater sensitivity than common photodiodes or even charge coupled devices (CCDs).
Read more...
---
What differentiates EMS companies
EMP 2020 Electronics Manufacturing & Production Handbook, Omnigo , Editor's Choice, Manufacturing / Production Technology, Hardware & Services
One of the major factors that differentiate electronics manufacturers from each other is the quality of the product that they deliver to the client and the time frame that they deliver the product within.
Read more...
---
How to use spot mask for wave soldering and conformal coating
EMP 2020 Electronics Manufacturing & Production Handbook, Testerion , Editor's Choice, Manufacturing / Production Technology, Hardware & Services
Mask is applied over the open through-holes on a circuit board in the wave soldering process to make sure they stay open. This is necessary because without mask, any contact area on the bottom of the PCB will be fluxed and subsequently soldered.
Read more...
---
Next-gen UV cure conformal coatings increase performance and speed up production
EMP 2020 Electronics Manufacturing & Production Handbook, Vepac Electronics , Editor's Choice, Manufacturing / Production Technology, Hardware & Services
Electronic circuits are becoming ubiquitous in modern life. Everywhere one looks, more and more processes that were once isolated and manual in nature, are being automated and now connected as the Internet 
...
Read more...
---