printer friendly version
Ghana repurposes communications antenna for astronomy
16 August 2017 Editor's Choice News
Ghana has become the first partner country of the African Very Long Baseline Interferometer (VLBI) Network to complete the conversion of a communications antenna into a functioning radio telescope.
The 32 metre converted telecommunications antenna at the Ghana Intelsat Satellite Earth Station at Kutunse will be integrated into the African VLBI Network (AVN) in preparation for the second phase construction of the Square Kilometre Array (SKA) across the African continent.
The combination 'first light' science observations included methanol maser detections, VLBI fringe testing and pulsar observations. Reaching these three objectives confirm that the instrument can operate as a single dish radio telescope and also as part of global VLBI network observations, such as the European VLBI network. Following the initial 'first light' observations, the research teams from Ghana and South Africa, together with other international research partners, continue to do more observations and are analysing the data generated with the aim to characterise the system and improve its accuracy for future experiments.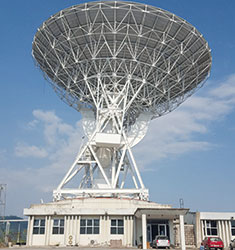 The 32 metre converted Ghana radio telescope in Kutunse, Accra.
"The Ghanaian government warmly embraces the prospect of radio astronomy in the country and our radio astronomy development plan forms part of the broader Ghana Science, Technology and Innovation Development Plan," says Professor Kwabena Frimpong-Boateng, the Ghana Minister of Environment, Science, Technology and Innovation (MESTI).
As an SKA Africa partner country, Ghana welcomed and collaborated with the SKA South Africa/HartRAO (Hartebeesthoek Radio Astronomy Observatory) group to harness the radio astronomy potential of the redundant satellite communication antenna at Kutunse. A team of scientists and engineers from SKA SA/HartRAO and the Ghana Space Science and Technology Institute (GSSTI) which is under MESTI, has been working since 2011 on the astronomy instrument upgrade to make it radio-astronomy ready. In 2012, Ghana launched the GSSTI as the vehicle through which to grow its astrophysics programme.
The South African Department of International Relations and Cooperation (DIRCO) has been funding a large part of the conversion project through the African Renaissance and International Cooperation Fund (ARF). The South African Minister of DIRCO, Ms Maite Nkoana-Mashabane says, "The African Renaissance Fund is aimed at strengthening cooperation between South Africa and other African countries and to support the development of skills and build institutional capacity on the continent." Nine African partner countries are members of the SKA AVN, including Botswana, Ghana, Kenya, Madagascar, Mauritius, Mozambique, Namibia, South Africa and Zambia.
"A vital part of the effort towards building SKA on the African continent over the next decade is to develop the skills, regulations and institutional capacity needed in SKA partner countries to optimise African participation in the SKA," says the South African minister of science and technology, Mrs Naledi Pandor.
The AVN programme is aimed at transferring skills and knowledge in African partner countries to build, maintain, operate and use radio telescopes. Minister Pandor continued by saying: "It will bring new science opportunities to Africa on a relatively short time scale and develop radio astronomy science communities in SKA partner countries."
The Leverhulme-Royal Society Trust and Newton Fund in the UK are co-funding extensive human capital development programmes in the SKA AVN partner countries. A seven-member Ghanaian team has undergone training in South Africa in all aspects of the project including the operation of the telescope. Several PhD students and one MSc student from Ghana have received SKA SA bursaries to pursue further education in various fields of astronomy and engineering while the Royal Society has awarded funding in collaboration with Leeds University to train two PhDs and 60 young aspiring scientists in the field of astrophysics.
Based on the success of the Leverhulme-Royal Society programme, a joint UK-South Africa Newton Fund intervention (the Development in Africa with Radio Astronomy (DARA)) has since been initiated in other partner countries to grow high technology skills that could lead to broader economic development in Africa. This Newton Fund programme is providing a pool of talented young people who have been inspired by astronomy to ultimately play a leading role in the emergence of new economies.
A Ministerial Forum comprising Ministers from the nine SKA AVN partner countries convenes on an annual basis to provide strategic and political leadership on the cooperation with the SKA and AVN projects, and on other relevant radio astronomy programmes and initiatives. The next SKA AVN Ministerial Forum will be held in Accra, Ghana in August when the Kutunse radio telescope will officially be launched.
For more information visit www.ska.ac.za
Further reading:
Top five MPU suppliers strengthen market dominance
Editor's Choice News
The new ranking shows that long-time leader in microprocessor units, Intel, has moved downwards closer to half the total worldwide sales in microprocessors.
Read more...
---
Personality profile: Shilpa Mehta
Production Logix Editor's Choice
Shilpa Mehta, co-owner at ProLogix, talks about her informative years, how she eventually came to be in the electronics' manufacturing business, and what drives her success.
Read more...
---
Electronics news digest
Technews Publishing Electronic News Digest News
The Semiconductor Industry Association (SIA) has announced global semiconductor industry sales were $51,8 billion in the month of May 2022, an increase of 18,0% over the May 2021 total of $43,9 billion 
...
Read more...
---
EVENTS
Events News
IFA Berlin
2-6 September Berlin, Germany This event aims to present the latest products and innovations in the commercial electronics industry. It will offer a comprehensive overview of the international 
...
Read more...
---
Going beyond with HONOR
MyKay Tronics Editor's Choice News
The tempo of business in China is lightning fast. But if you are responsive and go a step beyond, the rewards can be great. In just 15 days, Mycronic delivered 30 dispensing systems to HONOR.
Read more...
---
How to build an uninterruptible power supply for home devices
Altron Arrow Editor's Choice
With the frequent load shedding in South Africa, finding an offline source of power at home has become a necessity. Simon Brumble, staff engineer at Analog Devices shows how to build a home UPS using a car battery as a backup source.
Read more...
---
Vicor releases technology predictions for 2022
Editor's Choice News
Predictions for 2022 in automotive, hyperscale computing and aerospace and defence will see innovation adapt to support electrification and drive growth.
Read more...
---
Helium mining – Popular hype or real business opportunity? – Part 2
Otto Wireless Solutions Editor's Choice Telecoms, Datacoms, Wireless, IoT
"I would say it is really easy to get into, but you need to be aware of the exchange rates and you need to have a solid and stable Internet network."
Read more...
---
How to extend the run-time of battery-powered equipment
Accutronics Editor's Choice Power Electronics / Power Management
For a given battery selection and application, there are several downstream design decisions that can have a drastic impact on how long the battery lasts.
Read more...
---
Three compact solutions for high step-down voltage ratios
Altron Arrow Editor's Choice Power Electronics / Power Management
System designers can be faced with the challenge of down-converting high DC input voltages to very low output voltages at high output current.
Read more...
---