printer friendly version
Illuminated pushbutton switches
1 December 2019 Switches, Relays & Keypads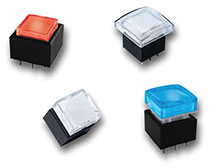 The KLS series expands C&K; Switches' product offering in the LED pushbutton family. It meets the market requirements for haptics and sound with clear 'click' feedback. With various cap options and bright LED colours, the switches provide the status of their positioning (on/off) and clear indication of their functioning.
The KLS series is available in SPDT (single-pole double-throw) and DPDT (double-pole double-throw ) configuration and with higher rating for broader application needs. Typical applications include audio/video systems, vending machines, kiosks, network equipment and industrial control panels.
Credit(s)
Further reading:
27 GHz SMA interconnect products
TRX Electronics Interconnection
Mouser Electronics is now stocking EP-SMA 27 GHz connectors, adaptors and cable assemblies from TE Connectivity. The portfolio provides engineers with increased bandwidth, power and performance that are 
...
Read more...
---
eBook explores surge protection design challenges
TRX Electronics Technical Literature
Mouser has joined forces with Bourns as the title sponsor of a new eBook titled 'How to choose the right surge protection technology'.
Read more...
---
Wide range of sensor technologies for innovative designs
TRX Electronics Analogue, Mixed Signal, LSI
Mouser Electronics has created a sensor technology content stream on its website that highlights the latest in innovative sensor solutions and resources from the world's top manufacturers. With the 
...
Read more...
---
Interconnect system with 1,0 mm centreline
TRX Electronics Interconnection
Mouser Electronics is now stocking the AMPMODU 1,0 mm centreline interconnect system from TE Connectivity (TE). This interconnect system offers an 85% space saving on the board when compared to the 
...
Read more...
---
RF power GaN transistor
TRX Electronics Telecoms, Datacoms, Wireless, IoT
Mouser Electronics is now stocking the A3G26D055N Airfast RF power gallium nitride (GaN) transistor from NXP Semiconductors. The transistor is designed for cellular base station applications requiring 
...
Read more...
---
Thermal management solutions for automotive and Mil/Aero
TRX Electronics Manufacturing / Production Technology, Hardware & Services
How thermal materials work, how to dissipate unnecessary heat and some of the selection criteria that come into play to select the best TIM form, fit and function.
Read more...
---
Ambient light and proximity sensor
TRX Electronics Opto-Electronics
Mouser Electronics is now stocking the TMD2712 ambient light and proximity sensor from ams. The sensor incorporates an infrared (IR) VCSEL (vertical cavity surface emitting laser) and factory-calibrated 
...
Read more...
---
Thermoelectric coolers for optoelectronic systems
TRX Electronics Circuit & System Protection
Featuring next-generation thermoelectric materials, the OptoTEC OTX/HTX Series of thermoelectric coolers from Laird Thermal Systems offers a 10% boost in cooling capacity, greater temperature differential 
...
Read more...
---
Automotive quartz crystals and inductors
TRX Electronics Passive Components
Abracon automotive inductors and quartz crystals are AEC-Q200 qualified and available in a variety of package sizes, with wide-ranging operating temperatures from -55°C to +155°C. Designed for high-reliability 
...
Read more...
---
Meeting the demands placed on connectors in automotive electronics
TRX Electronics Interconnection
A few decades ago, cars were purely mechanical machines, sophisticated in terms of their moving parts but simple in their electronics. This is no longer true.
Read more...
---