printer friendly version
Wireless charging set to pull the plug on wired technology
30 January 2019 Editor's Choice Telecoms, Datacoms, Wireless, IoT Power Electronics / Power Management
Smartphone users know only too well the inverse relationship that exists between the falling battery levels in their handsets and the rising anxiety at the prospect of impending disconnection from the world.

Mark Patrick.
That feeling of frustration surges when one can't spot a spare power outlet or doesn't have a charging cable or a battery pack – all too familiar scenarios in public places like airports, trade exhibitions, shopping malls, hospitals, etc.
However, what if items of portable electronics could be charged by just placing them on a table without plugging into a wall socket or some other power outlet? That is, of course, the key value proposition that wireless charging technology now presents.
Offering increased convenience, mobility and flexibility by eliminating wired connections, the technology is seeing rapid adoption in the consumer, retail, medical, Internet of Things (IoT) and automotive domains. Coffee shops like Starbucks, hotel chains and furniture manufacturers are all integrating the necessary infrastructure to support it. According to Global Market Insights, the wireless charging business is expected to experience a compound annual growth rate (CAGR) of 13% between now and 2024.
Despite its emergence in recent years, the technology itself is not actually new at all; it has in fact been around since 1902, when celebrated electrical engineering luminary Nikola Tesla filed a patent for what must have been almost unthinkable then. He envisaged transmitting electrical energy through the air by creating a magnetic field between two coils – a transmitter and a receiver. Further developing on it, contemporary implementations of this basic concept broadly come in three different forms:
• The charging pads used by smartphones, which rely on tightly-coupled electromagnetic inductive or non-radiative charging and require very close contact.
• Charging bowls or through-surface type chargers, which employ loosely-coupled or radiative electromagnetic resonant charging – allowing power transmission over a few centimetres.
• Uncoupled radio frequency (RF) wireless charging, which enables charging over distances of several metres.
In terms of transmitted power, wireless charging applications – typically transmitting 2 W to 100 W of power – can again be grouped into three principal categories:
• In the low power range (up to 5 W) are wearable devices like headsets, smart watches, electric toothbrushes, wristband devices, medical sensors, etc.
• Situated in the medium range (5 W to 15 W) are handheld devices, including tablets, medical electronics and most notably phone handsets.
• The high power range (15 W to 100 W) covers applications such as power tools, drones and other heavy-duty equipment.
Convergence of wireless charging standards
The recent developments among the standards governing wireless charging technology are also a testament to its rapid and widespread adoption across multiple sectors. Until a few years back, wireless device manufacturers had to deal with three competing standards: Alliance for Wireless Power (A4WP), Power Matters Alliance (PMA) and Wireless Power Consortium (WPC). However, in 2015, A4WP and PMA decided to join together to form the AirFuel Alliance – whose advocates include Dell, Duracell, Samsung and Qualcomm.
Further consolidation came in 2017 when Apple decided to offer wireless charging in iPhones based on the Qi standard. Pronounced 'Chee', Qi is the wireless inductive charging standard developed and licensed by WPC. Since the introduction of its first specification in 2009, Qi has come a long way. It has the support of over 200 companies, including technology leaders like Apple, Google, Samsung and Bosch.
WPC's latest Qi Power Class 0 specification (version 1.2.3) applies to the transfer of power of at least 5 W and up to 30 W with a typical operating frequency range of 87 kHz to 205 kHz.
The primary application of Qi technology is for smartphones and other low-power handheld consumer electronics. In addition to inductive charging, where transmitter and receiver need to be close (less than 7 mm apart), WPC has been working on Qi-compliant magnetic resonance technology that removes the close-contact requirement, allowing power transmission over distances of up to 45 mm.
After Apple's announcement to support Qi, Powermat, one of the early pioneers in wireless charging stations, also had to change tracks. It had followed the PMA standard for years, but in January 2018 the company announced that it was joining WPC. Well before Apple's announcement, Starbucks had rolled out Powermat charging stations based on PMA, but it also decided to implement updates in order to support Qi on the new iPhone models.
Following the domination of WPC's Qi standard in close-contact charging, AirFuel has set its sights on two non-contact charging technologies. These are AirFuel Resonant, which offers greater spatial freedom with charging across distances of up to 50 mm, and AirFuel RF, which provides low-power charging at distances from a few centimetres to a metre.
With wireless charging technology settled on two main standards – Qi by WPC and AirFuel – the uptake of necessary wireless electronics hardware, like transmitter and receiver coils, controllers and development tools, is set to gain momentum.
Wireless development tools
To help designers evaluate the features and performance of wireless applications under development, leading electronic component manufacturers offer a range of development and evaluation tools. An example is the STEVAL-ISB045V1 wireless battery charger transmitter evaluation board from STMicroelectronics. Powered by the STWBC-WA digital controller, it offers 2,5 W of output power along with resistive and capacitive modulation, foreign object detection (FOD) and active presence sensing.
Similarly, IDT supplies a range of WPC-compliant wireless power receivers, transmitters and evaluation hardware. Comprising of both a transmitter (P9235A-R-EVK) and a receiver (P9027LP-R-EVK), the IDT WP3W-RK wireless power reference kit is applicable for prototype testing of 0,5 W to 3 W wireless charging applications.
The transmitter is based on the flexible 32-bit ARM Cortex-M0 processor with integrated full-bridge power stage drivers and on-chip simultaneous voltage/current demodulation capabilities. Offering an ultra-compact form factor, the active area of the receiver board and transmitter boards are just 5,7 mm x 5,7 mm and 22,7 mm x 21,2 mm respectively. With three coil sizes for output power (1 W, 2 W and 3 W), the package is aimed at rapid prototyping.

Figure 1. The TSWITX-G4-EVM wireless charging evaluation board from Semtech.
For testing low-power wearable applications, Semtech's TSWITX-G4-EVM (shown in Figure 1) is a ready-to-use evaluation platform for approximately 1,25 W of wireless power transmission. Based on the TS80002 wireless power transmitter controller and TS51231 driver, when paired with a compatible receiver, TSWIRX-5V2-EVM is a complete system design solution.
The platform is not Qi compliant, in order to employ smaller coils and other optimisations that suit low-power wearable applications. Also, it doesn't include FOD – which is not applicable as the risk of overheating is not present in such applications.
Transmitter ICs, plus transmitter and receiver coils
One of the key features of wireless charging technology is modulation of transmitted power based on the communication between a receiver and a transmitter. The BQ500210RGZT from Texas Instruments is a Qi-compliant wireless power transmitter controller that integrates the logic functions to control wireless power transfer in a single-channel, WPC compliant contactless charging base station.
As shown in Figure 2, the controller monitors all communications from the receiver and adjusts power applied to the transmitter coil according to the feedback from the powered device. Besides managing the fault conditions, the controller includes parasitic metal object detection (PMOD) and over-temperature protection.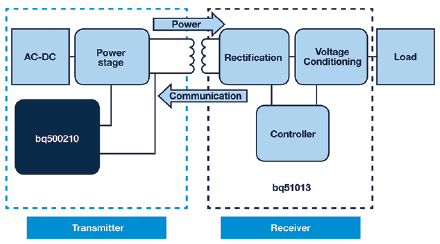 Figure 2. The BQ500210RGZT wireless charging controller IC monitoring the system's receiver.
With its small form factor (7 mm x 7 mm) and operating temperature range from -40°C to 110°C, key applications include WPC 1.0.2 compliant wireless chargers for smartphones, MP3 players, digital cameras and cars, plus various tools and the built-in wireless stations found in furniture.
Besides development tools and controllers, the most ubiquitous components in all wireless charging applications are the transmitter and receiver coils. Vendors adopting wireless technology can choose from a wide range of copper coils that come in different diameters, thicknesses and inductances.
By way of example, Vishay's IWTX47R0BEEB6R3J11 is a 6,3 μH inductance wireless charging transmitter coil that comes with high-permeability shielding. In terms of size, it is only 47 mm in diameter and 4,9 mm in thickness. On the receiver side, the AWCCA-36R36H08-C51-B from Abracon is a 12 μH inductance single wireless charging coil for receiver applications in consumer electronics and wireless charging stations.
Similarly, Würth Electronics' 760308101303, is a 12 μH, 26,3 mm diameter and 1,31 mm thick receiver coil, while the WT252512-8F2-SM from TDK is a 2,76 μH transmitter coil with maximum DC resistance of 150 mΩ, with 25 mm diameter and 2,05 mm thickness.
Conclusion
Although wireless charging technology has taken off, it still comes with certain constraints – like the requirement of proximity between transmitter and receiver, relatively slow charging speeds, incompatibility with metallic enclosures, and risks of overheating. Discerning consumers don't want mobility to be compromised and also desire higher replenishment speeds.
The next frontier for the power electronics sector is, therefore, more rapid contactless charging over longer distances. The technology will fully deliver on its promise when people can go about their everyday lives without ever worrying about carrying cables or power banks along with them.
For more information contact TRX Electronics, authorised Mouser partner in South Africa, +27 12 997 0509, info@trxe.com, www.trxe.com
Credit(s)
Further reading:
Locking power jacks
23 October 2019, TRX Electronics , Interconnection
The new BKZ series from Switchcraft solves the common problem of accidental disconnection of a power supply by adding a sturdy twist-lock to the company's most popular form factor. The intuitive design 
...
Read more...
---
Design considerations for powering remote Bluetooth beacons
25 November 2019, Avnet South Africa , Power Electronics / Power Management, Editor's Choice
One of the most exciting low-power wireless technologies to emerge in the last couple of years is Bluetooth beacon technology, which involves placing small electronic beacon devices at points of interest that broadcast packets of information via Bluetooth low energy to the smartphones of passers-by.
Read more...
---
High-power chip resistors
25 November 2019, TRX Electronics , Passive Components
Panasonic has released a line of resistors to help engineers produce cheaper, smaller and more efficient designs. The legacy resistors of the ERJ series have been made smaller while handling the same 
...
Read more...
---
Battery Technologies Conference 2019
25 November 2019 , News, Editor's Choice
Batteries are a critical enabler of the Fourth Industrial Revolution, powering technology in products from laptops and handheld devices to electric vehicles and renewable energy storage.
Read more...
---
Boom, doom and gloom, or something completely different?
25 November 2019, Technews Publishing , News, Editor's Choice
As the end of 2019 looms, it's time to look ahead to what next year might have in store, and reflect on the year gone by. And what a year it's been.
Read more...
---
Locally developed electronic circuit builder for students
25 November 2019, K Measure , News, Editor's Choice
K Measure, creator of the award-winning Seebox engineering education solution, has created a new innovation to enable quick and easy electronic circuit-building. The SeeBlocks electronic circuit creator 
...
Read more...
---
Lever-operated PCB connectors in 7,62 mm pitch
25 November 2019, TRX Electronics , Interconnection
The lever-actuated LPC PCB connectors from Phoenix Contact mark the first time that lever-operated PCB connectors have been available in a 7,62 mm pitch. The orange lever makes wiring fast and easy for 
...
Read more...
---
Battery design trends for IoT
23 October 2019, Avnet South Africa , Power Electronics / Power Management
Ultimately, the choice of battery for any application in the Internet of Things will depend on the power profile of the application, in combination with any environmental factors such as temperature.
Read more...
---
Points to consider when running power supplies from portable generators
23 October 2019, Accutronics , Power Electronics / Power Management
Manufacturers of end systems should specify what class of generator their products should be used with, and should question what class was used if they do see equipment failures.
Read more...
---
Developing opportunities around 'hybrid' renewable energy power plants
23 October 2019, Forbatt SA , Power Electronics / Power Management
If we let our imaginations run wild in the local context – and imagine the possibilities that come from having the cheapest energy in the world – the creative minds amongst us could have a field day.
Read more...
---