printer friendly version
Rugged solution for a wireless surveillance channel
19 May 2004
Telecoms, Datacoms, Wireless, IoT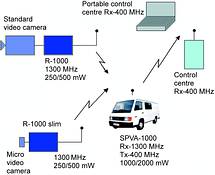 The widespread acceptance of video surveillance has been hampered in many cases by extensive wiring requirements and limited operational range. This is typically influenced by line of sight restrictions and multipath problems.
An innovative system that overcomes most of these problems comprises a sophisticated, multipath resistant, digital channel used to convey video images from remote video cameras to a central re-translator unit. This in turn transmits the signal at a suitable higher power level to the distant control centre. The system provides for video, stereo audio as well as a data link.
Standard video cameras (miniature or otherwise) are coupled to R-1000 transmitter units (see graphic) typically operating at 2400 MHz with an application dependent output power ranging from 10 to 1000 mW. The video and audio feeds are compressed using MPEG2 and NICAM encoding respectively and then multiplexed with the data stream. The combined data package is subsequently modulated using coded orthogonal frequency division multiplexing (COFDM) technology. The data stream is then up-converted to the transmission frequency.
Up to 24 such transmitter units communicate to a central re-translator unit (SPVA-1000). An R-1000 receiver unit receives the 2400 MHz signals from the remote units, demodulates them and re-modulates them onto a 400 MHz carrier at application-dependent output power up to 10 W. The direct re-modulation of the signal onto the 400 MHz carrier removes the need for MPEG-2 decoding at this point, thus optimising the data integrity.
The transmitted signal is received at the control centre, typically by a conventional R-1000, 400 MHz receiver and fed into a digital storage data bank (eg, a Panasonic TRX7000). A mobile monitor option could be accommodated at the re-translator site. This would consist of an R-1000 2400 MHz receiver and portable recorder (eg, a Sony DVR1000).
This COFDM based system provides an attractive opportunity to implement high reliability, non-line of sight, video transmission. COFDM's rugged modulation technique has led to its recent selection for two new broadcasting standards, DAB and DVB-T. DAB was specifically designed to cope with reception in moving vehicles involving time-varying multipath reception.
Typical achievable distances are 900 m and 350 m for 'line of sight' and 'non-line of sight' resp for 250 mW, and 1300 m and 600 m resp for 500 mW. An external power amplifier and directional antenna, could be added, providing further distance ranges.
Credit(s)
Further reading:
Connectivity for IoT devices with SoftSIM
Otto Wireless Solutions Telecoms, Datacoms, Wireless, IoT
IoT device vendors are facing more and more complex cellular connectivity issues these days. Manufacturing is often outsourced to third-party factories and finished devices are being distributed to many 
...
Read more...
---
High-power GaN RF amplifier
RFiber Solutions Telecoms, Datacoms, Wireless, IoT
The CHA7618-99F is a three-stage GaN high-power amplifier (HPA) in the frequency band 5,5-18 GHz. This United Monolithic Semiconductors HPA typically provides 10 W of output power allied with 20% of power-added 
...
Read more...
---
ExpressLink modules for secure connectivity to AWS Cloud
RF Design Telecoms, Datacoms, Wireless, IoT
u-blox has announced two new modules designed to enable Amazon Web Services (AWS) cloud services for device and fleet management out of the box: the NORA-W2 AWS IoT ExpressLink Wi-Fi module and the SARA-R5 
...
Read more...
---
Cellular antenna for 4G/LTE and 5G NR
iCorp Technologies Telecoms, Datacoms, Wireless, IoT
Antenova's new 'Affini' (part number SRFL064) is a flexible printed circuit (FPC) antenna for the LTE, 4G and 5G NR networks in global markets. This antenna covers all main 4G bands plus 617-698 MHz which 
...
Read more...
---
Passive MMIC diplexer
RF Design Telecoms, Datacoms, Wireless, IoT
The MDPX-0710 from Marki Microwave is a passive MMIC diplexer with passbands from DC to 7 GHz (low band) and 10 to 26,5 GHz (high band). It has an insertion loss of less than 0,9 dB within its passbands 
...
Read more...
---
Automotive-grade GNSS signal splitter
RF Design Telecoms, Datacoms, Wireless, IoT
Tallysman Wireless has added the TW162A automotive-grade 'Smart Power' GNSS signal splitter to its line of GNSS accessories. The device supports the full GNSS spectrum: GPS/QZSS-L1/L2/L5, QZSS-L6, GLONASS-G1/G2/G3, 
...
Read more...
---
u-blox extends 'bring your own SIM' approach to MQTT
RF Design Telecoms, Datacoms, Wireless, IoT
u-blox has introduced a service that gives IoT sensor network developers the flexibility to combine any cellular connectivity with all the benefits of MQTT communication. The u-blox MQTT Flex service 
...
Read more...
---
GNSS correction service receivers for cm-level accuracy
RF Design Telecoms, Datacoms, Wireless, IoT
For designers who require reliable centimetre-level positioning accuracy, e.g. for the industrial navigation and robotics markets, a new suite of products and feature additions have been rolled out by 
...
Read more...
---
4xMIMO cross-polarised antenna
RF Design Telecoms, Datacoms, Wireless, IoT
The TGX.04 from Taoglas is a 5G/4G 4xMIMO dipole antenna that operates from 450 to 6000 MHz. It supports worldwide sub-6 GHz cellular bands including 5G NR, LTE, NB-IoT, etc. This cross-polarised 
...
Read more...
---
High-linearity, multi-octave RF mixers for up to 40 GHz
RF Design Telecoms, Datacoms, Wireless, IoT
Two new SMT-packaged multi-octave RF mixers featuring high linearity and broad bandwidths have been added to Marki Microwave's stable of products. The MM1-1040HPSM is an ideal choice for 5G signal 
...
Read more...
---