printer friendly version
Programming product line expandable for future needs
24 January 2001
Design Automation

DeviceRama offers an innovative range of programming tools for the electronics industry. The ChipBurner Gang family of device programmers is wholly versatile, through readily available selective customisation, incorporating DeviceRama's proprietary 'Multi Track' design. Each additional TRKCel supports eight individual programming sites. The unlimited expandability of this open architecture allows true flexibility by allowing one to mix and match TRKCels. This provides a low cost solution to today's Gang/Set programming needs.

The ChipBurner Gang family includes the following models: ChipBurner-Gang 8 supports one TRKCel (eight devices); ChipBurner-Gang 16 supports two TRKCels (16 devices); ChipBurner-Gang 32 supports four TRKCels (32 devices).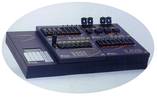 * CBG-8: Completely standalone workstation capable of programming up to eight devices at one time. Consists of a base machine which contains its own CPU and therefore does not require a PC for operation. A 30-key integrated keyboard and a large 40-character LCD allows simple and easy-to-use single key operation. An unparalleled 8 Mb of RAM is standard. Also includes an RS232 port for automated PC/driven production. This base is capable of driving one 'TRKCel' (separately sold) of your choice supporting eight devices. This is an ideal unit for low volume production.
* CBG-16: Entails same integrated features of CBG-8 but can program up to 16 devices at one time. This base is capable of driving two 8-Gang TRKCels of your choice supporting a total of 16 devices. These TRKCels can be mixed and matched to support a combination of device packages and technologies. Ideal for medium volume production.
* CBG-32: Is the first production programmer to support 32 devices at a time with combinations of four package types or technologies by supporting four different TRKCels. Standalone workstation can program up to 32 devices at one time. Entails same integrated features of CBG-8/16. This base is capable of driving four 8-Gang TRKCels supporting up to 32 devices. TRKCels can be mixed and matched to support a combination of device packages and technologies. Ideal for medium to high volume production.
For further information contact George Kolbe, Channels, (011) 254 8360.
Further reading:
3D simulation IDE boosts factory productivity
Omron Electronics Design Automation
Omron's updated Sysmac Studio 3D Simulation integrated development environment (IDE) integrates and verifies the movements of robots and peripheral devices. It can digitally reproduce an entire facility 
...
Read more...
---
Features added to DesignSpark PCB Pro
RS Components (SA) Design Automation
RS Components added new features to DesignSpark PCB Pro and introduced an RS stock number to make it easier to purchase. The free-of-charge version of DesignSpark PCB, part of the award-winning RS DesignSpark 
...
Read more...
---
Evaluation kit for formaldehyde sensor
Electrocomp Design Automation
The SEK-SFA30 evaluation kit has been designed for easy evaluation of Sensirion's SFA30 formaldehyde sensor. The SFA30 is designed for easy integration into air purifiers, demand-controlled ventilation 
...
Read more...
---
mikroSDK adds support for Kinetis MCUs
Dizzy Enterprises Design Automation
MikroElektronika's multi-architectural software development kit, mikroSDK 2.0, now supports 147 microcontrollers (MCUs) from NXP Semiconductors. mikroSDK is a collection of open-source software libraries 
...
Read more...
---
Altium Designer component creation webinar
Design Automation
Component creation is a necessary evil when it comes to design and it's something we all need to do. But instead of spending hours creating your components and having them turn into a complete roadblock, 
...
Read more...
---
Deep learning APIs for Espressif SoCs
iCorp Technologies Design Automation
ESP-DL, recently introduced by Espressif Systems, provides APIs for neural network (NN) inference, image processing, maths operations and deep learning (DL) models. With ESP-DL, developers can use Espressif's 
...
Read more...
---
TI software tool for power stage design
Design Automation
The Power Stage Designer software tool from Texas Instruments (TI) helps you accelerate your power supply designs by calculating voltages and currents of 20 topologies according to your own inputs. All 
...
Read more...
---
EMI power choke impedance finder
Design Automation
Coilcraft's EMI Power Choke Impedance Finder is a powerful search and analysis tool for finding the optimal off-the-shelf inductors/chokes for different types of EMI filters (e.g. LC low-pass filters, 
...
Read more...
---
Browser-based design viewer for Altium 365
EDA Technologies Design Automation
Complementing its professional-level Altium 365 cloud platform, Altium offers a simple and convenient way to view and share electronic designs through your browser. Schematics, PCB layout and 3D visualisation 
...
Read more...
---
A UI to build better UIs
Altron Arrow Design Automation
TouchGFX Designer 4.17 has become available for download, the latest version of STMicroelectronics' user interface (UI) design software featuring a user interface overhaul to make the application more 
...
Read more...
---