printer friendly version
Pure-digital new capacitive touch sensor
25 July 2007
Electronics Technology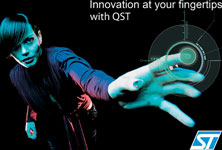 STMicroelectronics recently announced the launch of the QST108, the first IC in a family of capacitive touch sense products that will enable con-temporary and innovative user interfaces for many markets.
QST family products are based on field-proven, patented QProx capacitive technology recently licensed from Quantum Research Group.
QProx technology involves charging an electrically conductive sensing electrode, usually a copper area on a printed circuit board, and then transferring that charge to a fixed-value sample capacitor. The charge-transfer is carried out in a patented 'burst mode' through the controlled switching of I/O transistors. The presence of any external capacitance, caused by an object such as a finger, affects the flow of charge and hence the capacitive reading, allowing the object to be detected. The switching process is the only one in existence today that is 100% digital in nature, making it highly reliable and robust, while also allowing very low price points even for high numbers of keys.
Touch-sensitive controls are rapidly becoming the solution of choice to replace electro-mechanical switches as they allow designers to create elegant and attractive, functional and economical user interfaces for a wide range of designs where durability, ease of use and price are major considerations. The QST family of products will allow the easy creation of sealed, back-lit sensing surfaces, enabling manufacturers to dramatically reduce touch-panel costs while also creating dramatic, contemporary interfaces.
The QST108 sensor device allows users to create capacitive touch-panels of up to eight keys for their product user interfaces, using conventional or flexible printed circuit board. The sense electrodes can be part of the PCB layout or can even be printed using conductive ink, with flexibility in electrode sizes and shapes. The QST108 detects finger touch using an electrode behind a non-conductive front panel made from materials such as glass or plastic. External component count is low, with only one sampling capacitor and one resistor per channel being required.
QST devices require no production line or user calibration. They incorporate sophisticated drift compensation, auto-calibration, noise filtering and Adjacent Key Suppression (AKS) to ensure maximum usability and control integrity. Device configuration allows flexibility in panel thickness, from extremely thin plastics to 10 mm or more of glass. QST users also benefit from a range of panel construction methods pioneered and patented by Quantum that are available to ST customers.
The QST108 touch sense controller requires no additional software development and allows different sensing modes selected in firmware and by option resistors. Providing a solid-state alternative to mechanical switches, QST gives great flexibility in user interface design and offers a stable, reliable capacitive touch solution that can be easily soft-customised for product designs, and easily re-configured for variants. QST standard solutions significantly reduce development time and cost, allowing designers to concentrate their creativity on the system design.
Initially available in a 32-pin LQFP package, the QST108 drives up to eight LEDs. It features PWM capability (pulse width modulation) to drive a beeper output or to control LED brightness. De-bounced touch detection results are accessible through individual outputs or through the I²C interface, allowing the device to communicate with the application host controller. User configurable parameters and control functions such as detection threshold, detection integrator, sensor recalibration, low power mode activation, AKS mode and key states and configuration are accessible using simple I²C commands.
ST intends to expand the QST family with products offering different key counts and new features such as capacitive wheels and sliders. In the near future, the company promises to develop 1-, 2- and 4-key products and a more complex product offering seven keys and a wheel or slider. Higher key counts will be supported using Quantum's QMatrix technology.
Credit(s)
Further reading:
USB Type-C charging controllers
29 July 2020, Avnet Silica , Power Electronics / Power Management
Designers can overcome the challenges of implementing USB-C Power Delivery (PD) with the MAX77958 USB-C PD controller and the MAX77962 28 W buck-boost charger from Maxim Integrated Products. As portable 
...
Read more...
---
High accuracy inclinometer with machine learning core
30 September 2020, Avnet Silica , Analogue, Mixed Signal, LSI
The IIS2ICLX from STMicroelectronics is a high accuracy, low power, 2-axis digital inclinometer for use in applications such as industrial automation and structural health monitoring. It features a 
...
Read more...
---
11th Gen Intel Core processors with new design options
30 September 2020, Avnet Silica , Computer/Embedded Technology
In parallel with the 11th Gen Intel Core processor launch (code named Tiger Lake), congatec has launched both its first COM-HPC Client size A module and a next generation COM Express Compact Computer-on-Module. 
...
Read more...
---
Sensor bridge for 1-Wire protocol
31 August 2020, Avnet Silica , Telecoms, Datacoms, Wireless, IoT
Designers expanding connections to remote sensor networks can now reduce complexity and cost to the industry's lowest levels with the DS28E18 1-Wire to I
2
C/SPI bridge from Maxim Integrated Products. By 
...
Read more...
---
Smallest automotive maXTouch controllers
29 July 2020, Altron Arrow, Avnet Silica , DSP, Micros & Memory
To help enhance and ease today's driving experience, automotive manufacturers are implementing additional touch displays beyond the centre infotainment display (CID). Supporting the application of these 
...
Read more...
---
3 kW TVS diode arrays
30 June 2020, Avnet Silica , Circuit & System Protection
To ensure critical operations, aviation and space systems rely on digital and logic functionality and circuitry in engine control units, environmental controls, instruments and actuators. Data centres, 
...
Read more...
---
PCIe Gen 4 switches
30 June 2020, Avnet Silica , Computer/Embedded Technology
To support cloud, data centre and hyperscale computing that facilitates advancements in artificial intelligence (AI) and machine learning (ML), Microchip Technology released to production its Switchtec 
...
Read more...
---
DIN-rail mounting DC-DC converters
30 June 2020, Avnet Silica , Power Electronics / Power Management
Shortly after unveiling the brand-new DIN-rail mounting DC-DC converter family, the DDR-15/30/60/120/240 series, Mean Well has announced the DDR-480 series (480 W) to enable integration into higher-power 
...
Read more...
---
Wi-Fi and BLE combo module
29 May 2020, Avnet Silica , Telecoms, Datacoms, Wireless, IoT
Dialog Semiconductor announced the DA16600, a module that combines its advanced Wi-Fi and BLE (Bluetooth Low Energy) capabilities into a single solution. This two-in-one module is comprised of two 
...
Read more...
---
HV MOSFET for ruggedness, smart PWM controller for flexibility
30 June 2020, Avnet Silica , Power Electronics / Power Management
As the world recently celebrated Earth Day, STMicroelectronics' blog recently featured one of its many components that help better manage the electricity people consume every day and therefore, decided 
...
Read more...
---