In today's society almost all major equipment and appliances are computerised.
From the basic electronic calculator or household appliance to a motor vehicle or even a space shuttle, every device has some embedded software that makes it work, often performing many complex tasks at the push of a button.
Developing such complex, intricate systems used to be a long and expensive process and it got even longer when it reached the testing phase. Traditionally, testing a new product required that several prototypes be built. It is easy to imagine that in the case of a motor vehicle, building even a single prototype can be a time consuming and costly exercise.
However, using model-based design principles, engineers can test the viability of a concept without the need to build and rebuild numerous test models. Model-based design is an engineering concept through which engineers can mathematically model the behaviour of a physical system, design the appropriate software for it and then simulate the entire system to accurately predict and optimise its performance.
Two of the most well known software packages for model-based design, namely MATLAB and Simulink, both from The MathWorks, provide this virtual environment for creating and testing new designs.
MATLAB is an interactive, high-level technical computing environment for algorithm development, numeric computation, and data visualisation and analysis. Because of its embedded technical functions and powerful graphics, MATLAB is able to handle very large data sets, enabling engineers to solve technical computing problems faster than was possible with traditional programming codes such as Fortran or C++.
Simulink provides the virtual environment in which the system is modelled, the algorithm designed and the design concept tested. Integrated with MATLAB, Simulink provides access to a complete set of tools for developing algorithms, simulating and validating behaviour and automatically creating embeddable C code.
One of the arenas in which model-based design has been successfully used is the aerospace industry. Because of the expensive nature of this industry, the complexity of the products developed and the large teams involved, many of its participants have taken to model-based design as a means of sharing information, reducing development time and keeping costs to a minimum.
In an operation as complex as designing autopilot systems for aircraft, engineers have been able to deliver successful first tests of prototypes using model-based design tools from The MathWorks.
With MathWorks tools such as Simulink and MATLAB, engineers are able to create block diagrams and use simulations to test their designs against flight-control laws. Using the Real-Time Workshop component, engineers can also electronically generate embedded software codes, eliminating the need for handwritten codes and the flaws associated with creating them. The end result is a prototype that works first time, regardless of how complex the product is.
With the use of appropriate tools, model-based design can be implemented in almost any environment, including mining and metallurgy, telecommunications, education, petrochemical, manufacturing and medical research.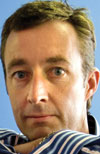 Grant Grobbelaar
For more information contact Grant Grobbelaar, Opti-Num Solutions, +27 (0)11 325 6238, grant@optimum.co.za, www.optinum.co.za