printer friendly version
1/32-brick DC-DC converters
2 May 2012
Power Electronics / Power Management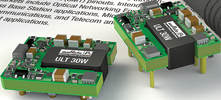 The ULT series of isolated 30 Watt DC-DC converters is available from Murata in the miniature 1/32-brick industry standard. The Distributed-power Open Standards Alliance (DOSA) compatible open-frame package, measuring just 19,1 x 23,4 x 8,89 mm, is available in through-hole and surface-mount variants.
The devices have been designed with a wide (2:1) input voltage range of 36–75 V d.c. to meet the requirements of 48 V and 60 V battery backup systems. They are available with outputs of 12 V, 5 V or 3,3 V. The maximum output power of 30 W is available from the 12 V model, with the 5 V and 3,3 V models producing 25 W.
Line regulation is typically within ±0,1% of Vout across all Vin conditions at full load. An external trim function allows the output voltage to be trimmed by +10% to –20% to accommodate losses. Input to output isolation is certified to 1500 V in accordance with the internationally recognised safety standard EN/UL60950.
The ULT series offers features that include remote on/off control of either negative or positive logic, Vout trim and remote sense. It also has a number of protection features including output short circuit protection, over-temperature shutdown and input under-voltage lockout.
Target applications include distributed power architectures in industrial, telecommunications, routing, optical networking, wireless equipment and microwave radio/point-to-point communications. The ULT series is designed to operate in the most severe outdoor environments with an operating ambient temperature range from -40°C to +85°C.
Credit(s)
Further reading:
NVIDIA-powered computing for AI at the edge
26 February 2020, Altron Arrow , Computer/Embedded Technology
The AI revolution is transforming industries, reaching products that are smaller and more affordable than ever before. Many companies have been constrained by the challenges of size, power, and AI compute 
...
Read more...
---
Hybrid capacitors combine the best of both worlds
26 February 2020, Avnet South Africa , Power Electronics / Power Management
The different properties of EDLCs, Li-ion batteries and Li-ion capacitors suits each technology to various different applications.
Read more...
---
Testing MPPT for photovoltaic inverters
26 February 2020, Conical Technologies , Power Electronics / Power Management
Whether or not the depletion of oil resources is a pseudo-proposition, the development of renewable energy and clean energy is a global consensus. China's photovoltaic (PV) industry, for example, has 
...
Read more...
---
Energy independence – reliable solutions for 'here and now'
26 February 2020, Forbatt SA , Power Electronics / Power Management
Energy is the lifeblood of the economy and it impacts all sectors of society, including individual citizens. There has been a great push towards an integrated energy plan that ensures current and future 
...
Read more...
---
Battery pack design considerations for rechargeable solutions
26 February 2020, Just Batteries , Power Electronics / Power Management
Considerations have to be weighed up when doing this: the energy density of Li-ion is higher than that of LiFePO, but LiFePO
4
is much safer and has a voltage range that makes it a direct replacement for lead acid batteries.
Read more...
---
Programmable DC power supply
26 February 2020, Vepac Electronics , Power Electronics / Power Management
XP Power announced a new single-output programmable DC power supply that is ideal for use in a wide variety of applications including laboratory, production, and embedded test and measurement. Multiple 
...
Read more...
---
USB Type-C port protector
26 February 2020, Altron Arrow , Circuit & System Protection
Designers can easily migrate small electronic devices from legacy USB Micro-A or Micro-B interconnects to the latest Type-C style with the STMicroelectronics TCPP01-M12 port protector, which satisfies 
...
Read more...
---
MCUs for new-generation smart objects
26 February 2020, Altron Arrow , DSP, Micros & Memory
STMicroelectronics' latest STM32H7A3, STM32H7B3, and STM32H7B0 Value Line microcontrollers (MCUs) combine 280 MHz Arm Cortex-M7 core performance, high memory density, and power savings for future generations 
...
Read more...
---
Video Reel 1: February
26 February 2020, Altron Arrow , Multimedia, Videos
This video from STMicroelectronics shows how you can download the free TouchGFX GUI software, try the out-of-the-box supported STM32H7B3I-DK, and eliminate the need for external RAM, when developing your 
...
Read more...
---
DC-DC converters for railway applications
29 January 2020, Conical Technologies , Power Electronics / Power Management
Traco Power announced the release of the latest addition to its railway series converters. The THN 10WIR series is a family of ruggedised 10 Watt DC-DC converters for the highest reliability in harsh 
...
Read more...
---