printer friendly version
Enhanced 66 MNz 64 bit PCI core offers design flexibility benefits
16 Feb 2000
Programmable Logic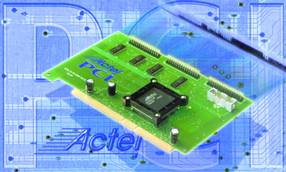 Historically, designing PCI bus products has been an extremely difficult proposition...
Most current FPGA PCI solutions continue to be of limited value because they are gate-level netlists or pre-placed designs, both of which place significant constraints on the designer and the design tools. As a result, it is difficult to consistently meet timing once the core is integrated with additional functionality.
However, Actel's antifuse-based SX-A, SX and MX FPGA families provide the performance and routing resources that allow the use of a highly flexible RTL core while still hitting the stringent PCI performance requirements.
The only soft RTL core in the FPGA market offering customers full portability to ASICs, new CorePCI flexibility combined with Actel antifuse silicon greatly simplifies high-speed designs.
Actel's Version 5.11 release of its CorePCI with master functionality adds extensive design flexibility benefits for PCI bus design. A unique benefit of Actel's PCI core is the use of a soft RTL (register transfer level) design flow that provides complete PCI design portability to ASICs. This soft core, when combined with Actel silicon, provides a low-power, high-performance, cost-effective and very flexible platform for a broad scope of PC and embedded PCI needs in communications, consumer, computer industrial and military applications.
"Vista Controls has used Actel's PCI solution in six designs since 1996. We like the ease and flexibility of integrating our backend designs to the Actel PCI core and are impressed with the routability and speed of Actel's SX FPGAs," said Terry Harkul, EE Manager, Vista Controls Corporation. "The ease of integration is possible because of Actel's flexible backend scheme of de- multiplexed control signals combined with zero-wait-state operation."
The enhanced version of CorePCI is available as customisable VHDL and Verilog-HDL code which (unlike other handcrafted firmware or hard formats) offers flexibility in design and portability to ASICs.
Finally, the core includes SDRAM, DRAM and FIFO controllers to ensure that designers can create the optimum memory interface for designs that require it.
"Actel uniquely creates a simple design transfer path to volume production ASIC devices," said Anil Reddy, Senior Manager of IP and Design Services Marketing at Actel. "We believe an RTL implementation such as ours, in contrast to hard-wired silicon or structural netlist approaches, moves high-speed PCI design from the position of 'real PCI' to 'really easy PCI'."
The CorePCI 5.11 macro conforms to the PCI local bus specification 2.2 and includes target, target+DMA and master functionality. It provides 32/64 bit bus widths and 33/66 MHz performance using the 54SX device family from Actel.
Actel's CorePCI macro is pre-verified in Actel silicon and the core was successfully tested for performance in multiple PCI platforms at compliance workshops. Functionality of the new PCI core macro was also proven in customer designs. In addition, the core was validated to work in Synopsys, Exemplar and Synplicity synthesis-based design flows.
For further information contact Kobus van Rooyen, ASIC Design Services, (011) 315 8316 or kobus@asic.co.za
Credit(s)
Further reading:
Intel Agilex FPGAs deliver flexibility and agility for the data-centric world
26 May 2021, Altron Arrow , Editor's Choice, Programmable Logic
The Agilex FPGA fabric and innovative chiplet architecture delivers an extensible FPGA platform that scales across a wide range of device densities and brings key features and benefits to the table.
Read more...
---
Security tool for mission-critical FPGAs
23 June 2021, Future Electronics , Programmable Logic
Mission-critical and other high-assurance systems deployed worldwide are under rapidly evolving threats from cybercriminals who attempt to extract Critical Program Information (CPI) via the FPGAs that 
...
Read more...
---
Lattice releases new version of sensAI
23 June 2021, Future Electronics , Programmable Logic, Design Automation
New enhancements have been made to Lattice Semiconductor's award-winning sensAI solution stack for accelerating AI/ML (artificial intelligence/machine learning) application development on low-power Lattice 
...
Read more...
---
FPGAs for embedded vision and edge AI
25 November 2020, Future Electronics , Programmable Logic
Lattice Semiconductor announced the first FPGA developed on its new Lattice Nexus FPGA platform, the CrossLink-NX. This new FPGA provides the low power, small form factor, reliability, and performance 
...
Read more...
---
Smart manufacturing for electronics
29 July 2020, ASIC Design Services , Manufacturing / Production Technology, Hardware & Services
This article describes a product development strategy designed for manufacturers of electronics for consumer and industrial products, home appliances, manufacturing services, automotive and transportation, 
...
Read more...
---
FPGA development suite for Pentek recorders
30 June 2020, Rugged Interconnect Technologies , Programmable Logic
Pentek's ArchiTek FPGA Development Suite is a new product for adding custom IP to select Pentek Talon recording systems. ArchiTek is a comprehensive development environment that enables engineers to add 
...
Read more...
---
Dual military-grade transceiver
29 April 2020, ASIC Design Services , Telecoms, Datacoms, Wireless, IoT
Holt Integrated Circuits today announced the introduction of its HI-15850, the world's first 3,3 V MIL-STD-1553 dual transceiver with 1,8 V, 2,5 V and 3,3 V compatible digital I/O. This feature gives 
...
Read more...
---
Advanced electronics help explore the sun
25 March 2020, ASIC Design Services , Programmable Logic
3D Plus has developed, in collaboration with CEA (France), gamma ray detectors for STIX instrument on board the Solar Orbiter. The mission was launched on 10 February 2020 from Cape Canaveral in Florida 
...
Read more...
---
Mini PCIe reference design for MIL-STD-1553
25 March 2020, ASIC Design Services , Computer/Embedded Technology
Holt Integrated Circuits introduced a new dual-channel development kit and complete reference design based on the popular HI-2130LBx MIL-STD-1553 fully integrated terminals. The kit includes a full-size 
...
Read more...
---
Halo invests in high-speed data transformers
29 January 2020, ASIC Design Services , Passive Components
Halo Electronics, a leading supplier of Ethernet transformers, has invested in UWB X Limited, a UK based technology company focused on creating a new high-speed transformer technology. As part of Halo's 
...
Read more...
---