printer friendly version
New versions of MATLAB and Simulink
14 August 2002
Design Automation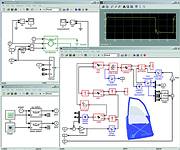 The Mathworks has released MATLAB 6.5. This latest offering, available through Opti-Num Solutions in southern Africa, includes new JIT Acceleration, which provides faster execution, making MATLAB 6.5 a powerful alternative to manual coding in C for technical computing applications. Simulink 5 provides new support for multi-domain modelling and simulation coupled with embedded target support, creating an environment for the end-to-end process of embedded system design. Release 13 of the Mathworks product family also includes 10 new products and upgrades of more than 40 other products.
"With Release 13, The Mathworks takes a major step to eliminate the performance gap between MATLAB and languages such as C, C++, and FORTRAN for engineering and scientific applications. For developers of embedded systems, Simulink 5 delivers powerful new capabilities for developing and deploying realtime systems in a production process," said Jack Little, CEO, The Mathworks.
MATLAB is recognised as a de facto industry-standard environment for productively exploring technical ideas and developing algorithms that solve complex problems. With the new built-in JIT-Accelerator technology, MATLAB 6.5 programs also run much faster. Users can skip the additional step needed to recode work in C, says The Mathworks. They can use a single environment throughout their projects, with the option to automatically deploy algorithms and applications as C/C++ code, Excel add-ins, and COM objects.
Simulink addresses the end-to-end development process from system-level modelling to embedded-software code generation. Simulink 5 provides new capabilities including multidomain modelling for mechanical, electrical power, and wireless systems; production code generation for microcontrollers; and, major improvements in DSP code generation. According to the company these enhancements address the key steps in embedded-system development, including modelling the physical behaviours of real systems, designing software algorithms, and generating code that is as efficient and compact as hand-written code for target processors.
Credit(s)
Further reading:
Reference design for humidity and temperature sensors
26 May 2021, Electrocomp , Design Automation
The SHT4x Smart Gadget is a simple reference design circuit board which demonstrates the performance and ease of use of Sensirion's SHT4x humidity and temperature sensors. It is equipped with a liquid 
...
Read more...
---
Microchip accelerates embedded security implementations
28 April 2021, EBV Electrolink , Design Automation
In 2019, Microchip Technology released its Trust Platform for its CryptoAuthentication family, bringing the industry's first pre-provisioned solutions for hardware-based secure elements to companies of 
...
Read more...
---
Feature updates for Proteus design software
31 March 2021, Dizzy Enterprises , Design Automation
Proteus 8.12 expands on its high-speed design feature offering by adding support for pass-through components on length-matched differential pairs. Pass-through components are those which are included 
...
Read more...
---
Software development solution for Cortex-M MCUs
31 March 2021, Altron Arrow , Design Automation
Arm Keil MDK includes a leading Windows-based IDE, debugger, market leading compilers, software pack management and CMSIS. These software tools allow you to accelerate the development of your embedded 
...
Read more...
---
Data management for successful PCB designs
25 November 2020, EDA Technologies , Design Automation
Effective PCB data management is a crucial, yet multi-faceted, part of the design process. The following articles by two experts from Altium highlight the challenges and importance of this topic.
Read more...
---
Evaluation board for Wi-Fi microcontroller
26 February 2021, iCorp Technologies , Design Automation
The ESP32-S2-Kaluga-1 kit v1.3 is a development kit by Espressif Systems that was mainly created to demonstrate the ESP32-S2 Wi-Fi microcontroller's human-computer interaction functionalities, and to 
...
Read more...
---
Licence- and royalty-free ensemble graphics toolkit
28 October 2020, Altron Arrow , Design Automation
Graphical user interfaces (GUIs) and interactive touchscreen displays provide intuitive user experiences in applications from robotic and machine controls to medical user interfaces, automotive instrumentation 
...
Read more...
---
HMI for IoT development kit
29 July 2020, RS Components (SA) , Design Automation
Optimised for HMI development in the IoT (Internet of Things), Renesas Electronics' RX72N Envision Kit offers a highly sophisticated and integrated platform for developing applications that require a 
...
Read more...
---
Online Tibbo BASIC code generator
29 May 2020, RF Design , Design Automation
Cody is a template project generator that produces working Tibbo BASIC code from the information provided via a few simple-to-understand configuration screens. This web-based app allows you to quickly 
...
Read more...
---
Bourns launches new mobile app
25 March 2020, Electrocomp , Design Automation
The new Bourns app is now available free to download for iOS and Android at the Apple App Store and at the Google Play Store. Mobile apps are very popular marketing tools these days with over 50 million 
...
Read more...
---