printer friendly version
Emulator for Philips 80C51X2 micros
28 August 2002
Design Automation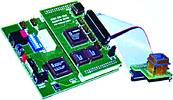 Ampro Computers has announced a broad agreement with TimeSys, a pioneer and leader in Embedded Linux and Java development technologies. The two companies will jointly supply a complete Linux operating system and development environment to accelerate the deployment of EnCore-based next-generation OEM devices using embedded Linux. TimeSys was named as the exclusive Linux for distribution with Ampro's QuickStart Development Kits for MIPS, PowerPC and x86 architectures.
"The objective of the partnership," said Joanne Williams, president and CEO of Ampro, "is to ensure that Ampro's OEM customers can quickly and easily drive Linux-based products to market built on the flexible, standards-based EnCore embedded computing platform."
"The Ampro partnership is an important step in the execution of our overall strategy of becoming the operating system of choice for the embedded Linux marketplace," said Larry Weidman, CEO of TimeSys. "They are leaders in standards-based embedded computing solutions having pioneered the embedded PC industry. This partnership will let system engineers speed their time-critical products to market with flexible, off-the-shelf modules and a robust, certified Linux OS in one complete, proven package."
Says Paul Rosenfeld, Ampro's vice president of marketing: "While there is a broad range of Linux code available for the different processor architectures in Ampro's product line, a significant investment would be required by each OEM using Linux to get the code ported, running and validated. Together, Ampro and TimeSys are providing a proven, fully validated platform, which will greatly reduce the effort required to develop and deploy Linux-based systems."
EnCore modules are similar in concept to high-integration chips, interfacing directly to a designer's form-factor-independent system board containing application-specific logic and I/O connections. They interface to a baseboard through up to 272 pins that provide the PCI bus, I/O signals and power and ground. The modules are 100 x 145 mm. The first result of the partnership will be the release of TimeSys Linux for Ampro's EnCore PP1 module based on a 300 MHz Motorola MPC8245 PowerPC processor.
Credit(s)
Further reading:
Feature updates for Proteus design software
31 March 2021, Dizzy Enterprises , Design Automation
Proteus 8.12 expands on its high-speed design feature offering by adding support for pass-through components on length-matched differential pairs. Pass-through components are those which are included 
...
Read more...
---
Data management for successful PCB designs
25 November 2020, EDA Technologies , Design Automation
Effective PCB data management is a crucial, yet multi-faceted, part of the design process. The following articles by two experts from Altium highlight the challenges and importance of this topic.
Read more...
---
Evaluation board for Wi-Fi microcontroller
26 February 2021, iCorp Technologies , Design Automation
The ESP32-S2-Kaluga-1 kit v1.3 is a development kit by Espressif Systems that was mainly created to demonstrate the ESP32-S2 Wi-Fi microcontroller's human-computer interaction functionalities, and to 
...
Read more...
---
Licence- and royalty-free ensemble graphics toolkit
28 October 2020, Altron Arrow , Design Automation
Graphical user interfaces (GUIs) and interactive touchscreen displays provide intuitive user experiences in applications from robotic and machine controls to medical user interfaces, automotive instrumentation 
...
Read more...
---
HMI for IoT development kit
29 July 2020, RS Components (SA) , Design Automation
Optimised for HMI development in the IoT (Internet of Things), Renesas Electronics' RX72N Envision Kit offers a highly sophisticated and integrated platform for developing applications that require a 
...
Read more...
---
Enclosures for mounting electronic applications
30 September 2020, Sivan Electronic Supplies , Enclosures, Racks, Cabinets & Panel Products
Available from Gainta is a range of plastic enclosures for mounting and assembly of general electronic applications. The bases of the cases have a mounting flange and incorporate a tongue and groove 
...
Read more...
---
Extruded aluminium enclosures
30 June 2020, Sivan Electronic Supplies , Enclosures, Racks, Cabinets & Panel Products
The extruded aluminium enclosures of Gainta's ALUG7XX series are available in different sizes, with lengths suitable for indoor desktop device or outdoor wall-mounting junction/control box use. Five 
...
Read more...
---
Online Tibbo BASIC code generator
29 May 2020, RF Design , Design Automation
Cody is a template project generator that produces working Tibbo BASIC code from the information provided via a few simple-to-understand configuration screens. This web-based app allows you to quickly 
...
Read more...
---
Bourns launches new mobile app
25 March 2020, Electrocomp , Design Automation
The new Bourns app is now available free to download for iOS and Android at the Apple App Store and at the Google Play Store. Mobile apps are very popular marketing tools these days with over 50 million 
...
Read more...
---
Guide for designing GUIs, for novices to experts
29 April 2020 , Design Automation
The TouchGFX team at STMicroelectronics recently published TouchGFX Documentation, a website that targets developers working on their first embedded graphical user interface (GUI) as well as those with 
...
Read more...
---