printer friendly version
Deep learning APIs for Espressif SoCs
27 October 2021
Design Automation
ESP-DL, recently introduced by Espressif Systems, provides APIs for neural network (NN) inference, image processing, maths operations and deep learning (DL) models. With ESP-DL, developers can use Espressif's SoCs for neural network inference easily and quickly.
Thus far, Espressif's data show that, in comparison to the company's ESP32 wireless MCU, when ESP-DL runs on an ESP32-S3 chip the acceleration of a 16-bit detection model is increased by 4,5 times, or 6,25 times in the case of a face recognition model. In addition, the 8-bit face recognition model is 2,5 times faster than the 16-bit model on the ESP32-S3. Furthermore, Espressif offers a tool that can help developers make their own model compatible with the company's platform.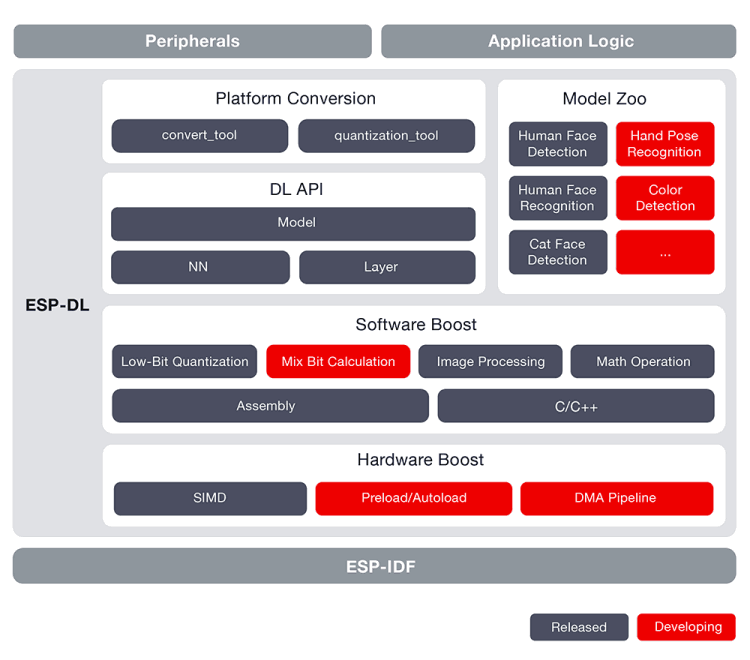 Since ESP-DL does not need any peripherals, it can be used as a project component. For example, if it is added to the esp-who/components/directory, ESP-DL can be used as a submodule of ESP-WHO, which contains several project-level examples of image-based applications. The accompanying figure below shows what ESP-DL consists of and how it is implemented as a project component.
ESP-DL provides tools that can help developers convert their own model (possibly developed with a third-party platform such as TensorFlow, PyTorch, MXNet, etc.) into an 8-bit or 16-bit model and evaluate the performance of the quantised model.
Model Zoo
ESP-DL also provides certain easy-to-use models such as human face detection, human face recognition, cat face detection, etc., in the so-called Model Zoo. These models can be used out-of-the-box. Other models, such as for colour detection and hand-pose recognition, will be released soon.
Customising a model
In the GitHub tutorial entitled 'How to Customize a Model Step by Step' you can find all relevant instructions with a runnable example which will help you implement your model quickly and easily.
Variety of APIs
ESP-DL contains sufficient APIs for developers to build their own model, such as neural networks (NN), image processing and matrix operations. Meanwhile, developers can customise layers and provide feedback if they have any special requirements regarding the API utility.
Software and hardware boost
ESP-DL implements quantised computation and brings about a more efficient kind of software by optimising the assembly and architecture of the C/C++ code. It is worth mentioning that the ESP32-S3, with its vector instructions, high-speed SPI interface and configurable cache memory, achieves a much faster acceleration in AI applications.
Credit(s)
Further reading:
Altium Designer component creation webinar
27 October 2021 , Design Automation
Component creation is a necessary evil when it comes to design and it's something we all need to do. But instead of spending hours creating your components and having them turn into a complete roadblock, 
...
Read more...
---
Multi-mode LPWAN module
27 October 2021, iCorp Technologies , Telecoms, Datacoms, Wireless, IoT
The BG600L-M3 is a multi-mode LPWAN module which supports LTE Cat-M1, Cat-NB2, EGPRS and integrated GNSS and meets the 3GPP Release 14 specification. It is compatible with Quectel's GSM/GPRS/GNSS module 
...
Read more...
---
TI software tool for power stage design
27 October 2021 , Design Automation
The Power Stage Designer software tool from Texas Instruments (TI) helps you accelerate your power supply designs by calculating voltages and currents of 20 topologies according to your own inputs. All 
...
Read more...
---
EMI power choke impedance finder
27 October 2021 , Design Automation
Coilcraft's EMI Power Choke Impedance Finder is a powerful search and analysis tool for finding the optimal off-the-shelf inductors/chokes for different types of EMI filters (e.g. LC low-pass filters, 
...
Read more...
---
433 MHz LoRaWAN module
27 October 2021, iCorp Technologies , Telecoms, Datacoms, Wireless, IoT
The Ra-06 LoRa module from AI-Thinker is an embedded wireless data transmission module based on LoRa spread-spectrum technology. It uses the LoRa network to provide users with wireless data transmission 
...
Read more...
---
RISC-V MCU with Wi-Fi and Bluetooth 5
27 October 2021, iCorp Technologies , Telecoms, Datacoms, Wireless, IoT
The ESP32-C3 from Espressif Systems is a single-core Wi-Fi and Bluetooth 5 (LE) microcontroller SoC based on the open-source RISC-V architecture. It strikes an ideal balance of power, I/O capabilities 
...
Read more...
---
Browser-based design viewer for Altium 365
27 October 2021, EDA Technologies , Design Automation
Complementing its professional-level Altium 365 cloud platform, Altium offers a simple and convenient way to view and share electronic designs through your browser. Schematics, PCB layout and 3D visualisation 
...
Read more...
---
A UI to build better UIs
25 August 2021, Altron Arrow , Design Automation
TouchGFX Designer 4.17 has become available for download, the latest version of STMicroelectronics' user interface (UI) design software featuring a user interface overhaul to make the application more 
...
Read more...
---
GNSS ceramic antenna
29 September 2021, iCorp Technologies , Telecoms, Datacoms, Wireless, IoT
As a high-performance solution for embedded designs, Synzen's Sirius b is an optimal solution for GNSS (global navigation satellite system) applications that simplifies the design-in process and allows 
...
Read more...
---
LoRa transceiver module
29 September 2021, iCorp Technologies , Telecoms, Datacoms, Wireless, IoT
The RFM6601W module from HopeRF includes a general LoRa wireless communication SoC integrated with an RF transceiver and a 32-bit RISC MCU. The MCU uses the ARM Cortex-M4 architecture with 48 MHz operating 
...
Read more...
---