printer friendly version
Deep learning APIs for Espressif SoCs
27 October 2021
Design Automation
ESP-DL, recently introduced by Espressif Systems, provides APIs for neural network (NN) inference, image processing, maths operations and deep learning (DL) models. With ESP-DL, developers can use Espressif's SoCs for neural network inference easily and quickly.
Thus far, Espressif's data show that, in comparison to the company's ESP32 wireless MCU, when ESP-DL runs on an ESP32-S3 chip the acceleration of a 16-bit detection model is increased by 4,5 times, or 6,25 times in the case of a face recognition model. In addition, the 8-bit face recognition model is 2,5 times faster than the 16-bit model on the ESP32-S3. Furthermore, Espressif offers a tool that can help developers make their own model compatible with the company's platform.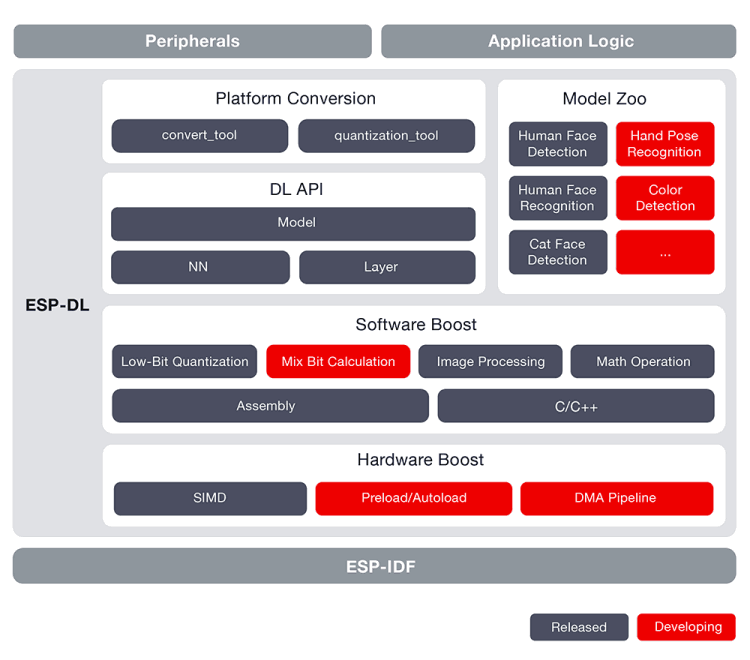 Since ESP-DL does not need any peripherals, it can be used as a project component. For example, if it is added to the esp-who/components/directory, ESP-DL can be used as a submodule of ESP-WHO, which contains several project-level examples of image-based applications. The accompanying figure below shows what ESP-DL consists of and how it is implemented as a project component.
ESP-DL provides tools that can help developers convert their own model (possibly developed with a third-party platform such as TensorFlow, PyTorch, MXNet, etc.) into an 8-bit or 16-bit model and evaluate the performance of the quantised model.
Model Zoo
ESP-DL also provides certain easy-to-use models such as human face detection, human face recognition, cat face detection, etc., in the so-called Model Zoo. These models can be used out-of-the-box. Other models, such as for colour detection and hand-pose recognition, will be released soon.
Customising a model
In the GitHub tutorial entitled 'How to Customize a Model Step by Step' you can find all relevant instructions with a runnable example which will help you implement your model quickly and easily.
Variety of APIs
ESP-DL contains sufficient APIs for developers to build their own model, such as neural networks (NN), image processing and matrix operations. Meanwhile, developers can customise layers and provide feedback if they have any special requirements regarding the API utility.
Software and hardware boost
ESP-DL implements quantised computation and brings about a more efficient kind of software by optimising the assembly and architecture of the C/C++ code. It is worth mentioning that the ESP32-S3, with its vector instructions, high-speed SPI interface and configurable cache memory, achieves a much faster acceleration in AI applications.
Credit(s)
Further reading:
Cellular antenna for 4G/LTE and 5G NR
iCorp Technologies Telecoms, Datacoms, Wireless, IoT
Antenova's new 'Affini' (part number SRFL064) is a flexible printed circuit (FPC) antenna for the LTE, 4G and 5G NR networks in global markets. This antenna covers all main 4G bands plus 617-698 MHz which 
...
Read more...
---
AI voice development kit
iCorp Technologies Computer/Embedded Technology
Espressif Systems announced the launch of its AI voice development kit, ESP32-S3-BOX, which provides a platform for developing the control of smart devices with offline and online voice assistants. The 
...
Read more...
---
Wi-Fi SoCs with USB interface
iCorp Technologies Telecoms, Datacoms, Wireless, IoT
USB (Universal Serial Bus) is an industry standard that enables communication between a host controller and peripherals or other devices. A USB interface is integrated into Espressif Systems' ESP32-S 
...
Read more...
---
Multi-mode LTE Cat. 4 module
iCorp Technologies Telecoms, Datacoms, Wireless, IoT
The SC200R-EM is a new-generation multi-mode LTE Cat. 4 smart module measuring 40,5 mm × 40,5 mm × 2,8 mm with built-in Android OS, based on Qualcomm's ARM Cortex-A53 64-bit quad-core processor and built-in 
...
Read more...
---
3D simulation IDE boosts factory productivity
Omron Electronics Design Automation
Omron's updated Sysmac Studio 3D Simulation integrated development environment (IDE) integrates and verifies the movements of robots and peripheral devices. It can digitally reproduce an entire facility 
...
Read more...
---
Features added to DesignSpark PCB Pro
RS Components (SA) Design Automation
RS Components added new features to DesignSpark PCB Pro and introduced an RS stock number to make it easier to purchase. The free-of-charge version of DesignSpark PCB, part of the award-winning RS DesignSpark 
...
Read more...
---
LoRa transceiver supports LoRaWAN 1.0.3
iCorp Technologies Telecoms, Datacoms, Wireless, IoT
The RAK3172 is a low-power LoRa transceiver module that is based on the STM32WLE5CC chip from STMicroelectronics. It provides an easy-to-use, small, low-power solution for long-range wireless data applications 
...
Read more...
---
Evaluation kit for formaldehyde sensor
Electrocomp Design Automation
The SEK-SFA30 evaluation kit has been designed for easy evaluation of Sensirion's SFA30 formaldehyde sensor. The SFA30 is designed for easy integration into air purifiers, demand-controlled ventilation 
...
Read more...
---
SMD antenna for compact 4G/5G designs
iCorp Technologies Telecoms, Datacoms, Wireless, IoT
Antenova is announcing 'Allani', part no SR4L069 – a compact SMD antenna for the 4G and 5G cellular bands measuring just 45,0 x 10,0 x 3,3 mm. It achieves good efficiency with a short ground plane, making 
...
Read more...
---
Backward-compatible 4G LTE antenna
iCorp Technologies Telecoms, Datacoms, Wireless, IoT
The Opala cellular antenna from Synzen is a highly compact yet high-performance solution for devices that require embedded antenna designs. With this part, Synzen has created an optimal solution for 4G 
...
Read more...
---