Weller's HT-Line of benchtop soldering and desoldering equipment includes the new WTHA 1 hot air station, WT 1 and WT 1H soldering ­stations, and WTP 90 soldering pencil.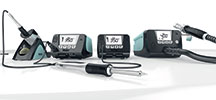 The WTHA 1 is a 1-channel, 900 W hot air power unit featuring a multi-function LC display with a detailed overview of all functions and adjustable background illumination. A power bar graph allows visual monitoring of the output power from the station to the hot air pencil. The pencil has a finger activation switch on the ergonomic hand grip, and supplies up to 100 l/min of expanded hot air through its 90 cm long, flexible, heat-resistant silicone hose. Up to five presets are available to define volume, temperature and time settings. With the activated profile mode the presets can be run in a selected sequential order.
The 1-channel WT 1 (90 W) and WT 1H (150 W) soldering power units feature a similar, detailed LC display that allows quick and easy operation of all functions thanks to a new user-friendly menu button. The quick change process of the heating element during operation allows efficient working with several different tip types in quick succession. The choice between wet and dry tip cleaning is taken care of by an innovative 2-in-1 safety rest for the rotatable iron holder.
The WTP 90 soldering iron, rated at 90 W, features a quick-change passive tip system with exchangeable heating elements. Exchange of the tips is possible while the iron is hot, with tip replacement independent of the heating element. An automatic standby mode is implemented thanks to a sensor in the handle which detects when the device is in use. Optional high-mass soldering tips are available for higher heat accumulation and better performance.
The WT 1 / WT 1H soldering stations can be stacked on the WTHA 1 hot air station to save space on the workbench.