Elmatica, a printed circuit board (PCB) broker based in Norway, has established an office in South Africa to support growing demand in the country. The company says it has been an active partner in dozens of new South African projects over the last year, and experienced a 245% sales increase in 2017 compared with the previous year.
According to Elmatica's CEO, Didrik Bech, the move also comes in response to feedback from SA customers that they would appreciate a firmer presence in relation to technical support. "This has strengthened our decision towards immediately establishing a temporary department there," he says. "We have experienced that our concept of total transparency as to what we do, combined with knowledge sharing in regard to elements such as design, optimisation and compliance, is something our South African partners appreciate."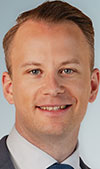 Mikael Jansson.
When asked by its customers to analyse challenges on PCBs from other suppliers, Bech says Elmatica was surprised to find examples of non-existent certificates of compliance, no information about the factory of origin or adjustment of the factory between deliveries, and unclear marking, which results in poor traceability. "For Elmatica, full transparency is important, however Elmatica has experienced that this is not something everyone expects. Some of our customers in South Africa are not used to suppliers providing this," says Bech.
Mikael Jansson, one of the company's Swedish country managers, has relocated from Stockholm to South Africa to head up operations here, and the company further plans to establish a permanent and dedicated team in the country at some point in the future.
For more information contact Guro Krossen, +47 4819 3838, guro.krossen@elmatica.com, www.elmatica.com