printer friendly version
Top 10 development boards of 2018
10 October 2018 Editor's Choice Computer/Embedded Technology
In order to support the most innovative year yet in 2018, especially with the increasing demand in the IoT sector, here (in no particular order) are our top 10 recommended development boards and kits: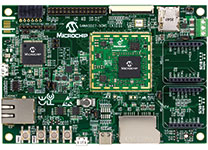 Microchip ATSAMA5D27-SOM1-EK1.
Microchip ATSAMA5D27-SOM1-EK1
The ATSAMA5D27-SOM1-EK1 is a fast prototyping and evaluation kit for the SAMA5D27 system-on-module (SoM) that integrates the basic components for an MPU-based system. The kit comprises a baseboard with a soldered ATSAMA5D27-SOM1 module, which features a 500 MHz core with 128 MB DRAM and 8 MB Flash memory. It also boasts a power management IC and 10/100 Mbps Ethernet interface for network communication.
The board packs a wide range of peripherals, including 128 GPIO pins for general use, as well as a user interface and expansion options, including two mikroBUS click interface headers to support MikroElektronika click boards and one PMOD interface. Microchip offers the Linux distribution and software packages which allow you to easily get started with your development.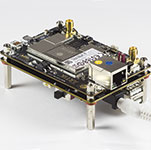 Samsung ARTIK 710 Development Kit.
Samsung ARTIK 710 development kit
Samsung has had its claim to fame in many industries and applications all over the world, and the ARTIK platform is one of its latest proving grounds. With the sole purpose of 'bringing hardware modules and cloud services together', Samsung has created an ecosystem of tools and partners to assist developers in achieving fast time-to-market for their Internet of Things designs.
The ARTIK 710 Developer Kit is one of several different module kits presented in the ARTIK Family, where the ARTIK 710 SoM specifically boasts an 8-core, 64-bit, ARM Cortex A-53 processor with built in Wi-Fi, Bluetooth and ZigBee for nearly any large, high-end gateway that also requires local processing and analytics or multimedia applications.
This development kit also has an ARM MALI GPU for multimedia, 1 GB RAM and 4 GB of eMMC memory, and an Ubuntu Linux package with multimedia connectivity. Best of all, it has enterprise-class security with hardware secure element on board. If you are designing factory automation, smart home, or multimedia applications, the ARTIK 710 development kit is certainly worth considering.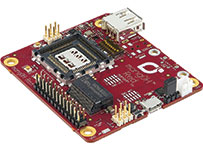 Sierra Wireless MangOH Red.
Sierra Wireless MangOH Red
Sierra Wireless boasts of having the smallest cellular development platform for IoT to date. The MangOH Red is a low-power development kit aimed at IoT applications that can run for 10 years on a battery in order to send your sensor data to the cloud.
Embedding the WP module from Sierra Wireless, which has scalability from 3G to 4G and LTE-M / NB-IoT, it also features an application core that runs Linux for a developer to add their own code onto the system. Along with the kit, Sierra Wireless also includes its Smart SIM (up to 100 MB free data, depending on region) but can also be used with any commercially available SIM, as well as its AirVantage IoT platform to create, deploy and manage solutions in the cloud.
Specifically looking at the size constraints in certain applications, the MangOH Red offers a cost-effective development platform ideal for rapidly building proof-of-concepts.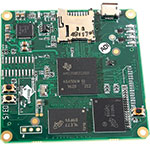 Cherry Blossom.
Cherry Blossom
It has become a lot easier to get hold of prototyping boards in South Africa than in previous years, but while Raspberry Pis are easy to get hold of, sadly there are still import taxes and shipping costs to be taken into consideration. These factors push the price up considerably.
Altron Arrow has created new options for makers by producing the locally made Cherry Blossom, based on the AM335x reference design from Texas Instruments which is based on the Beaglebone Black. This home-grown alternative is available for a much more affordable price.
"The locally designed, produced and supported Cherry Blossom eliminates most supply and support issues that currently exist on Beaglebone Black today," says Altron Arrow. "It also enables the developer to quickly and effectively use the processing power of a high-end processor without the hardware complexity normally associated with this type of design."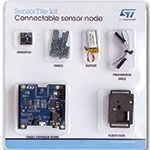 ST SensorTile Development Kit.
ST SensorTile Development Kit
Built with the intention to prove low-power IoT application capability, the SensorTile Development Kit by STMicroelectronics offers loads of added capabilities. For the true developer, this kit supports the expansion of the SensorTile's capabilities as an STM32-based module.
ST provides the software and firmware libraries as well as tools for evaluation of the sensors' performance, including a dedicated mobile app for real-time sensor feedback. The cradle expansion board in the kit features audio DAC, USB port, STM32 Nucleo, Arduino UNO R3 and SWD connection capabilities. And for the prototyping application builder, this kit allows you to see real live MEMS and motion data on a mobile device less than 5 minutes after opening the box.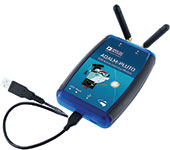 Analog Devices ADALM-PLUTO.
Analog Devices ADALM-PLUTO
Analog Devices has released several Active Learning Modules (ALMs) to help developers and educators alike, but the ADALM-PLUTO is arguably the most compelling. Also referred to as PlutoSDR, or Pluto Software Defined Radio, this development kit allows users to bridge the gap between RF theory and RF practice, and use industry grade hardware to learn and develop their own SDR platforms.
This active learning module can generate or acquire analog signals ranging from 325 MHz to 3800 MHz. Regardless of RF application, the ADALM-PLUTO is a very valuable asset.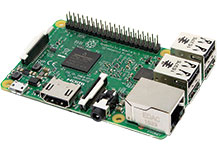 Raspberry Pi 3 Model B.
Raspberry Pi 3 Model B
The Raspberry Pi 3 Model B accounts for more than half of the entire inventory that the Raspberry Pi Foundation has ever sold, and is one of the pillars of the DIY and developer worlds. It has become an intrinsic tool whether you are a seasoned developer pro or a novice tinkerer, and is a great way to create your own custom piece of electronics magic.
Incredible accessories such as the AIY Voice Kit and the PiCade have helped the Raspberry Pi 3 find its way into the hearts of consumers and tinkerers, but the Pi remains a fantastic development tool for a variety of applications. Raspberry Pi released a new iteration called the RP3B+, but it is still only in limited release, likely under allocation, and may prove hard to get until later this year, again making the Raspberry Pi 3 Model B one of the top development boards of 2018.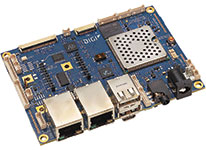 Digi CC6UL SBC.
Digi CC6UL SBC
The Digi ConnectCore 6UL SBC delivers the ultimate connected off-the-shelf NXP i.MX6UL single board computer with complete capabilities and unparalleled design flexibility.
Its unique pre-certified wireless connectivity options offer 802.11a/b/g/n/ac Wi-Fi and Bluetooth 4.2, including Bluetooth Low Energy. Out-of-box cellular integration options using the pre-certified Digi XBee cellular modem or third-party PCI Express mini card modem allow you to integrate cellular connectivity without the usual cost and complexity.
Digi's complete Linux support includes the built-in Digi TrustFence device security framework with support for secure boot, encrypted file systems, protected ports and more.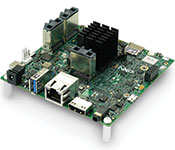 NXP i.MX8 Development Kit.
NXP i.MX8 Development Kit
The i.MX family of application processors from NXP is one of the most successful 32-bit and 64-bit processor series to date, regardless of application. Across the stack of different application processors, the newest sub-series is the i.MX8, which is the most powerful of the five series currently available and is geared for multimedia applications.
To help developers access the power of the i.MX8M specifically, NXP created the i.MX8M EVK to enable quick familiarity with the product and i.MX8 processor before investing heavily in a chip-down design. The i.MX8M processor family is based on the ARM Cortex-A53 and Cortex-M4 for industry-leading audio, voice and video processing.
Whether you're developing the next high-end home multimedia, an industrial automation application, or anything in between, the i.MX8M EVK is one of the best places to start.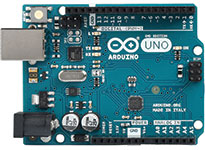 Arduino Uno.
Arduino Uno
The Arduino Uno is commonly associated with makers and electronics education, but it's also become a near standard for relevant industry hardware development. If a component is compatible with a microcontroller, it has likely found a place on an Arduino-compatible development shield. If you are developing a simple sensing application, the next IoT solution, a data acquisition device, or even a robot, an Arduino Uno could well be the best place to start.
Rather than build a single solution for a handful of problems, Arduino has built an ecosystem around the Uno that nearly any product can be compatible with. Yes, it may not be the ultimate solution for an embedded chip-down design, but as a place to get started, the Arduino Uno is fantastic.
It seems as though the industry has finally caught on to the Arduino revolution and the sheer quantity and diversity of Arduino Uno shields still coming onto the market today gives everyone access to thousands of development-ready discrete components right out of the gate and cements the Arduino Uno on our list for that reason.
For more information contact Renaldo Fibiger, Altron Arrow, +27 11 923 9600, rfibiger@arrow.altech.co.za, www.arrow.altech.co.za
Credit(s)
Further reading:
Why you don't take 'touch' for granted
30 September 2020 , Editor's Choice
The key criteria for choosing the right sensor control IC
         Touch has become an incredibly intuitive way for people to interact with high-tech devices. In just a few short years after the first 
...
Read more...
---
Double the power output from new Tadiran battery
30 September 2020, Altron Arrow , Power Electronics / Power Management
Tadiran has developed the latest in its PulsesPlus HLC battery range, doubling the power output of its previous offering. Recently the company launched the C-type HLC which represented a huge improvement 
...
Read more...
---
High-voltage analog multiplexers
30 September 2020, Altron Arrow , Analogue, Mixed Signal, LSI
Diodes Incorporated announces the PS508 and PS509 analog multiplexers that are capable of switching signal voltages of up to 36 V in an industrial environment. The high voltage capability of the devices 
...
Read more...
---
Low inductance SiC power module gate driver kit
31 August 2020, Altron Arrow , Analogue, Mixed Signal, LSI
The transformation to electrify transportation – from trains, trams and trolleys to buses, automobiles and EV chargers – continues at a rapid pace, as countries shift toward improved modes of transit 
...
Read more...
---
Women taking the lead in engineering
31 August 2020 , Editor's Choice, News
Alaris Antennas is an engineering company specialising in the design and production of (often) customised antennas for electronic warfare. This is not an industry that typically attracts women to steer 
...
Read more...
---
DACs with 1 or 2 channels
31 August 2020, Altron Arrow , Analogue, Mixed Signal, LSI
The MCP47CXBXX/MCP48CXBXX are single- and dual-channel 8-bit, 10-bit and 12-bit buffered voltage output digital-to-analog converters (DAC), with volatile or MTP memory and an I2C/SPI interface. The MTP 
...
Read more...
---
Generating very low voltages with standard regulators
30 September 2020, Altron Arrow , Power Electronics / Power Management
Question:
   What is a good solution for generating a tiny DC supply voltage of a few hundred millivolts?      
Answer:
All that is needed is a clean additional positive voltage to hook up to the feedback 
...
Read more...
---
Smoke detection matters
30 September 2020, Altron Arrow , Editor's Choice, Analogue, Mixed Signal, LSI
Smoke detection regulations are critically important when the value proposition is as basic as human life itself.
Read more...
---
Personality profile: Mervyn Stocks
30 September 2020, Denver Technical Products , Editor's Choice
Mervyn Stocks, the founder and MD of Denver Technical Products, started his career as a learner technician, worked at some well-known companies in the industry before setting out on his own.
Read more...
---
Forbatt SA invests in South Africa
30 September 2020, Forbatt SA , Editor's Choice, News
Forbatt SA is set to offer an improved service to the industry by making sure it has the products and solutions the industry needs, as well as a new showroom.
Read more...
---