The electronic contract manufacturing environment is possibly facing even more challenges than any other industry.
In our environment, there currently seem to be more work possibilities than in the past, but fewer contract manufacturers are being awarded contracts. Another contributing factor that adds to these challenges is the drive from customers for better prices, while demanding even higher quality – this obviously places huge strains on the electronic contract manufacturers and how they utilise the resources at their disposal. At Omnigo we have risen to these challenges and have adopted an approach of learning to assimilate and address these issues.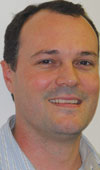 Eugene Vermeulen
The business philosophies that the company follows have remained the same for some time now:
* Our customers are very important to us, and that is the reason why we exist – to satisfy their electronic manufacturing needs.
* We stay flexible, able and willing to manufacture small (10 or less) as well as large volumes (30 000 and more) of our customers' products per month, or as per their delivery schedule.
* All our resources are important to us.
* We have no products of our own, hence we focus totally on our customers' needs.
As mentioned previously in Dataweek, Omnigo is going into a growth phase, and I would like to expand a bit on that in this article.
Omnigo has traditionally been known as a military contract manufacturer, occasionally manufacturing for the commercial industry. Over the past four years we have put a lot of effort into utilising our philosophy of flexibility to mould the way that we approach the commercial industry, and for the last two years have had a high level of success in becoming an electronic contract manufacturer servicing all of South Africa's industries.
During the last six to eight months, the company has completed the transition from being a 'military' manufacturer into being an electronic contract manufacturer servicing the military as well as commercial industries. This has been one of the most challenging facets of Omnigo's evolution since inception in 1999, but was well worth the effort and risk, because the company managed to embrace and come to terms with two very diverse and different manufacturing 'philosophies' - namely low-volume production and high-volume production.
Until recently, Omnigo had one surface mount technology (SMT) department that catered for all our SMT manufacturing needs. We also had one conventional through-hole production (THP) department catering for those respective needs. As our understanding of our commercial customers' needs evolved, compared to those of our military customers, we came to realise that for Omnigo to fully embrace, implement and complete the changes already initiated on our journey from a traditionally military contract manufacturer to a contract manufacturer for all of South Africa's industries, we would have to make physical changes.
As a result of this realisation, we procured a new high-volume, lead-free SMT manufacturing line which almost doubled our total manufacturing capacity, and also enables us to place 01005(imperial) chip components.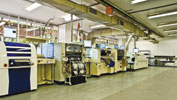 New high-volume, lead-free SMT manufacturing line
We decided to separate the military and commercial manufacturing to the extent that we also geographically separated them. This means that Omnigo now has two manufacturing facilities under one roof. A military manufacturing department, including SMT manufacturing, THP manufacturing, testing and everything related to military manufacturing is nestled on the first floor. On the ground floor, the high-volume commercial production line is situated, again consisting of its own SMT and THP manufacturing, testing and other related requirements.
We feel that physically separating the manufacturing facilities gives Omnigo an additional strategic advantage because the necessary care and attention can be given to each of these separate production facilities' specialised needs. We are also employing the full spectrum of personnel for both of these facilities, which includes the manager of the facility and all other relevant personnel. By geographically and managerially separating these facilities we believe that there is a synergistic effect on the effectiveness and efficiency in each.
Because Omnigo has been traditionally a military contract manufacturer, we are confident about our abilities in that role. Over the past two years, Omnigo has established itself in a similar fashion as a commercial manufacturer and we are now equally confident in our ability in this regard. We are very excited about these new developments, and Omnigo will continue to evolve and change in any way necessary to stay competitive and attractive to our customers and potential customers.
It is still early days regarding determining our increased capacity, but recent figures indicate a 40% quicker production turnaround time. This production time benefit directly equates to faster and better delivery times to our clients. This serves well to illustrate the effect that this new manufacturing line has had on Omnigo's commercial manufacturing capacity. There is also a positive spin-off regarding our military manufacturing capacity. Because there is no commercial manufacturing taking place in the military manufacturing facility, the production lines can focus exclusively on their specific tasks, which automatically increases the facility's manufacturing capacity.
In addition to all these exciting changes that have been happening at Omnigo, we have also started up a loom, cable and wiring department which we have been building up for the last two years. It is capable of manufacturing a large variety of both military and commercial looms and cables, including stripping and crimping of coax cables. We have a couple of standard applicators (crimping heads) and are procuring additional crimping equipment as the need arises and where it is feasible to do so. This service places Omnigo as a more complete turnkey contract electronic manufacturer.
For more information contact Joe Eckard, Omnigo, +27 (0)12 803 8218, sales@omnigo.co.za, www.omnigo.co.za