printer friendly version
The recipe for successful manufacture
11 May 2011
Design Automation

Having a knowledge of electronics and components and how to apply them to solve problems is akin to having ingredients for cooking. It is all well and good knowing the theory, but at some point the chef must get to work in the kitchen and make the meal.
Any experienced chef will tell you it takes many years of practice to be a master chef. Why? Because a true chef does not follow a recipe book. A true chef innovates in the kitchen, creating new flavours and textures whilst bringing vibrant and fresh presentation. It is art that stimulates all the senses, while meeting the most fundamental need - physical nourishment.
Releasing an excellent electronic product is the same. Though it may not be considered 'art' by some, the ultimate objective is to satisfy needs for the end-user, as well as (I hope) a sense of well-being or accomplishment for the creator.
Designing an electronic product is a creative process, though it is necessarily rule-bound. But design is only half the story. To create a successful product, it has to be well presented, well manufactured, valuable, useful and unique. If you miss any one of these traits, it is likely your product is just another commodity. Its lifespan will be short.
Timing and delivery are critical
In drawing the analogy between electronics and food I find one particular point that is critical to both industries – timing and delivery are key ingredients for success.
This is also one area that has caused anxiety in engineers and designers in the past. To get a product out the door involves considerable post-design labour: generating production files, design-for-manufacturing checks, assembly and service documentation, the creation of user manuals, production line purchasing and stocking – the list goes on and on. Then there are the headaches involved in ensuring the product can be assembled and shipped from the factory to the user, hopefully efficiently. It is little wonder so many western companies are turning to contract electronics manufacturing service (EMS) providers, as they promise to take these production headaches away.
But think about it: this is just like the chef doing none of the actual cooking. Instead, he gives orders to cooks who operate the stoves, ovens, pots and pans and combine the ingredients to produce the meal. There are many restaurants with kitchens that operate in this way, albeit with more hands-on chef supervision. Hands-on supervision like this is a luxury most electronics designers do not have with EMS providers, as more and more they are in different countries, speaking different languages.
Imagine dining in a restaurant where the chef is in San Jose, California, the sous-chef in Osaka, Japan, and the kitchen and cooks preparing the food are in Shenzhen, China. The meal would then have to be packaged and shipped to the point of consumption within a very short time indeed if it is to meet the needs of the consumer. If you have ever eaten an in-flight meal on an airline, you have sampled food that has been prepared in a similar way, and you know the result!
Staying true to the recipe
Recipes for manufacturing electronic products must be very precise and thorough. Luckily, preservatives are not needed as would be the case with factory-produced food. However, there are other potential hazards with the EMS production model. Counterfeit components, midnight manufacturing and IP theft are still common in spite of government efforts to stamp them out.
Other subtle problems such as unvalidated part substitutions or even partial re-design without engineering approval are more common than most manufacturers would care to admit. (In the kitchen, you do not want to use ingredients with an expired use-by date.) These often lie dormant until someone is injured by a product, or thousands of products are returned under warranty. Failures like this can finish a company or destroy its brand.
Thankfully, there are several options to mitigate against or remove the threats imposed by using EMS providers. How and when these measures are implemented, and to what level of depth, depends on each company's level of confidence and experience with EMS providers:
1. Single-source production with a known-good EMS provider. This of course is the 'pie-in-the-sky' solution. Few companies really have this option, but for the ones that do, leaving the hard work of component sourcing, procurement, scheduling and so on is a nice idea. The catch is the 'known-good' bit. This can only come with battle-won experience.
2. Create your own EMS with your own corporate branding. Again, this one is a nice idea, but really only available to very large companies who have the resources to set up their factories wherever they please. The obvious advantages of keeping everything in house are that intellectual capital is more secure and you have complete visibility and control over manufacturing and procurement, with the added advantage of tight closed-loop feedback between manufacturing, procurement and product design.
3. Divide and conquer (split production). In this scenario, you separate procurement, PCB fabrication, mechanical fabrication, subassembly and final assembly – all to varying degrees of success. This incurs management and logistics costs, and some effort, but offers significant advantages if it is done right. Namely, you can multisource manufacturing, component procurement and assembly, taking advantage of redundancy and competition between vendors. It can also increase IP security as the assemblers do not have access to all the data necessary for complete production.
4. Build the EMS providers you use into your data management flow. Many late design revisions occur, particularly in products produced in high volumes, to improve the efficiency of manufacturing and assembly. By including the EMS providers in the revision cycle in an automated way, you avoid unauthorised changes and data movement bottlenecks while still benefiting from faster production.
At face value, items 3 and 4 above appear to be difficult. But by using the right tools these are relatively easy. Consider divide and conquer. In this scenario, having to send the Gerbers and drill files to the PCB fabricator, the BOM to a purchasing agent, and assembly instructions to the assembly house (along with various testing artifacts) is the traditional approach, and one that has a great degree of uncertainty involved.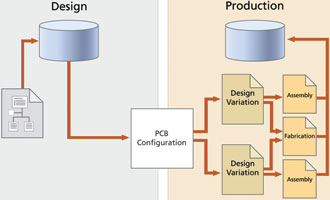 Managing the release process
Using a release management process which captures all the necessary data for production removes doubt that the generated manufacturing data are synchronised. However, there needs to be a way to make sure the correct third parties are supplied with the correct pieces of that data which they need. When v1.0 of the Gerbers and drill files are released you need to ensure the assemblers receive the matching v1.0 assembly diagrams and pick-and-place files, and the final assemblers receive the v1.0 mechanical 3D model of the assembly. This could go all the way down to the specific revision of the firmware programming files used for factory firmware programming and testing.
It is crucial that all documents relating to a version release are managed throughout the product lifecycle. And if you are using multiple EMS providers, you need to be sure they only receive the information they need in order to do their part in manufacturing. No more, no less. So after the design is released and the outputs are generated atomically (all from the same design revision, of course) there must be a way to publish those data to a secure location. Each EMS provider should be given access to the storage area, or publishing destination, where they can access the files needed for their role. But the publishing destination also needs permission-based or role-based access so that the fabricator can only see and download the PCB fabrication related material, the assembler can only access assembly diagrams, pick-and-place files etc, and so on.
The proof of the pudding…
From the Altium Designer (Release 10 or later) user's perspective, this publishing capability forms an integral part of a true data management solution. First, the design is released to generate the manufacturing outputs which enter a lifecycle managed item in a secure storage system – the Vault. From the item, those outputs are published to disseminate the data to the various EMS providers – either using cloud hosted storage, FTP upload or even e-mail – whatever suits you and the EMS providers.
Now, if we could only solve this problem for airline food!
Credit(s)
Further reading:
Online Tibbo BASIC code generator
29 May 2020, RF Design , Design Automation
Cody is a template project generator that produces working Tibbo BASIC code from the information provided via a few simple-to-understand configuration screens. This web-based app allows you to quickly 
...
Read more...
---
Bourns launches new mobile app
25 March 2020, Electrocomp , Design Automation
The new Bourns app is now available free to download for iOS and Android at the Apple App Store and at the Google Play Store. Mobile apps are very popular marketing tools these days with over 50 million 
...
Read more...
---
Guide for designing GUIs, for novices to experts
29 April 2020, Avnet South Africa , Design Automation
The TouchGFX team at STMicroelectronics recently published TouchGFX Documentation, a website that targets developers working on their first embedded graphical user interface (GUI) as well as those with 
...
Read more...
---
Free PADS software for students and instructors
29 April 2020 , Design Automation
As part of its ongoing investment in higher education, Mentor, a Siemens business, announced that students and instructors can download a free student edition of its premium PADS Professional Design Suite 
...
Read more...
---
Embedding a 3D STEP model in a footprint
29 April 2020, EDA Technologies , Design Automation
Integrating mechanical design workflows into electrical design tools has become a necessary component of today's successful PCB design processes. But transferring inaccurate design data back and forth 
...
Read more...
---
STM32CubeMonitor for runtime variable monitoring
25 March 2020, Altron Arrow , Design Automation
The STM32CubeMonitor family of tools helps to fine-tune and diagnose STM32 applications at runtime by reading and visualising their variables in real time. In addition to specialised versions (power, 
...
Read more...
---
STM32CubeMonitor for runtime variable monitoring
26 February 2020, Altron Arrow , Design Automation
The STM32CubeMonitor family of tools helps to fine-tune and diagnose STM32 applications at runtime by reading and visualising their variables in real time. In addition to specialised versions (power, 
...
Read more...
---
STMicro enhances TouchGFX software framework
29 January 2020, EBV Electrolink , Design Automation
STMicroelectronics has added new features to the TouchGFX software framework for STM32 microcontrollers (MCUs), streamlining creation of attention-grabbing user interfaces for domestic appliances, home 
...
Read more...
---
STM8 development boards in Nucleo-32 format
25 November 2019, EBV Electrolink , Design Automation
STMicroelectronics is making design starts using 8-bit STM8 microcontrollers (MCUs) faster, more affordable, and more accessible by introducing new development boards in the Nucleo-32 form factor. The 
...
Read more...
---
New edition of Altium Designer announced
23 October 2019, EDA Technologies , Design Automation
Altium recently announced the newest version of Altium Designer, a complete software environment for the design and realisation of printed circuit boards (PCB). The latest release, Altium Designer 20, 
...
Read more...
---